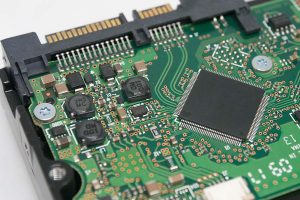 A unique, non-toxic leaching technology that's been deployed in Canada is set to roll out at the site of an electronics manufacturer in Tennessee.
Vancouver, British Columbia-based EnviroLeach will start up its first full-scale North American processing facility in a facility in Memphis. It will have an initial five-tons-per-day processing capacity, expandable to 10 tons. Company CEO Duane Nelson said there will be no shortage of printed circuit boards as feedstock.
"We expect it will be at full capacity by the first quarter of 2018," Nelson said.
The company has entered into a contract agreement with Jabil, which manufactures electronics for major brands. The Memphis plant will be sited at a 650,000-square-foot Jabil facility, and EnviroLeach will receive feedstock sourced entirely from the manufacturer.
EnviroLeach has been honing its non-toxic leaching formula for more than a year, since filing for a patent on the formula in July 2016. At the same time, the company was looking ahead to scale up the process to full commercialization.
"As far as we're concerned that is the most difficult aspect of this business, is securing feedstock," Nelson said. "Supply chain management is key, and that's what Jabil delivers."
Jabil, a company with 100 locations in 28 countries, makes devices for Apple, Cisco, Dell, HP, iRobot and more. It uses more than 10 million square feet of production space in China, where 135,000 workers are employed.
"They have more feed than anybody would know what to do with. It's incredible," Nelson said. "So we're not talking pounds-per-day anymore."
Beyond the new Memphis Jabil facility, EnviroLeach is planning to open two additional company-owned plants on its own, in Vancouver and Las Vegas.
Safe solution
EnviroLeach describes its formula as a non-toxic alternative to traditional metals recovery processes. The company is focusing first on circuit board recovery, which Nelson said he views as a low-hanging fruit.
"We're shredding them, grinding them down to a specific size fraction, and then putting that in our leach solution for a two-hour period," Nelson explained. "At that time, we're seeing up to low- or mid-90 percent recovery across the board."
The company is testing its process on other streams, including lithium-ion batteries. Its goal, Nelson said, is to work toward a closed-loop system in the electronics market.
"We're producing, in a very environmentally responsible fashion, the metals and materials required, so we can continue to build these electronic products as part of the circular economy," Nelson said.
More stories about processors