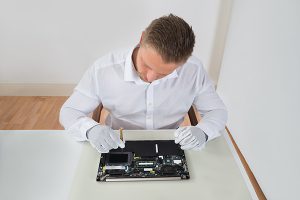 The average resale price for desktop computers and laptops has grown over the past two and a half years, according to a report by a prominent ITAD company.

Cascade Asset Management has published reports on resale value trends on a mostly annual basis since 2007, generally looking at three years of data. For the 2015-2017 period, Cascade looked at working desktop PCs, laptops and iPhones.
Looking in aggregate at the hundreds of thousands of devices processed during this period, the Madison, Wis.-based company noticed a new trend. It found laptops were reselling for an average of just over $80 in January 2015 and had risen to an average of closer to $90 by June 2017. Desktop computers were reselling for an average of slightly less than $40 in 2015, and that grew to just above $40 by 2017.
"Every other time we've looked at this, the average price has either stayed steady or gone down a little bit. But in this case the trends have shown, for both of these products, to go up," said Neil Peters-Michaud, Cascade CEO, who will speak during a plenary session at E-Scrap 2017. "Common knowledge and wisdom might say that the average price for products should be going down, but that's not what we're seeing. It's been a very interesting trend for us."
The devices came from businesses and institutions in the financial, insurance and healthcare sectors, among others. In 2016, Cascade processed 230,000 assets and resold about 81,000 of them. The difference comes down to assets that are destroyed because they have no resale value.
The price drop during the first three years after the device is manufactured has remained fairly dramatic, as devices are worth about 25 percent of their initial value after the third year. But after year three, the trend is changing.
"It seems that we're seeing a plateau, and that the values of assets are actually staying at a reasonable level that it actually makes sense to resell them," he said, noting devices are even retaining value up to 10 years or longer after production.
For example, the Intel Core 2 Duo CPU, launched in 2008, is still selling for more than $15 each, which generates positive value for clients, Peters-Michaud said.
He attributed the changing trend due, in part, to fewer instances of software making a device obsolete and new ways of repurposing devices. But the two biggest factors in device value are condition and completeness, Peters-Michaud said. Devices that are not working when they arrive make up a significant volume, and those that are missing components upon arrival can have substantially less resale value than their complete counterparts.
The data has positive implications for resale firms, but it also can be taken as good news for ITAD clients. It shows that a five-year-old laptop, for instance, still has a working life and may be effectively repurposed within an office environment, rather than traded in for resale. Cascade often does this within its own operations, Peters-Michaud said. A device might receive a new hard drive and battery, for example, and go on to see five more years of use before disposition. ITAD firms are often able to help an organization to complete this in-house refurbishment process.
More stories about refurbishment/reuse