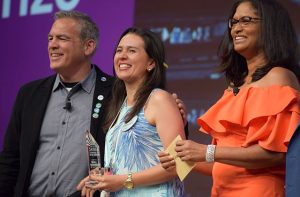 Global e-commerce site eBay is honoring a California woman who immigrated from Colombia with nothing more than a suitcase and later co-founded a successful e-scrap company.
Angie Cardona-Nelson received eBay's 2017 Small Business of the Year award during an event on July 27 in Las Vegas.
After moving to the U.S. as part of an au pair program, Cardona met her future husband, Joe Nelson. The newlyweds started eWaste Direct in 2008.
The Livermore, Calif.-based company collects, recycles and resells electronics from across the San Francisco Bay Area. Over the past nine years, eWaste Direct has diverted 7 million pounds from landfill. It has also shifted from a revenue ratio of 80 percent recycling to more than 80 percent resale.
The company, which has a dozen employees and operates out of a 5,000-square-foot warehouse, averages more than 1,200 sales a month, according to an eBay profile of Cardona-Nelson. It sells used electronics on eBay under the name "Angie's Green-Go Surplus."
The company is an approved collector under California's e-scrap program, which is funded by fees consumers pay when they buy new electronics.
More stories about refurbishment/reuse