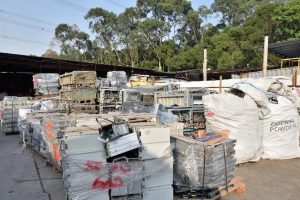 The illegal collection of e-scrap has resulted in fines for companies and individuals operating at two sites in Hong Kong's New Territories area.
A court on July 4 and July 11 levied fines totaling 24,000 Hong Kong dollars (about $3,100), after authorities in December found four metric tons of printed circuit boards and more than 1,300 LCD monitors and CRT devices stored at two sites.
The Environmental Protection Department (EPD) took part in surprise inspections of open recycling sites in December as part of an effort called "Operation E-change."
"The EPD has all along been taking stringent action against recycling sites involved in the illegal collection, storage, disposal, import and export of hazardous electronic waste, and will continue to conduct blitz operations and prosecute the offenders," according to a press release from the Hong Kong government.
The actions come as Hong Kong has worked to create a more formal recycling infrastructure for electronics and electrical appliances. It has signed a contract with ALBA Integrated Waste Solutions to run an advanced new recycling plant for those materials.
More stories about Asia