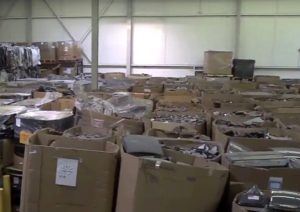 Com2 Recycling Solutions is opening a facility in Georgia as it expands its capacity to produce a glaze product from CRT glass. The glaze is currently used on tile products made by Brazilian manufacturers.
Illinois-based Com2 says the move will increase its total CRT processing capacity to 200 tons of intact devices per day and could also give e-scrap companies in the southern U.S. a new CRT downstream option.
Com2 started working on the glass-to-glaze strategy at the end of 2013. Its first customer came on in early 2014, and by the end of that year and into 2015, the company was researching and testing its product, which is a mix of CRT glass, chemicals and other minerals. Com2 calls the end product "frit." This is a different material than the leaded solder of the same name, which is used to fuse panel glass and funnel glass in CRT manufacturing.
It started producing samples in 2015 and gained more tile manufacturing customers.
Now, the company is shipping out about 20 containers per month, each holding around 48,000 pounds of frit, according to Com2 CEO Nazim Muhammad. The company currently operates three processing facilities, two in Carol Stream, Ill. and one in Mississauga, Ontario. CRT devices are accepted at all three facilities, but all of those collected in Canada are shipped to the U.S. sites.
One of the Illinois plants, on Fullerton Avenue in Carol Stream, is primarily utilized for dismantling and processing non-CRT e-scrap materials, although some CRT breaking and pre-processing takes place at that location. The glass is shipped to the other Carol Stream location on Kehoe Boulevard, a facility that's dedicated entirely to frit processing.
The company currently sends its frit product to Brazil for tile manufacturing.
Opening Southeast location
Com2's current processing capacity is 150 tons of intact CRT devices per day, although it's running 100 tons per day right now, according to Muhammad.
However, the company is consolidating its Illinois facilities, and is establishing a new location in Savannah, Ga.
The Illinois operations will be housed together at the 200,000-square-foot Kehoe Boulevard facility, which Com2 is purchasing after leasing it for the past few years. The secondary location on Fullerton Avenue, a smaller facility that Com2 has used to process e-scrap since 2010, will close.
Muhammad said the company expects to consolidate into the larger space by the end of 2017, and finalize the purchase by March 2018.
The Georgia site, totaling 36,000 square feet, will add an additional capacity of 50 tons of intact CRTs per day. It's slated to come on-line within 60 days.
Com2 is looking to expand its base of customers for the frit. Currently, its buyers in Brazil are taking all they can use, Muhammed said. He added the facility in Savannah will allow for lower prices to buyers in Brazil, as shipping from the coastal city will be significantly cheaper than it is from Illinois.
The new location also opens up a CRT destination for recycling companies in the Southeast.
"We currently provide responsible CRT recovery for OEMs and other customers in the Northeast and Midwest," Muhammad said. "The new Savannah operation will broaden that market to the South and Southeast."
The company holds R2 certification at one of its Illinois facilities and the Canadian plant. The Illinois location temporarily lost certification, but it was reinstated in April. Muhammad said the suspension was due to problems with the paperwork the company was using to audit its downstream processor. The paperwork was missing some points, he said, and because that problem had been noted multiple times, SERI suspended its certification.
The problem had nothing to do with the frit or CRT processing, Muhammad said.
From glass to powder
Through the Com2 process, which was developed in-house, CRT glass is processed into a fine powder that can be glazed onto a tile.
In the processing stage, the CRT glass is cleaned so it's free of phosphor and any contamination. The clean glass is transferred to the frit line, Muhammad said, where it gets pulverized to a certain size, mixed with a variety of chemicals and minerals, and packed for sale to tile manufacturers.
The process doesn't involve a furnace, and the company does not manufacture the actual tile. The final product is a powder material that can be baked onto the tile by the manufacturer. The powder contains between 1 and 3 percent lead, Muhammad said.
Manufacturers of traditional frit not stemming from CRT glass typically add lead to the product to enhance the color and shine of the glaze, according to Com2.
Com2 is not the only tile-oriented downstream option for e-scrap companies that take in CRTs. For several years, Spain-based Camacho has been receiving CRT glass from U.S. processors and using the material in ceramic tile production.
More stories about CRTs