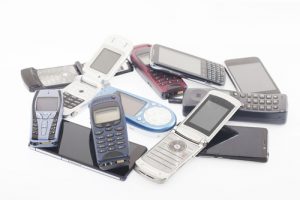 Millions of electronics sit unused in Wisconsin homes, according to a report from the state's e-scrap program, and awareness of recycling options is growing. But trash disposal of computers and TVs has also seen an uptick during the past few years.
The E-Cycle Wisconsin program, part of the Department of Natural Resource (DNR), has conducted four statewide surveys since 2010 asking residents about the electronics in their homes and their electronics recycling habits. The recently released 2016 survey results show households have more and more electronics, but also that they're storing a great deal of unused devices.
About 22 percent of TVs, 29 percent of computers and 48 percent of cell phones in households were unused in 2016, according to the report. The DNR estimates more than 8 million TVs, computers and cell phones in Wisconsin households are no longer in use.
Awareness of electronics recycling options grew from 2013 to 2016, with 45 percent of residents certain of where to go to recycle electronics, compared to just 28 percent three years earlier. More people knew about the state recycling program, as well.
Conversely, awareness of the state's ban on landfilling electronics declined.
"Regardless of program awareness, nearly all Wisconsin residents continued to recycle and reuse old devices rather than put them in the trash," the report said.
Most survey respondents reported recycling electronics, including through retailer takeback programs. But nearly half of TV owners who reported no longer wanting the device, and more than 50 percent of those who didn't want a computer or cell phone, were storing the devices rather than getting rid of them.
The percentage of residents who disposed of a computer in the trash more than doubled, from 4.5 percent in 2013 to 9.3 percent in 2016. Disposal of TVs also increased, though less dramatically. But the lowest percentage of residents threw cell phones in the trash since the surveys began in 2010.
The dramatic increase in trashed computers could be due to statistical errors, the report noted, but it could also be due to lack of information or other factors, such as not knowing where to take the devices and data security concerns. This was the first survey in which data security concerns were polled, and the report identifies it as an area recycling stakeholders should prioritize.
Whatever the reason for the increase in disposal, the report posited "it suggests an opportunity for responsible collectors and recyclers to promote computer recycling more strongly – something that could help their bottom lines, since computers generally have a positive recycling/reuse value."
More stories about EPR/stewardship