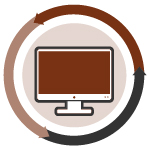 Researchers discover a bacteria that can help process gold, and a local recycling professional finds some electronics gems.
Devices down: Washington state is collecting less weight in TVs, computers and monitors for recycling compared with a year ago. The state's monthly E-Cycle Washington report indicates 10.25 million pounds of the devices have been collected so far in 2017, which is about 87 percent of what was collected during the same period in 2016.
Recycling reward: The Cincinnati Reds are throwing in an enticement for a select number of Ohio residents who recycle their old electronics. According to Fox 19 TV news, the first 400 attendees at three separate collection events will receive tickets to a Reds game – although they will still be asked for a $10 donation to cover the recycling costs.
Useful bacteria: Researchers have discovered multiple species of bacteria that can efficiently process gold. The Digital Journal reports the future applications of the findings could include e-scrap recycling, particularly if researchers can speed up the conversion process.
Fascinating finds: There's no shortage of interesting finds in the e-scrap recycling business. According to an Iberia, La. local profile in the Daily Iberian newspaper, Paul Smith, founder of electronics recycling company Paul the Recycle Guy, acquired a 1970s office server system that ended up in a museum and a copier with Olympics markings on it, which the Olympics organization was thrilled to take back.