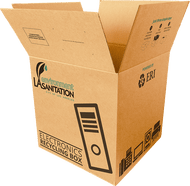 ERI will manage the first-ever mail-in electronics recycling program for the City of Los Angeles.
LA Sanitation announced it has partnered with the company on the new program, through which individuals and businesses can purchase boxes to ship a wide range of devices to ERI. The boxes cost $30, $65 or $90, depending on the size, and the purchase price includes all shipping and processing charges.
The program aims to serve those throughout Los Angeles County seeking an alternative to dropping off electronics at permanent collection sites or during collection events. It's open to anybody in Los Angeles County, population 10.1 million.