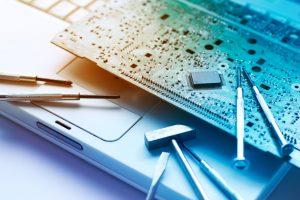 User-repair champion iFixit has released four new teardown guides in recent weeks, showing consumers the inner workings of a new set of devices.
The teardown manuals assign a repairability score on a 1 to 10 scale. The Nintendo Switch, iPad 5, Samsung S8 and Samsung S8 Plus received scores ranging from 2 to 8.
The Nintendo product received the highest marks, with a repairability score of 8 out of 10. The reviewer noted the prevalence of screws rather than adhesives, as well as the plethora of modular components. It was docked for using proprietary screws to prevent easy opening of the device.
The Samsung Galaxy S8 and S8 Plus received scores of 4 out of 10, and although there are some differences, reviewers came away with the overall same impression for each product. Numerous modular components means there is a lot of repair potential for individual parts. But glass on both the front and back of the device make for a daunting task to pry the Galaxy apart, and a curved screen makes it difficult to avoid destroying the display. Adhesive also posed a few problems.
The iPad 5 received a low mark of 2 out of 10.
"Gobs of adhesive hold everything in place," the iFixit reviewer wrote. "As with its Air 1 predecessor, this ranks among the most difficult battery removal procedures we've seen in an iPad."
The LCD screen is held to the iPad's front panel using "foam sticky tape" that increases the likelihood of the screen shattering while it's being removed, the reviewer wrote. Adhesive on the device's front panel means cracking glass is hard to avoid there, as well.