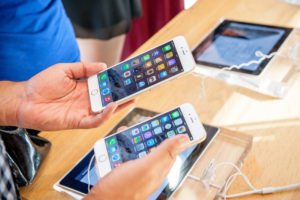 The world's two largest smartphone brands, Samsung and Apple, shipped fewer devices in 2016 than one year earlier.
But, according to a report by International Data Corporation (IDC), overall smartphone shipments rose over the previous year, thanks to substantial increases from Chinese manufacturers.
Overall, 2016 saw about 1.47 billion smartphones shipped worldwide, IDC reported, which was about 33 million more than were shipped in 2015, or a 2.3 percent market growth.
For the first time in Apple's history, iPhone shipments dropped during 2016. The company shipped 215.4 million smartphones last year, down 7 percent from 2015. Samsung remained the global leader in smartphone shipments, notching 311.4 million smartphones throughout the year, down 3 percent from 2015.
The three Chinese companies just below Samsung and Apple in shipments saw substantial increases. Huawei shipped 30 percent more smartphones (139 million total shipped), Vivo shipped 103 percent more (77 million) and OPPO posted a whopping 133 percent increase in shipments, from 42.7 million in 2015 up to 99.4 million last year.