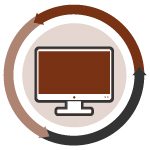 Farmers join the fight to allow consumers to repair electronics, and a lack of available recycling options leads to the dumping of CRT televisions along roadways in one state.
Free recycling: A North Carolina environmental protection group subsidized an e-scrap collection program in a county that has struggled to recycle electronics due to the cost. According to the local Citizen-Times newspaper, more than 250 vouchers were made available that would waive the usual $5 to $15 when residents drop off CRTs, printers, copiers and other electronics.
Farmers join repair movement: The "right to repair" movement, commonly associated with consumer technology, has gained the support of the American Farm Bureau. Motherboard, the technology-focused Vice publication, writes about farmers' interest in making it easier for them to repair farm equipment.
Limited hours: Theft and illegal dumping of electronics have forced an Indiana e-scrap collection facility to restrict its service hours, the Michigan City News-Dispatch reports. Electronics recycling in LaPorte County will still remain free, but residents will have to drop off materials during office hours or at special drop-off events.
Dumping on the rise: CRT televisions are littering a Pennsylvania county's roadways, according to the Wilkes-Barre, Pa.-based Times-Leader. Although the state requires manufacturers to fund the recycling of CRTs, the manufacturers are hitting their recycling targets early, which means the recycling of additional collected material isn't funded via manufacturers' subsidies. A local Luzerne County recycling facility doesn't have a cost-effective way to recycle them, leading many residents to toss them on the side of the road.