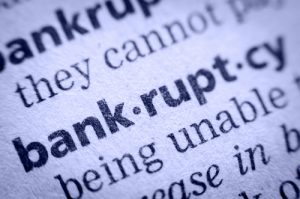 New Life Electronics Recycling has indicated it has no assets and owes a total of more than $1 million to dozens of creditors.
As a result, Oswego, Ill.,-based New Life submitted a voluntary Chapter 7 petition in the U.S. Bankruptcy Court in the Northern District of Illinois. It was submitted Jan. 15.
Illinois Secretary of State records show the company was incorporated in August 2011 and dissolved on Jan. 13, 2017. New Life's website is no longer active, but a cached version of the site notes it provided recycling, asset recovery services, data destruction, on-site palletizing and auditing services.
Other e-scrap companies have also experience financial problems of late, particularly those managing CRT devices.
In addition, Illinois has been a challenging location for e-scrap stakeholders. Some municipalities in Illinois, which has an extended producer responsibility program for electronics, have struggled to keep the pipeline open for collections. Stakeholders are now looking at legislative changes to the program.
Money owed
Signed by Matthew Gatz, New Life's president, the federal bankruptcy filing states the company has no assets and owes a total of $1.14 million on unsecured claims. The document shows the largest sums are owed to a company called Doug-Lan LLC of North Aurora, Ill. ($435,000); Trilan Investments of Aurora, Ill. ($292,000); and Ryder Transportation of Alpharetta, Ga. ($115,000).
A total of 45 entities are owed money. The meeting of creditors is scheduled for Feb. 16 in Yorkville, Ill.
Among the claims is $76,000 owed to a company called ILRECO LLC of St. Louis, the result of a court judgment. Will County (Ill.) Circuit Court records show ILRECO sued New Life Electronics Recycling in July 2016, and the judgment was entered Sept. 21. Details of the dispute were not available.
The bankruptcy filing indicated that, within the past year, an inventory of electronics with negative value were in the possession of an assignee for the benefit of creditors, a court-appointed receiver, custodian or other official.
Past struggles
The Morris (Ill.) Herald-News reported in April 2016 that a collection event in Morris ended abruptly because of a dispute between Grundy County and New Life Electronics Recycling.
The Chicago Tribune reported in September 2015 New Life Electronics Recycling hadn't been consistently picking up electronics collected in Naperville, Ill. The company had been struggling since April 2015, according to the article, so the city worked to accommodate it by limiting drop-offs to one TV or monitor per vehicle, the newspaper reported.
Gatz told The Sun newspaper the situation worsened in July 2015, when the state stopped allowing haulers to charge a fee for their municipal programs. He cited inadequate payments from manufacturers and a lack of state subsidies as factors making electronics recycling more challenging for his company.
Gatz could not be reached by E-Scrap News for comment.