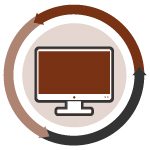 The Buffalo Bills make a drive for recycling, and Samsung is getting more backlash over its handling of the Galaxy Note 7 debacle.
More Samsung fallout: Greenpeace is blasting Samsung over its lack of transparency on what will happen to Galaxy Note 7 phones. Samsung hasn't released specifics on how it will dispose of the defective phones and Greenpeace says they could present a risk to the environment.
Recycling touchdown: The Buffalo Bills NFL team is hosting its fourth-annual electronics recycling collection drive. People who drop off an old TV, computer or other item for recycling will get a coupon to the Bills Store.
Faux CRT: Gizmodo features a new TV that is designed to look like an old CRT TV from the past. The screen is a 20-inch LCD built into a wooden frame complete with channel and volume dials. Behind the screen, where the tube would have been, is space for Blu-Rays.
E-scrap settlement: The city council in North Augusta, S.C. recently settled a lawsuit over e-scrap. The North Augusta Star says the landlord of a bankrupt recycling center sued the City, accusing it of removing more than 5 million pounds of e-scrap from the facility.
Bigger and better: The e-scrap recycling facility in the Grand Valley region of the Colorado-Utah border has moved to a larger building and a better location, reports Western Slope Now. The new building is more than 19,000 square feet. Workers disassemble electronics for recycling or refurbishing.