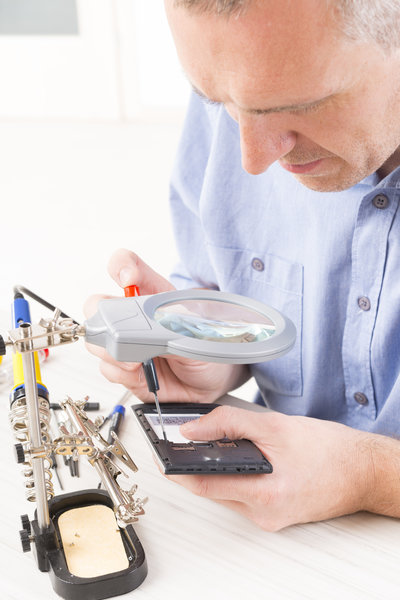 A business based in the Pacific Northwest is emphasizing the "mobile" in mobile device repair. Portland, Ore.-based iFix King brings its repair lab to the customer, fixing electronics on the spot.
The iFix King business model is a relatively new one being tested in the phone repair market: bringing the service to the customer. It has advantages and drawbacks, just like any nascent industry.
Nick Matev started iFix King in March 2016. He and a few technicians serve the Portland metro area, driving to customers' homes, offices or other locations to do the job. Business was slow at first, but he tells E-Scrap News things are picking up.
"It went from one phone a week to two to three, now it's a few phones a day, sometimes five, sometimes 10," he said.
Matev works out of a very small, two-person car, hoping to save himself, and his customer, money. When he conceived the idea, he thought: "I can't afford to get a storefront, but I have a car, there's internet out there, so if I can just post that I can go out and do repairs, maybe that will work," he said.
But Matev isn't alone out there. A similar business model is being employed at iCracked, which is like Uber for phone repair. The network of techs who work for iCracked across the country set their own schedule and their own territory.
Ivan Mladenović is the CEO and president of Preemo, an IT firm in southern Florida. He also owns several electronics repair stores. He views the mobile repair concept as a lifestyle business.
Mladenović thinks there are advantages to having an actual storefront, even though it might cost more to operate.
"We can do multiple devices at one time. You can do a phone repair while you're working on a computer repair so you can multitask a little bit better, and that makes the business more profitable," he said. "And also, you have access to more parts. There's only so much you can carry in a car."
He also said collaboration is important. A technician might encounter an issue he's never seen before. In a store, he can ask a colleague, but in a mobile situation, a tech might not have that opportunity.
Matev said he and his technicians fully prepare for appointments, which are mostly repairs to cracked phone screens. He said the only time something can't be fixed on the spot is when additional problems are discovered.
"We know what our most-used parts are, so we have them on hand all the time," he said.
But, just like the operator of a traditional repair business, Matev encounters shortages of parts. Sometimes, he also finds himself with too many parts. He has parts for LG phones, but nobody is calling about them, he said.
Matev sees room for expansion in his business model. He said he is getting repair requests from all parts of the state, including Eugene, which is 110 miles away, and Corvallis, which is 85 miles away. He even got a request from as far away as Seattle, a three- to four-hour drive from Portland. That is prompting him to look for investors so he can expand his business all across Oregon.