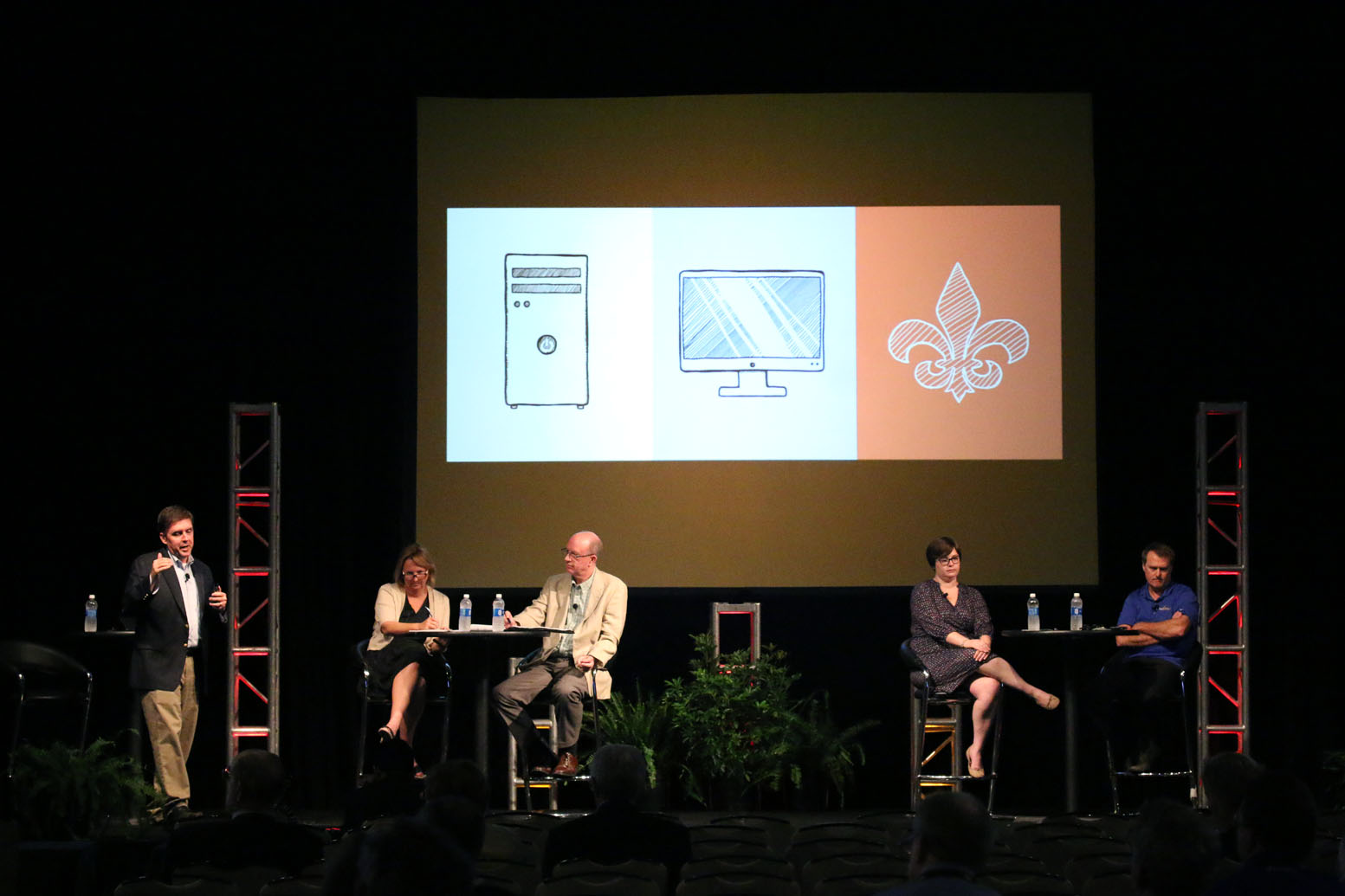 Representatives from major electronics manufacturers took to the stage at last week's E-Scrap 2016 conference. They detailed efforts to create more sustainable devices and also took aim at some requirements of state electronics recycling programs.
Moderated by Walter Alcorn, the vice president of environmental affairs at the Consumer Technology Association (CTA), the "OEMs Open Up" panel included representatives from Dell, Sony, Panasonic and Vizio.
During much of the 90-minute conversation, speakers fought back against the notion that original equipment manufacturers (OEMs) are failing to aid the e-scrap industry and protect the environment.
"We have made progress," Alcorn said. "When people tell you things are getting worse, that's not true."
Handling CRTs, eliminating toxins
Alcorn drew attention to recently released survey results from CTA on CRT TVs and monitors still remaining in U.S. households to prove his point.
According to the 2016 numbers, 28 percent of survey respondents reported owning at least one CRT TV – that's down from 35 percent last year and 41 percent in 2014. In addition, 18 percent said they owned a CRT monitor, which is down from 20 percent last year and 21 percent in 2014.
"It's a remarkably low number," Alcorn said. "And that's fairly consistent with what you expect to see at the end of the bell curve."
Alcorn noted "at some point" the falling ownership numbers will lead to decreases of TVs and monitors coming into collection sites. Currently, CRTs account for the majority of the weight coming into most municipal collection programs. This reality has been challenging for the industry because the devices typically cannot be profitably processed.
Doug Smith, the director of corporate environment, safety and health for Sony Electronics, said he's "surprised there's so much [CRT] weight coming in" and argued the industry should consider alternatives to recycling of the lead-laden devices.
"Recycling is sometimes not the best decision for the environment," Smith said. "Let's open up some beneficial use for CRT glass so we can responsibly manage the toxics."
Caitlin Sanchez, a lawyer for Vizio, estimated CRTs make up 90 to 95 percent of the total weight of e-scrap material managed by the company in mandated collection programs.
"We've never made CRTs yet the bulk of material that comes in is CRTs," Sanchez said. "Not only is it unfair, but it puts a significant burden on us."
OEMs also highlighted extensive efforts to tackle toxins in new electronics, including the elimination of lead and mercury and widespread product lightweighting.
"We consider design for the environment in everything we do," said Beth Johnson, manager of U.S. legislative and compliance programs for Dell.
David Thompson, the director of the corporate environmental department at Panasonic, stressed that the company has been hard at work on environmentally minded design for years.
"This has taken a lot of technological development and time," said Thompson, who also serves as the president of Electronic Manufacturers Recycling Management Company (MRM).
Taking on state programs
At the same time, OEMs on the panel came down hard on state electronics recycling programs.
Twenty-five states have passed electronics recycling laws. The majority of them are extended producer responsibility (EPR) systems in which manufacturers are required to help fund the collection and processing of material. Such arrangements currently cost the electronics industry over $100 million annually, CTA's Alcorn said.
"I think the state EPR experiment had the noblest of intentions, but it hasn't worked out," Vizio's Sanchez said. "What in reality has happened is that you're being put, as a manufacturer, in charge of running programs [and] … trying to solve this problem. … The goals are ever-increasing with no end in sight."
Vizio, in fact, filed a lawsuit in the state of Connecticut over its program, arguing it put an unfair burden on the manufacturer. The case was dismissed earlier this year.
Thompson from Panasonic referred to the variety of state programs as a "considerable experiment for us," and said he's "not sure it's had the intended effect of revolutionizing the design of products."
"I think it has been a challenge," he added. "We've addressed it the best we can."
Johnson from Dell argued that her company has always supported product stewardship, but she said programs that set annual weight-based targets for manufacturers have been ineffective.
"We think it's more than reasonable to take your product back," said Johnson. "But let's not be overly proscriptive."