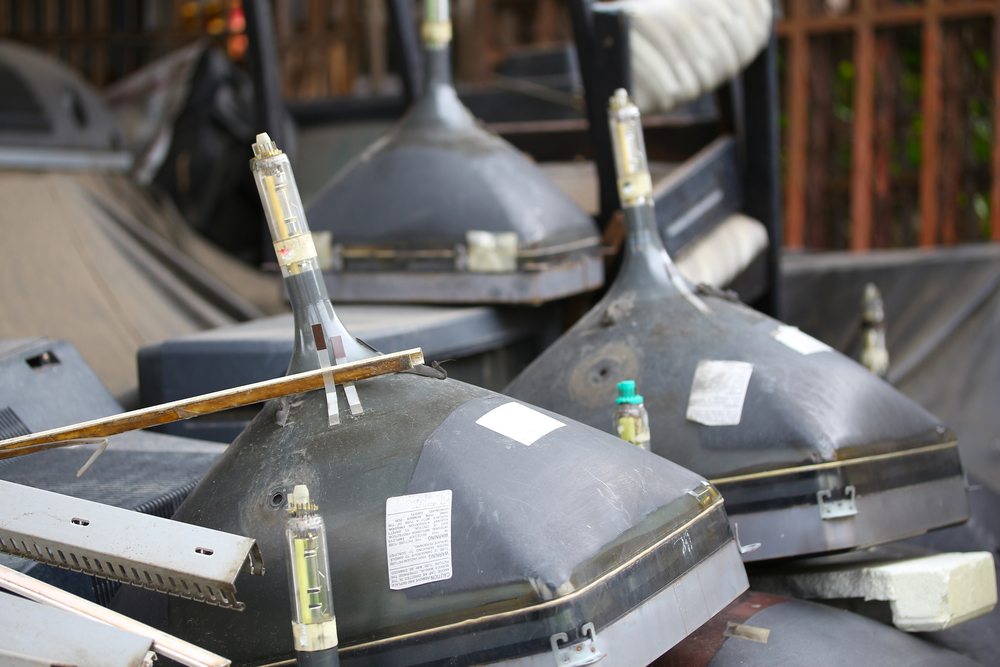 A recent bankruptcy petition and lawsuit from investors highlight the continuing troubles facing closed e-scrap company Diversified Recycling.
In addition, E-Scrap News has learned Diversified, which was based in the southeast U.S., has roughly 500,000 pounds of CRT devices still on hand.
In 2015, Basel Action Network (BAN) suspended Diversified from applying for e-Stewards certification for two years. BAN, which founded the e-Stewards standard, indicated the company sold non-working electronics to overseas buyers and sent CRT glass downstream to an outlet that crushed it and deposited it in a construction-and-demolition materials landfill.
The suspension was the beginning of the company's public troubles.
On May 10, Diversified Asset Recovery voluntarily filed for Chapter 7 bankruptcy, through which company assets, if there are any, are liquidated to repay creditors. That filing showed the company had three trucks worth a total of $35,000 and more than $225,000 in liabilities, mostly related to outstanding truck loans and a facility lease.
Then, on July 19, Diversified Recycling, Inc., a member of Diversified Asset Recovery, also filed for Chapter 7 bankruptcy. The filing indicated the company has no assets and may owe $4.2 million to unsecured creditors.
In written responses to questions from E-Scrap News, Diversified CEO Bruce Manssuer called the $4.2 million figure extremely misleading. Among the liabilities, Diversified Recycling's bankruptcy petition lists a claim for $2.4 million from Strategic Capital, a company that provides consulting and funding to businesses looking to become publicly traded. The sum was based on a June 22 letter from Strategic Capital Markets Inc. attorneys to Diversified alleging civil theft and demanding Diversified pay them the $2.4 million sum.
Diversified does not consider that $2.4 million a debt, Manssuer told E-Scrap News.
"That dollar amount represents a speculative figure and again has no merit," Manssuer stated. "Should it become necessary, Diversified will be providing a defense to these allegations."
Investors lawsuit
Strategic Capital is among a group of nine investors who on July 11 filed a lawsuit in Orange County (Fla.) Circuit Court against Diversified Recycling and Manssuer. The lawsuit is one of six disclosed in the Diversified Recycling bankruptcy petition signed by Manssuer.
The complaint alleges that when they purchased a total of nearly $200,000 Diversified Recycling shares, the investors were told the injection of capital was being made in connection with Diversified Recycling's push to become a publicly traded company reporting to the U.S. Securities and Exchange Commission (SEC). The plaintiffs were told they'd be able to sell their shares in a publicly traded market, but the shares were never registered with the SEC, rendering them worthless, according to the complaint.
The lawsuit also claims the investors were misled or were not told about Diversified Recycling's financial health, Diversified Asset Recovery's bankruptcy petition or a pending lawsuit against former employees.
"As CEO of Diversified Recycling, Manssuer has a duty to disclose relevant and material information to potential investors and shareholders," according to the lawsuit.
The lawsuit asks for the investors' money back plus three times that amount as damages, for a total of nearly $800,000.
Half a million pounds of CRTs
Diversified Asset Recovery has about half a million pounds of intact CRT devices in two warehouses, attorney Leigh Meininger, a trustee for unsecured creditors in one of the bankruptcy cases, told E-Scrap News.
Meininger asked Manssuer about the CRTs at an Aug. 18 creditors meeting. Manssuer provided him the weight estimate and said recycling of the devices would cost about $150,000, Meininger said.
Diversified had locations in both Norcross, Ga. and Orlando, Fla., although both have since been vacated. No devices were left in the Norcross location, N. Jackson Cotney, Jr., an attorney for the property owners, told E-Scrap News.
"They took everything that was a problem," Cotney said.
Manssuer wrote that he has the documents to prove Diversified recycled 289,658 pounds of CRT-containing devices through its approved and vetted downstream vendor, Kuusakoski Recycling in Plainfield, Ill. "Arrangements are being made to recycle the remaining CRT devices … with (an) appropriate downstream vendor," he wrote.
Manssuer also stated that during the time it was in operation, Diversified strictly adhered to local, state and federal laws and achieved multiple certifications for its Orlando location, including R2, ISO 9001, ISO 14001 and OHSAS 18001.