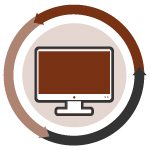 California aims to raise the recycling fee it charges buyers of new electronics, and Illinois begins to restore some of its e-scrap collection programs.
California considers changes: California wants to raise its covered electronic waste recycling fee, which is the fee consumers pay when they buy electronics. Currently, consumers pay $3, $4 or $5 on each purchase, depending on screen size. The proposal would raise the rates by a few dollars, and it comes shortly after the state began increasing payments it makes to e-scrap companies.
The fight against repair: A piece in Android Authority takes aim at electronics manufacturers for designing short-lived products and fighting right-to-repair legislation. The opinion piece argues manufacturers position themselves as environmentally conscious entities while secretly undermining laws that would help reduce e-scrap generation.
Collections, take two: Romeoville, Ill. will join an e-scrap recycling program run by Will County, which has been working to restart e-scrap recycling after a longtime vendor exited its contract. The Herald-News reports the program will bring twice-monthly collection events to the town located outside Chicago.
Early iot obsolescence: The premature death of software support for internet of things (iot) devices is resulting in iot electronics needlessly entering the waste and recycling streams. That's according to a writer for zdnet.com, who points to the forced obsolescence of various working devices when cloud services supporting them cease.
Local refurbishing wins out: Free Geek, a nonprofit processor and refurb outfit based in Portland, Ore., will take in an additional 1,500 computers each yearthanks to efforts from the local county. According to Oregonlive, Multnomah County decided to end its e-scrap contract with an out-of-state company and send the computers to the local organization.