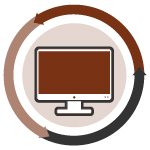 E-scrap recycling companies are enjoying a price rise in the gold market, and Washington state collection volumes continue to drop.
Gold values: E-scrap processors have been receiving golden news recently. The price of gold rose 16.5 percent in the first quarter of 2016, bringing smiles to electronics processors (gold is a key determinant of the price paid for scrap printed wiring board). The price boost, which was the largest quarterly jump in three decades, can be attributed to low interest rates and high investor worry.
Bulb sales: Linear fluorescent lamp sales continued their year-over-year decline during the fourth quarter of 2015, according to theNational Electrical Manufacturers Association.
Statewide data: Washington's e-scrap collection numbers continued their downward trend through March, according to the Washington Department of Ecology. The E-Cycle Washington program collected 8.9 million pounds of TVs, computers and monitors for recycling during the first three months of the year, 82.8 percent of the weight collected during the same three months in 2015.
Certification update: Electronics recycling environmental certification e-Stewards has released its latest "sanctioned interpretation," essentially an addendum to the certification standard. The Sanctioned Interpretation No. 5 concerns CRT glass disposition and other issues.
Pizza for scrap: Canadian restaurant Pizza Pizza is offering free food to customers who bring in small electronics for recycling through a campaign called "Slices for Devices," according to CBC News. Locations in Ontario, Quebec, Manitoba, Saskatchewan and Nova Scotia are offering free cheese or pepperoni slices in exchange for old cameras, cell phones and MP3 players.
Phone repairability: Device repair advocacy group iFixit gives a solid repairability score to the LG G5 mobile phone. In its latest tear-down, the group rated the phone an eight out of 10, with 10 being easiest to repair.