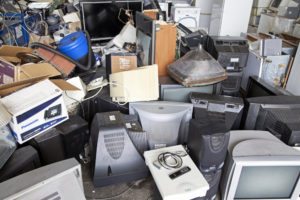 West Virginia has repealed a ban on the landfilling of televisions and other devices.
The state's landfill ban on select electronics had been in place since Jan. 1, 2011. But House Bill 4540, signed into law March 10, amends wording in that legislation to remove the prohibition. The law does allow communities to prohibit landfilling in their own areas if "cost-effective" recycling alternatives exist.
The legislation goes into effect July 1. It had passed in the House on Feb. 22 and the Senate on March 7. It covers televisions, computers and display devices.
According to James Young, the executive director of the Kanawha County Solid Waste Authority, the ban was well-intentioned but ultimately wasn't sustainable.
"It put a lot of municipalities and solid waste authorities in a very difficult situation where you had to do it but you knew you couldn't make money or even break even," Young said in an interview.
Young said the Kanawha Solid Waste Authority, which includes the West Virginia capital of Charleston, stopped accepting electronics about a year-and-a-half ago due to the high costs of recycling CRT TVs and monitors and a lack of funding. He said the county wasn't alone in struggling to keep up with the ban.
"I think there's unanimous support among municipalities to back the bill," he said.
Bob Bennett of the Greenbrier County Solid Waste Authority told E-Scrap News following the ban hasn't always been easy.
"We've always found a way to get rid of them, but it's a constant struggle," Bennett said. "It's been a real nightmare and then I wonder if all the TVs we have shipped out of here have actually been properly taken care of or if they've just ended up in a landfill in another state."
Bennett said his operation incurred costs of about 16 cents per pound to send TVs out of state for recycling. He added that the prospect of landfilling CRT TVs and monitors "isn't perfect, but it's better than them sitting in a warehouse."
Bennett noted his recycling center will continue to offer free electronics recycling services Monday through Friday to residents of the county.
Jeff Slack, the director of the state's Region 8 Solid Waste Authority acknowledged some communities have faced high costs as a result of the ban, but he said it was still possible to efficiently handle covered material. Region 8 manages solid waste disposal in a five-county district and operates two transfer stations.
"My perspective is a little bit different, I guess," Slack stated. "I've been fortunate enough to be able to find a way to capture and recycle CRTs in a way that doesn't cost me a tremendous amount of money."
Slack said the Region 8 authority bundles all collected electronics and can ship them downstream for recycling at no cost. In the event loads contain too many CRTs, he faces costs of anywhere from 19 to 22 cents per pound.
"As long as we can recycle any material, we're going to do that," Slack said.
The West Virginia Department of Environmental Protection proposed the legislation that repealed the ban. Kelley Gillenwater, a spokesperson for the agency, told E-Scrap News the landfill ban did not succeed in encouraging recycling.
"The reason the West Virginia Department of Environmental Protection proposed this 2016 legislation is because the prohibition, which was added … to facilitate the recycling of covered electronic devices, actually had the opposite of the desired effect," Gillenwater said. "Because landfills couldn't accept these materials, waste haulers wouldn't pick them up, so the result was that many residents would dump them over hillsides and into creeks."