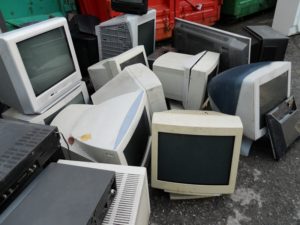 Universal Recycling Technologies has reached a settlement with the state of New Hampshire over hazardous waste violations identified in 2012.
The fine, announced this week and totaling $200,000, stems from a handful of infractions identified during an inspection of the company's Dover, N.H. processing facility by the New Hampshire Department of Environmental Services (NHDES).
That inspection, according to NHDES, found that the company "disposed of cathode ray tube (CRT) glass fines and CRT baghouse dust at a solid waste landfill that is not authorized to accept hazardous waste." NHDES also noted the company's "recycling process for lamps did not effectively lower the concentration of mercury to levels that met applicable state and federal standards."
In an interview, a Universal Recycling Technology (URT) executive acknowledged a 2012 inspection had identified several infractions at the company's Dover site. He added New Hampshire's limits on lead and mercury exposure are more stringent than rules in other jurisdictions.
In addition to its Dover site, the company has processing locations in Wisconsin, Oregon and Texas.
"At the time of the inspection, URT was meeting or exceeding federal EPA standards and the standards that are followed by everyone in the industry and every other state in the country," said Jeff Gloyd, the company's vice president of sales and marketing. "It was unbeknownst to us that New Hampshire had stricter regulations and once that was determined, the changes were made to our process and corrected immediately."
Gloyd added that "we weren't out there landfilling CRT tubes or glass."
"We were processing material using known industry standards," he said. "Quite literally, if the facility were 20 minutes south in Massachusetts or a little bit north in Maine or west in Vermont, we wouldn't be having the conversation about the disposal."
The company said it is no longer processing mercury-containing lamps in New Hampshire. "URT will be moving its fluorescent lamp processing system out of the state of New Hampshire to better suit our internal and external customers' needs," the company noted in a statement.
URT "cooperated fully and corrected the violations found by NHDES," the Office of the New Hampshire Attorney General stated in the announcement (that office assisted in crafting the settlement). The company has until the end of 2019 to pay the $200,000 in a series of five installments.
URT has been owned by Wisconsin-based Hendricks Holding Co. since 2007. All four of URT's processing sites are certified to the e-Stewards standard.