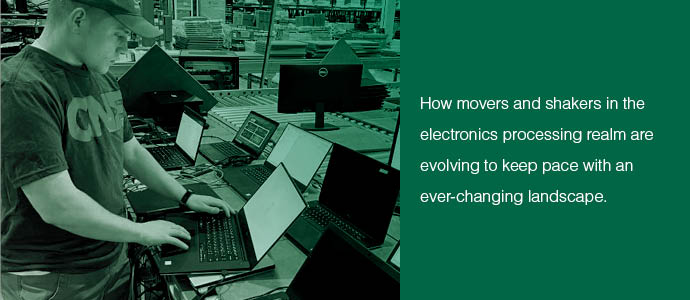 This article appeared in the October 2023 issue of Resource Recycling. Subscribe today for access to all print content.
With technology, consumer habits and legal frameworks undergoing changes on what can feel like a daily basis, the world of electronics recycling is in constant flux. To avoid getting left in the dust, industry operators need to grow and evolve to keep up with the times.On the following pages, you'll find examples of companies that did just that – one that carefully selected a new location based on its logistical needs, one that transformed itself to offer a completely different suite of products and services, and one that is continuing a push into Latin America.
Reinvention as a software supplier
When the CEO of electronics reuse and recycling company R3eWaste decided to license the firm's operations management software to the industry at large, he recognized that no competitors would bite if R3eWaste still used it.
That was one impetus for closing the electronics recycling company and pivoting into the software business.
"For obvious reasons, no one in the e-waste industry is going to buy it if the person that owns the software is a competitor," Graham Wollaston, CEO of R3eWaste, told Resource Recycling.
Any processors considering licensing the software would fear their competitor could abuse its database administration power to access their data, he noted. That meant processing used electronics and selling the software "could not co-exist," he said.
The resulting software-only company, called RecycleSoft, is a rare example of a software provider with years of experience directly operating an electronics reuse and recycling business.
Wollaston explained that the knowledge gained running facilities helped inform the creation of the Recycling Operations Management System (ROMS) suite of software products, which handles everything from accounting and employees' timecards to tracking devices through reuse, parts harvesting and recycling processes.
Pivoting away from processing
Based in Phoenix, R3eWaste had processing facilities in that city; Austin, Texas; and Tucson, Ariz. Wollaston founded R3eWaste in 2016. Earlier, in 2001, he founded ScrapComputer.com, a company he sold in 2012.
Wollaston began working on recycling industry software 22 years ago, around the time he started ScrapComputer.com. With a background in software development, he began by writing the code himself, although for years now he has relied on software teams in India and Eastern Europe to develop the software for him, he said.
After six iterations of the software, the result today is about 2.3 million lines of debugged and in-production source code, he said. R3eWaste used it for nearly all its functions, Wollaston said.
"It's very robust. It was being used in R3eWaste for the last 8 years," he said.
But late in 2022, the company decided to move out of material processing. The lease on the Phoenix plant was coming up for renewal, and the new property owner wanted to double the rent, he said. Additionally, he noted that the business faced more and more rules and higher costs over the years; simply maintaining R2 certification was getting more and more expensive, for example.
So the company closed three processing plants, laying off 32 people, and became a software-only company with a virtual office. Seven of those 32 people were then re-hired by the new software business, RecycleSoft, because of their institutional knowledge of ROMS and the company's need for a support network to help customers get up and running, Wollaston said.
Launching the software
The core of the platform is ROMS, and a number of multi-device apps feed into ROMS, he said. The suite includes applications (including apps for mobile devices) for managing inventory, wiping data and producing certificates, selling used electronics on e-commerce sites, weighing shipments, performing double-entry accounting, recording employees' hours, tracking driver locations, maximizing vehicle route efficiency, producing environmental impact reports for customers, performing mass email blasts and more.
"I have seen the other offerings and they are shiny, new and cover 40% but still require use of spreadsheets for the other 60%," Wollaston said. "We do 100% – not a single spreadsheet required."
RecycleSoft officially launched at the International Secure Information Governance and Management Association (i-SIGMA) Conference, which was held in Las Vegas in late March. The first adoptees are in the paper shredding industry, which don't need 90% of what ROMS does, making them quick and easy to get up and running, he said.
RecycleSoft is now looking to take on one larger player. Wollaston is confident the system is designed for the complex business logic of the industry. A software-only company may not understand that complexity when entering the elecronics recycling market.
For example, ROMS continually evaluates and scores clients based on the value of electronics they're providing, the difficulty sorting the material and distance that has to be driven to collect their material. That score could allow staff to prioritize their pickups.
"If I'm just a software developer and have never been in the business, that sort of thing would never occur to me," he said.
Landing on Ohio for its new location
Electronics recycling companies often seek to site facilities near their clients to reduce costs and environmental impacts of collecting used electronics. With its new Ohio plant, CNE Direct also considered downstream movement.
"We needed a location that would optimize the logistics and the carbon footprint spend, not just on the way in but on the way out," said Omur Bagci, CEO of CNE Direct.
The Boston-based electronics recycling company recently closed a 50,000-square-foot facility in Peabody, Mass., near Salem, and opened a 100,000-square-foot plant in Groveport, Ohio, near Columbus. The Ohio facility started processing electronics in January, and the last operations in Peabody ended by March.
A company majority owned by its founder, Paul Knight, CNE Direct also has processing facilities in Memphis, Tenn.; Hoofddorp, Netherlands; and Hong Kong.
In an interview with Resource Recycling, Bagci, who assumed the role of CEO in December, said the Columbus-area facility is double the space of Peabody but uses more automation, tripling the throughput capabilities (he declined to state the investment cost of the Ohio facility).
The plant, which is under a long-term lease, has about 120 employees, he said.
Reduced GHG impact
Omur noted that processors tend to open locations closer to the source of used electronics through a hub-and-spoke model. CNE Direct recently had a call with a customer – a computer chip manufacturer – during which the customer emphasized the importance of CNE Direct having a nearby location, he said.
But when CNE Direct looked to build out a new site to optimize the company's footprint, the company also considered the efficiency of moving secondary electronics to market.
He noted that 95% or more of CNE Direct's incoming electronics still have usable life and are resold. Data center devices, which drive the company's business, are typically resold to end user clients, integrated partners and electronics manufacturers, Bagci said.
As a result, CNE Direct looked toward an "end-of-runway" service, meaning a facility close to an airport hub, such as in Columbus, Ohio. The location reduces the costs and carbon footprint associated with shipping devices on aircraft, which would fly regardless of whether CNE Direct's products are on-board, he said.
"Instead of running hub-and-spoke, we're basically running point-to-point," he said.
The strategy makes sense when processing material with high intrinsic value, he noted. If CNE Direct were recycling a greater percentage of incoming devices, then it may be more important to be close to the generation source, he acknowledged.
EPC opens fourth Latin American facility
Electronics recycling services provider EPC has opened a facility in Colombia's capital, giving the subsidiary of CSI Leasing its fourth Latin America plant.
EPC announced in May that it opened the 8,000-square-foot Bogotá Electronics recycling facility, which can process 2,000 IT assets per month. The facility currently employs five Electronics recycling specialists, with plans to grow as volumes increase, a press release noted.
"Having a facility in Colombia will allow us to provide CSI's customers with a consistent end-of-lease experience, along with comprehensive Electronics recycling services, including standardized equipment processing, reporting, data sanitization and proper recycling," Ivan Herrera, Andean region services and remarketing manager, stated in the release. "Our main goal is to accelerate CSI's growth in the Andean region, further solidifying both CSI and EPC's vast global footprint."
Headquartered in St. Charles, Mo., EPC already has facilities near Mexico City; San Jose, Costa Rica; and Lima, Peru.
The release notes that Herrera will manage EPC subsidiary EPC Andina, which includes the Colombia and Peru operations. He has been overseeing Electronics recycling services and remarketing for CSI Leasing subsidiaries throughout the Andean Region for nearly eight years.
CSI has opened new company-owned sites on a regular basis for years.
In early 2022, EPC opened a technology and redeployment center in St. Peters, Mo., not far from the corporate headquarters. The Peru plant opened in 2021, the same year the company's Canadian subsidiary expanded its Edmonton location and moved into a larger space in the Vancouver, British Columbia area. That Edmonton location had just opened a year earlier, in 2020.
In 2019, the company moved into a larger Pennsylvania facility, opened a facility in Atlanta, and first opened its Vancouver plant.
Jared Paben is the associate editor of Resource Recycling and can be contacted at [email protected].
This article appeared in the October 2023 issue of Resource Recycling. Subscribe today for access to all print content.