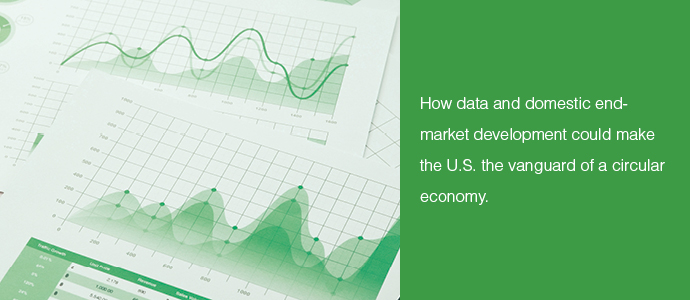 This article appeared in the May 2023 issue of Resource Recycling. Subscribe today for access to all print content.
Nearly three decades after the U.S. Environmental Protection Agency (EPA) launched recycling market development initiatives to divert waste from American landfills and create jobs, it's clear that this long-term effort to build and maintain end markets for recycled packaging materials has yielded positive results, but there is still plenty of room to grow the circular industry in the United States.
While federal, state and local government spending drove initial recycling infrastructure development and the purchase of recycled materials in the early 1990s, the private sector eventually began to make investments and purchases too, spurred by growing environmental awareness and free-market demand.
Solid, quantifiable data on recycling market development in the U.S. has been limited to state-specific impacts – or possibly even been non-existent – but AMERIPEN's new comprehensive economic study, prepared by John Dunham & Associates and scheduled to be released in late May, shows a clear payoff from these types of investments.
The 19 states with recycling marketing centers (RMCs) currently in existence have created a total of nearly 990,000 full-time jobs, generated more than $77.8 billion in wages and benefits, and provided a total economic impact of nearly $280 billion to the U.S. economy over the past 30 years. Our data also reveals that for every $100,000 added to an RMC program budget, industries related to the creation and use of recycled materials realized a 0.08% higher compound annual growth rate (CAGR) in jobs per capita. This equates to 7,760 new recycling-related jobs in a state of 10 million residents, such as Michigan.
AMERIPEN's "Economic Benefits From the Development and Operation of Recycling Market Centers" report focuses exclusively on RMCs' impact on packaging materials and excludes other recyclables such as electronics, textiles and C&D waste. The packaging data demonstrates just how important end-market development for recyclables has become to the industry.
Diving into the report
The effect of various materials – paper, plastics, metal, etc. – on recycling market development varies. But current data indicates that each spurs the creation or expansion of MRFs for sorting waste, and it suggests that higher-intensity manufacturers, such as those producing paper and metal, prefer to locate near input materials and where they may have economic support. Meanwhile, more states are implementing RMC programs. Only 10% of all states had these programs in 1990 compared to nearly 40% today. Many of those programs are located in states with the greatest population density and strongest economies.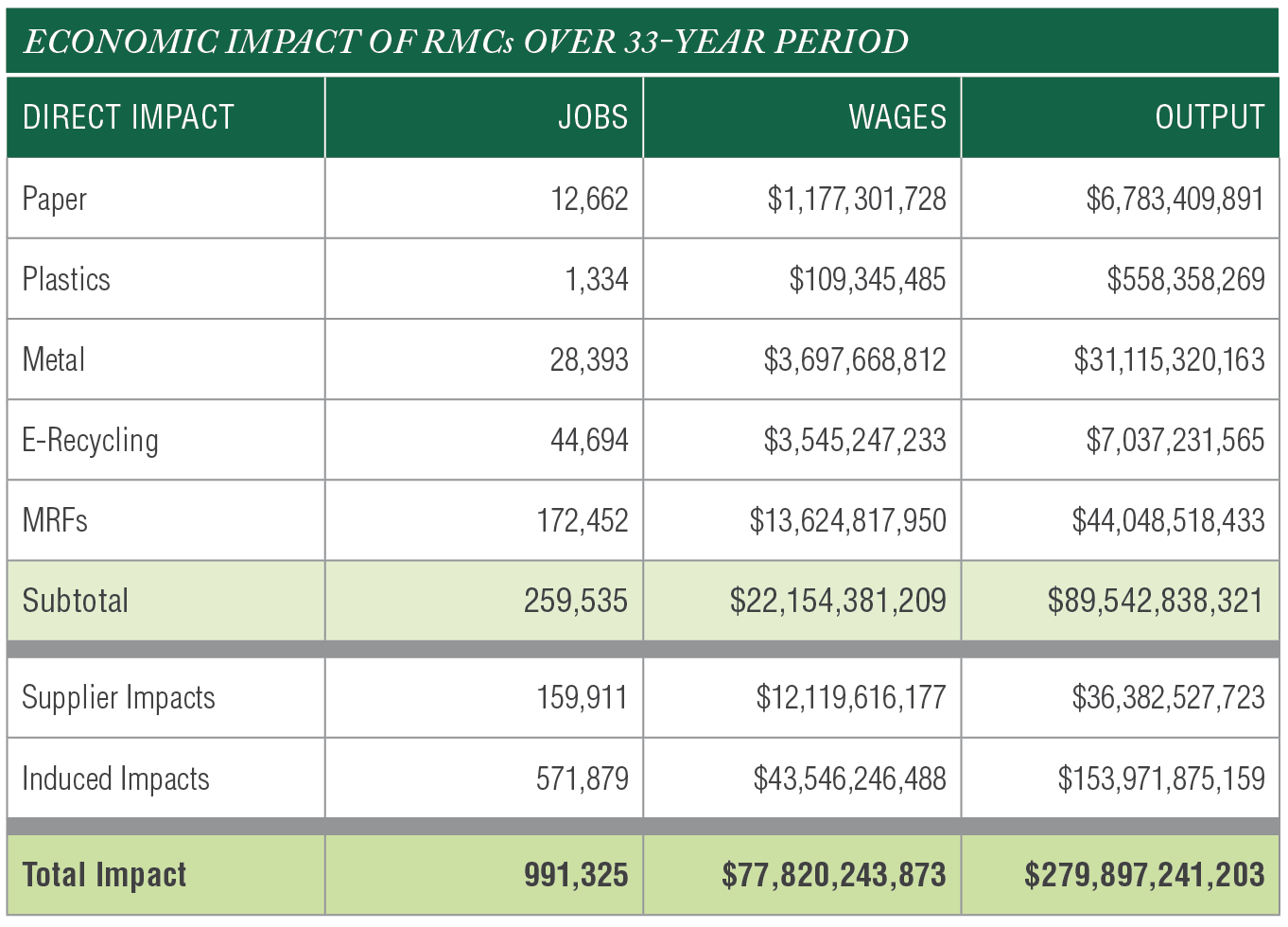 Deriving information for the study wasn't easy, however, and highlights the need for a better evidence base. Right now, states require varying degrees of reporting, and for states where multiple recycling programs have ties to market development initiatives, collecting data was even more challenging.
Unfortunately, since the EPA's initial RMC grants were established three decades ago, the agency has published limited analyses on effectiveness in developing markets for recycled materials, save for a few reports developed nearly a quarter-century ago, in 1997, that examined specific state programs. Since then, not a single data report or analysis of the RMC program can be located in the EPA's document archives. In fact, even a 2020 recycling industry jobs report relies on data stemming from more than a decade ago.
As part of its National Recycling Strategy, which called out the need for the agency to return to supporting recycling market development, we would encourage the EPA to include a focus on standardizing data and evaluating RMCs to help all stakeholders gain a firmer understanding of program impact on our national economy as well as to help identify best practices and possible
opportunities.
Movement to reshore recycling
With the ability to export recycled materials becoming more limited, packaging and recycling industry stakeholders need to understand the increasingly important role RMC programs will play in their success. For decades, the leading end markets for many recyclable materials from the United States were in China. However, since the implementation of China's National Sword policy and the closure of additional markets in Southeast Asia, interest in reshoring recycling has grown. In fact, the study data from 2008 reveals a distinct shift in U.S. jobs created by RMC programs.
A move to return U.S.-owned manufacturing operations from locations overseas, especially with the passage of the recent Infrastructure Investment and Jobs Act, growing interest in extended producer responsibility (EPR) for packaging, and increasing state-mandated recycled content regulation creates new opportunities for recycling end markets here at home. Establishing domestic markets also supports increased transparency in materials movement while reducing global transport emissions.
Opportunities in supply-demand gaps, EPR laws
High demand for recycled content (particularly that containing plastics) is creating gaps between supply, demand and capacity that must be acknowledged and addressed, especially as states start implementing recycled content mandates.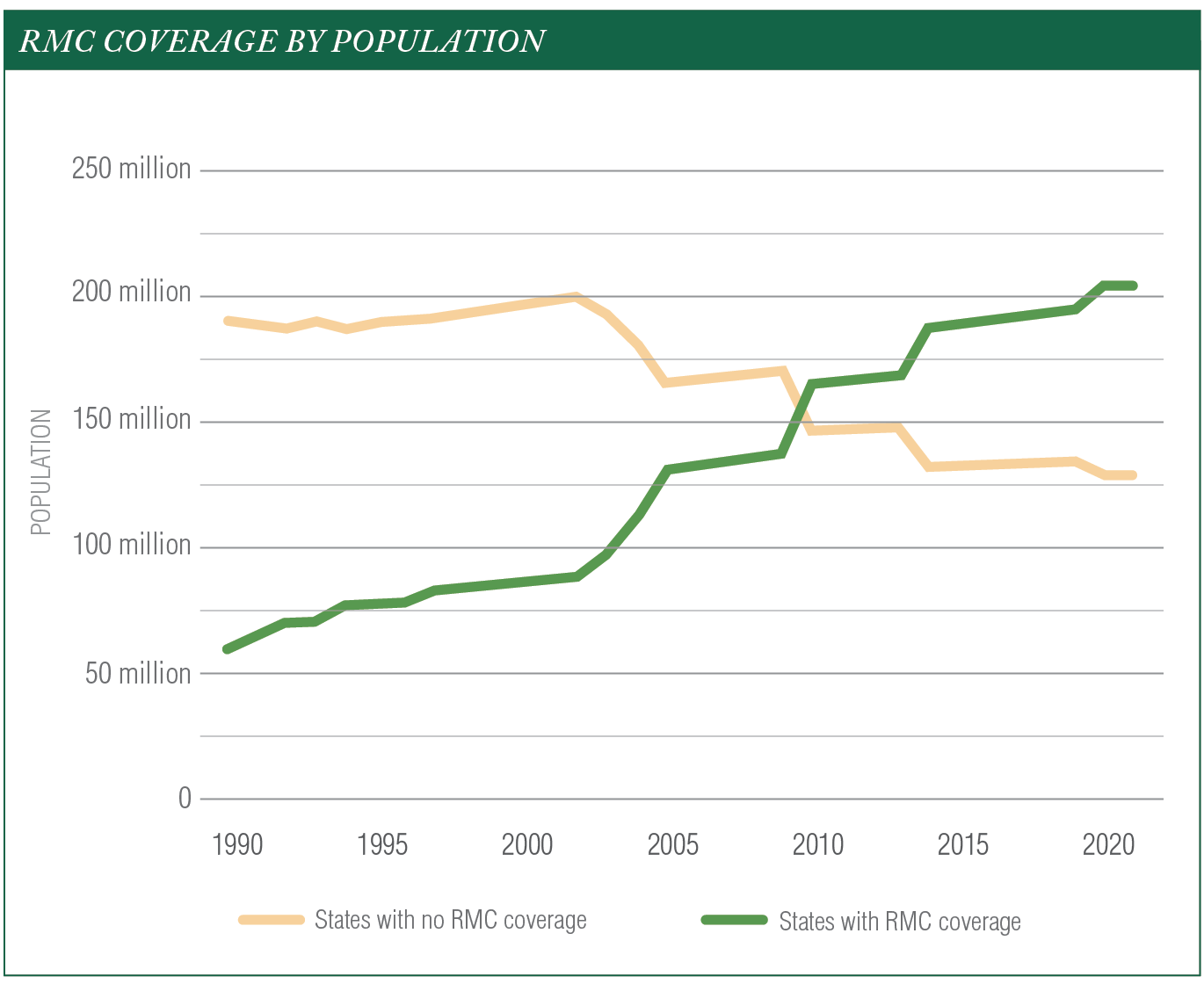 An AMERIPEN report released in March 2021 found the U.S. currently lacks the available supply and, in some cases, domestic reclamation capacity to meet consumer packaged goods (CPG) companies' post-consumer recycled (PCR) content goals, necessitating a national dialogue about how to overcome these challenges and ensure a robust domestic market for reuse.
According to the data, at the end of 2020, domestic capacity to recycle PET bottles and post-consumer PET thermoforms to produce PCR content for all uses was over 2.6 billion pounds annually. To meet the future demand for PCR content, PET reclamation capacity would, at a minimum, need to increase by 50% from current reprocessing capacity to meet CPG company brand commitments, assuming no change in demand from other end markets for this material. Such findings demonstrate the need for recycling market development to help undertake the shift needed to come up with solutions for U.S. systems that produce, use, recover and process these materials.
Meanwhile, state-level programs to create EPR for packaging are starting to proliferate across the country. California, Colorado, Maine and Oregon now have each passed such laws, and nearly 40 EPR-related bills in 15 states have been under consideration in 2023. Emerging EPR laws for packaging in the U.S. are creating an opportunity for industry investment into the design, management and funding of the recycling system. AMERIPEN believes recycling market development will be essential to the success of these programs, and we will be hosting a webinar on this topic in June.
Promising pilot partnerships
Flexible packaging reuse and recycling has helped the industry lead high-profile efforts to reduce packaging in the waste stream, reduce emissions and seize business opportunities. MBOLD, a Minnesota nonprofit coalition of state food and agriculture business leaders and innovators, notes that the U.S. economy uses more than 12 billion pounds of flexible packaging and film, ranging from pallet wrap to single-use shopping bags and hay-bale wrap, every year – and recycles just 5% of it.
Last year, collaboration between MBOLD's members, film recycler Myplas USA and film manufacturer Charter Next Generation (CNG) aimed to create a new initiative to expand film recycling capacity in the region, reduce plastic waste and lower greenhouse gas emissions. The program includes a joint $9.2 million investment from MBOLD corporate members such as General Mills and CNG to establish a new mechanical recycling plant in Minnesota this year. The goal is to recycle nearly 90 million pounds of low- and high-density polyethylene (HDPE) packaging and film annually.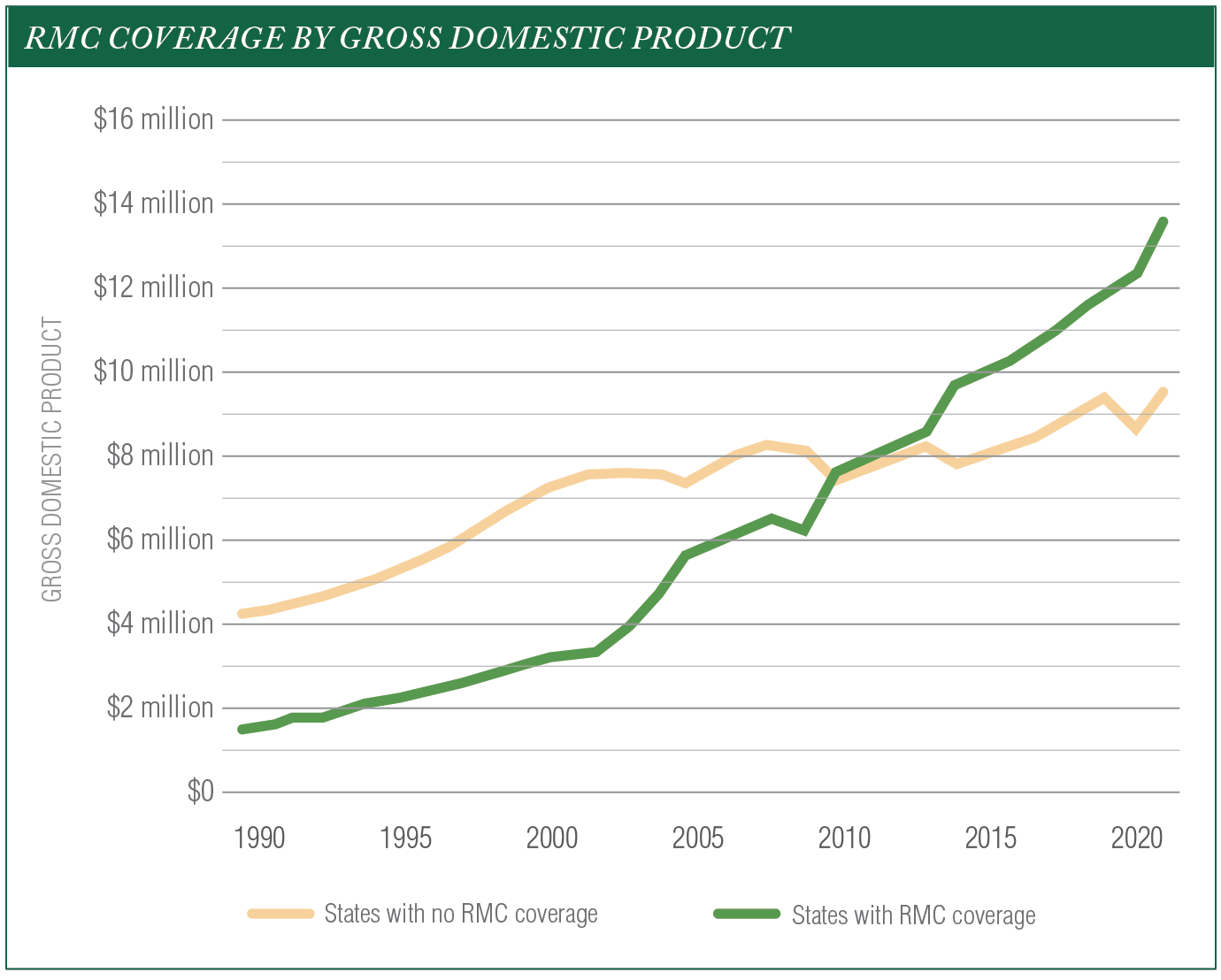 In turn, participating companies and their suppliers will explore opportunities to purchase recycled resin from Myplas to be used in a variety of film products for food, healthcare and other markets. Although a privately funded initiative, the project was supported by the Minnesota Recycling Market Development Center, which facilitated meetings, made introductions and provided technical and permitting advice.
In another example, the Pennsylvania-based Ultra-Poly Corporation, one of the largest recyclers of polyethylene and polypropylene in North America, has partnered with the Pennsylvania Recycling Markets Center, a nonprofit 501c(3) corporation that works to develop and expand recycling markets in the Commonwealth. In this first-of-its-kind partnership there, they designed a new proprietary process for recycling Marcellus gas well plastic liner material and other forms of HDPE. The process enables Ultra-Poly to remove more than 20 million pounds per year of plastic liner material from the waste stream and turn it into useful new products. In a $5 million investment, Ultra-Poly built a new recycling plant specifically for this new process, while the Pennsylvania RMC helped streamline the process of permit acquisition with the state's Department of Environmental Protection.
Ultra-Poly and MBOLD's initiatives are just two examples of the promise and potential of expanding industry and public collaboration for recycling market development. As we shift to a new economic and environmental reality, emphasizing end-market development for recyclables and providing the support to grow RMCs could help place the U.S. at the forefront of a circular economy. Working better together and integrating our industry's specific knowledge and experience are the keys to creating changes that drive impact.
Dan Felton is executive director of AMERIPEN – the American Institute for Packaging and the Environment. The association represents the U.S. packaging value chain by providing policymakers with fact-based, material-neutral scientific information. He can be contacted at [email protected]. AMERIPEN will host a webinar on June 14 to explore the role of recycling market development in EPR programs. For more information, visit ameripen.org/page/eprwebinarseries.
This article appeared in the May 2023 issue of Resource Recycling. Subscribe today for access to all print content.