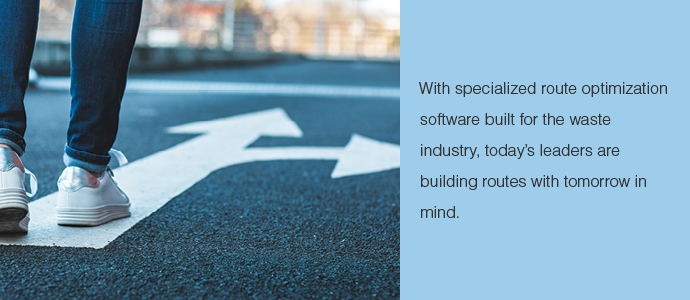 This article appeared in the May 2023 issue of Resource Recycling. Subscribe today for access to all print content.
Material collection professionals at municipalities and private haulers used to redesign routes only a few times in their careers. As neighborhoods changed, longtime drivers made accommodations and, together with their colleagues, they just made things work. The most complex rerouting projects likely involved paper maps, a whiteboard and several hours in the conference room.
Today, solid waste collection – and indeed the entire waste industry – is in the midst of an ongoing digital transformation. Many waste haulers have abandoned legacy routing processes in favor of digital solutions, and forward-looking leaders are taking things a step further by focusing on efficient, agile solutions that take future route changes into account.
Software built for the waste industry's unique needs is helping organizations take a proactive approach to route design, and some of the added benefits of digital routing can be surprising.
When private hauler Meridian Waste, headquartered in Charlotte, N.C., undertook route optimization in one of its markets, it freed up 34% of solid waste vehicles and eliminated 26% of trash routes while reducing route miles and related emissions by 21%. On top of that, the company was able to phase out aging collection vehicles without the need to replace them.
By conservative estimates, digitally aided route optimization projects generally create cost savings of 10% to 15%. With so much at stake, it is worth understanding each step of the route optimization process before getting started.
Set goals and allocate resources
The first thing to determine for any route optimization project is the desired result. Do you want to balance routes and workloads, deliver better service or reduce your number of trucks? Or perhaps you are changing collection frequency, adding new services or consolidating routes following a merger or acquisition. Defining goals helps to scope your project and guides what you will measure – as well as what you won't.
Once you have clearly defined the goals for your route optimization project and scoped it appropriately, it's important to resource the project properly. Ideally, one person can take ownership of the project and software. This person can coordinate teams, keep the project on track and make sure you have the necessary modeling data. If you can dedicate someone to this role and make the project their primary responsibility, the process of route planning is likely to run much more quickly and smoothly.
Develop core collection scenarios
Of course, making the most of your resources is at the heart of optimization. Placing the right trucks and drivers in the right places at the right times delivers the efficiencies that make undertaking route redesign worthwhile.
By starting with a set of core scenarios and their unique dependencies, you can use route optimization software to test each one and determine exactly what resources will be needed to reach your goals. If you take the time to develop these test scenarios against real-world data, the optimized results will be easier to evaluate. In addition, you will avoid having to rework your routes when different requirements present themselves.
Gather and use real-world input data
Without real data inputs, the outputs of route optimization will be little more than guesses, whether you're working with advanced software or pen and paper. The advantage of using software, of course, is its ability to quickly crunch these real inputs from multiple sources, such as GPS and in-vehicle systems.
The input data does not need to be perfect or 100% complete, but it must be accurate in order for the resulting plans to be realistic and achievable. This real-world data will include inputs such as address lists, container details, current routes, access issues, facility details and material weights.
Input data is so important, in fact, that you should plan to spend about one-third of total project time gathering this information. Defining the data you need, creating a plan for collecting it and then performing the collection are all critical tasks for a successful reroute project.
Choose the right software
Routing solutions from other industries do not work in waste. Optimization of solid waste collection routes is different and more complex than routing problems in other industries, such as deliveries or field service. It involves many more stops, different frequencies of collection, specific safety risks and unusual vehicle constraints.
Solid waste route optimization is complex, but with the right software and support, it is more than worthwhile – and results from successful projects in cities around the world prove this.
Get drivers and supervisors involved
Route optimization software empowers people who understand waste collection to design better routes faster, so it's imperative that drivers and supervisors be involved in the route design process.
Route optimization software cannot replace people – and it certainly doesn't replace the knowledge of those who operate solid waste services. When knowledgeable users leverage robust software tools for route optimization, the resulting designs work well.
Stay on top of ongoing changes
Given the growing number of changes in solid waste – and the speed at which they are taking place – the days of one-and-done route optimization are in the past. Today's forward-thinking organizations are working toward increased agility and resilience within a continuous improvement model.
As the solid waste landscape continues to shift, agility is becoming more important for organizations with environmental targets to meet. As populations grow, new collections are added and others are removed, collection weights go up and down, and crew and fleet makeups change over time, solid waste operators who commit to keeping up-to-date data in a continuous fashion will realize the greatest efficiencies in their operations while saving money for their organizations. In turn, these agile leaders will help make a lasting impact for operations and the environment.
Brandy Welvaert is a solid waste and recycling communication consultant for Routeware, Inc., which provides integrated technology for waste and recycling. She has 20 years of communications experience, including a decade spent serving municipalities, nonprofit organizations and technology companies advancing the circular economy. She can be reached at [email protected].
This article appeared in the May 2023 issue of Resource Recycling. Subscribe today for access to all print content.