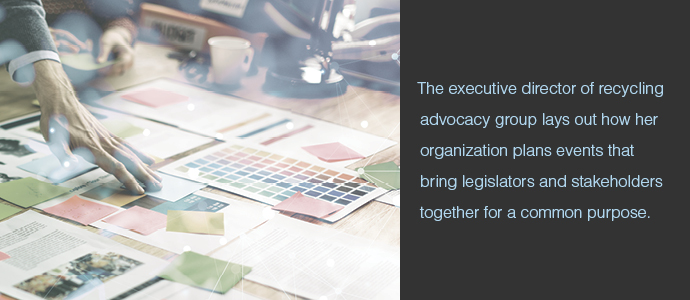 This article appeared in the May 2023 issue of Resource Recycling. Subscribe today for access to all print content.
This past February, the Carolina Recycling Association (CRA) hosted its fourth Recycling Day at the South Carolina State House. These legislative advocacy days, which gather representatives from our 1,000-plus members together with the 170 elected legislators of the South Carolina Senate and House of Representatives, are much like a box of chocolates – you never know what you're going to get.
In the Carolinas, we've worked hard to adapt to the unpredictable nature of events involving the states' lawmakers. They may have one or two bills to debate and loads of free time one day, and the next day debate medical marijuana until midnight without a lunch break.
This year, we had our most successful event yet. There were 75 industry members and a record 65 senators and representatives in attendance, which is about 35% of the general assembly. There are some core ingredients that we think made our event a success.
Engage other organizations
Our planning is done through a subcommittee that includes the SC Department of Commerce, the Southeast Recycling Development Council, the SC Recycling Market Development Advisory Council and the SC Department of Health and Environmental Control. Everyone works on different elements and promotes the event in their respective organizations, and we also get on the same page as far as what to focus on.
We invite stakeholders with aligned interests to speak, sponsor the event and display their materials. For this past Recycling Day, these included the South Carolina Recyclers Association, a metals-focused organization; Sustain SC, a sustainability-focused nonprofit; the Coastal Conservation League; Keep South Carolina Beautiful; and more. Partnering and sharing ownership of the event lends credibility and creates a unified front – plus, if you're a state recycling organization (SRO), you know you can use the help.
Focus on a specific request
During your legislative event, lawmakers will likely ask your industry-side attendees, "What can I do to help?" You don't want to have a deer-in-the-headlights look on your face when that happens.
We came prepared with an economic impact study condensed into a visually pleasing infographic. This fact sheet is generated annually by the SC Department of Commerce's Recycling Market Division and is a great conversation starter. Legislators receive so many messages from every type of interest there is, so we really want to come in with a zinger to penetrate the information overload they experience. Whittle it down to something they can digest and retain. We make sure to leave them or their staff a copy of the infographic or other materials we've brought in to take home.
Work with someone inside the action
That's right, we have an insider or two. Our friends advocate on our behalf because our interests align with their goals as lobbyists, even if they're from other associations or sectors. They chip in by encouraging lawmakers to attend our event, finding sponsors for resolutions or messages to be read on the House and Senate floors, and even securing us speakers from the State House.
This year, thanks to these connections, we had a private address and Q&A session with Representative Bill Hixon, chairman of the House Agriculture, Natural Resources and Environmental Affairs Committee. If you are like us and don't pay a lobbyist, look to one of your peer organizations to see if they want to partner. SWANA often has state-level lobbyists who may be willing to help, and there are usually other materials-focused recycling associations in your area that you can work with, such as metal recycling associations or beverage associations that have shared interests. Some states also have staff legislative liaisons who work between state administrative departments and the legislature, and they may also be able to serve some of these functions.
Prep the members and attendees
We do a preparatory webinar for attendees, with a tutorial on how to get the most out of the event and what to expect. It stresses the importance of personally inviting Senators and Representatives to the event. It is critically important that the members hear from constituents directly – they seem to prefer a letter or a call, but an email can work too. We provide attendees with a script to use for however they want to make contact, and make it clear that this is their most important job.
We do not require registration for legislators because they need a very low-maintenance situation, so they are always allowed as walk-ins. (This is the "box of chocolates" part.) We print out all of their names on badges so we know who attended based on who picked up a badge. We make sure to include their staffers on our invitations as well.
Style it right
For a couple of years, we hosted lunch or breakfast at the State House, which runs the risk of conflicting with lawmakers' schedules for the given day. There is no way to know what their schedules will be when you're planning the event months before their agenda is created.
One year, we were at the State House cafeteria all day hoping for any legislators to walk in the door and eat the $4,000 worth of catering we had waiting for them, but they were stuck in their session debating a contentious issue and couldn't leave. At least an hour after our scheduled event was over and our staff was about to clean up, a little bummed out, about 20 representatives walked in the door and said, "We're starving, got any food left?"
We got lucky there, but really didn't like the risk, so in 2022 we changed it up with an evening reception format, with an open bar and heavy appetizers. Wouldn't you know it, that increased our attendance with legislators! It was about the same cost, and the one-on-one networking and low-key vibe was far better for networking.
For 2023, we stuck with the evening reception format and did not regret it. Since there was a concurrent legislative event at the same venue, the members had to walk by us to get to where they really planned to go: an Optometrist Association reception. Almost all of them stopped by, grabbed our premade name tags (never underestimate the power of a name tag), so that juxtaposition really helped us out. We were also told our food was better – yes, that makes a difference.
Everybody likes good eats.
Think about the long term
This is an investment for CRA, not a one-off. We have committed to going back every year and establishing a rapport and relationship with the members to whom our industry is important. Since COVID-19, it's been even more important to reestablish those connections with lawmakers.
We manage our expectations for the results of the event, knowing that we may not get a bill passed based on one interaction or even multiple interactions. The primary goal is to let them know we are here and let them know who they can reach out to if they need information or perspectives on recycling-related policies they are considering. And when the time comes that we do have a bill we want to weigh in on, this won't be the first time they've heard of CRA. The highlight this year for me was when several legislators came up to me and said, "Hey! I remember you from last year!"
Politicians are people too
If you want to put on events like this, put aside your politics. This year and every year, multiple lawmakers I speak with at our events will say things like, "I love recycling, I recycle at home!" Or, "My wife gets mad at me when I don't put things in the right bin." The first time this happened, I realized that these folks are starting from the same level of knowledge about recycling as everyone else; it's based on their own experience at the household level.
It's our job to frame the bigger picture for them, show what an important part of the economy and the environment recycling plays in our state. We show them how big it really is when we talk about the multi-billion dollars of industry and the manufacturing jobs that come with recycling. We impress upon them how much potential there is for growth. We want to get them pumped up and proud of recycling in a different way, in their state and in their districts. Just like in communities you serve, it takes time and constant presence for these messages to sink in.
Mary McClellan is the executive director of the Carolina Recycling Association. She has over 20 years of experience working in project management for environmental concerns, with a background in both the public and private sectors. She can be reached at [email protected].
This article appeared in the May 2023 issue of Resource Recycling. Subscribe today for access to all print content.