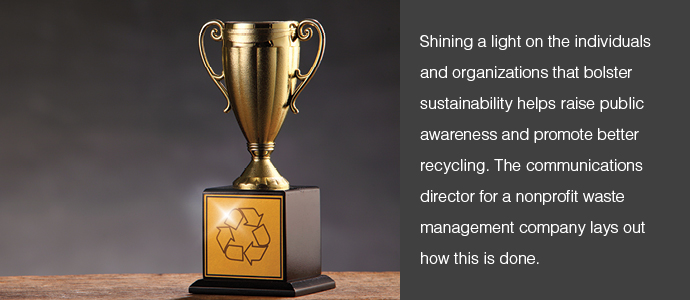 This article appeared in the April 2023 issue of Resource Recycling. Subscribe today for access to all print content.
In the place known as "Vacationland," home to beaches, mountains, clear streams, autumn foliage vistas and skiing that keeps visitors flocking over the border all year long, there's a receptive audience for all things nature and sustainability.
At the intersection of Maine's natural beauty and its need for sustainable waste management is ecomaine. A leader in raising public awareness, ecomaine's mission is to provide comprehensive, long-term solid waste solutions in a safe, environmentally responsible and economically sound manner. Given that our residents and visitors care so deeply for our surroundings, we take the public awareness part of our mission very seriously.
Over the past five years, ecomaine's commitment to informing the public – through investment in educational outreach, public relations and connection with our communities – has broadened our company's reach significantly. Through the expansion of our membership base, increased investment in education staff, and deeper engagement with schools and other organizations, ecomaine has seen a steady increase in overall outreach from just over 12,000 touchpoints to nearly 75,000.
In addition to grants for and outreach to schools, community group activities, participation in nonprofits' events, partnerships with other businesses, public tours and more, one of ecomaine's tentpole outreach programs is the annual eco-Excellence Awards.
Celebrating champions of sustainability
Each year, ecomaine calls for nominations to the eco-Excellence Awards from anywhere and everywhere in our 73 member communities, with the goal of recognizing Maine's champions of sustainability. In the end, awardees – which are categorized into individual, business, nonprofit and education nominations – are honored with a luncheon ceremony attended by their nominators, family members, friends, colleagues or fellow students, all of whom share in the pride and accomplishments of their "eco-hero."
Since 2007, ecomaine has given eco-Excellence Awards to more than 300 people, groups or businesses. A preference is given, naturally, to nominees whose work aligns with ecomaine's services in waste diversion through reduction, reuse, recycling, composting and/or environmentally conscious waste management.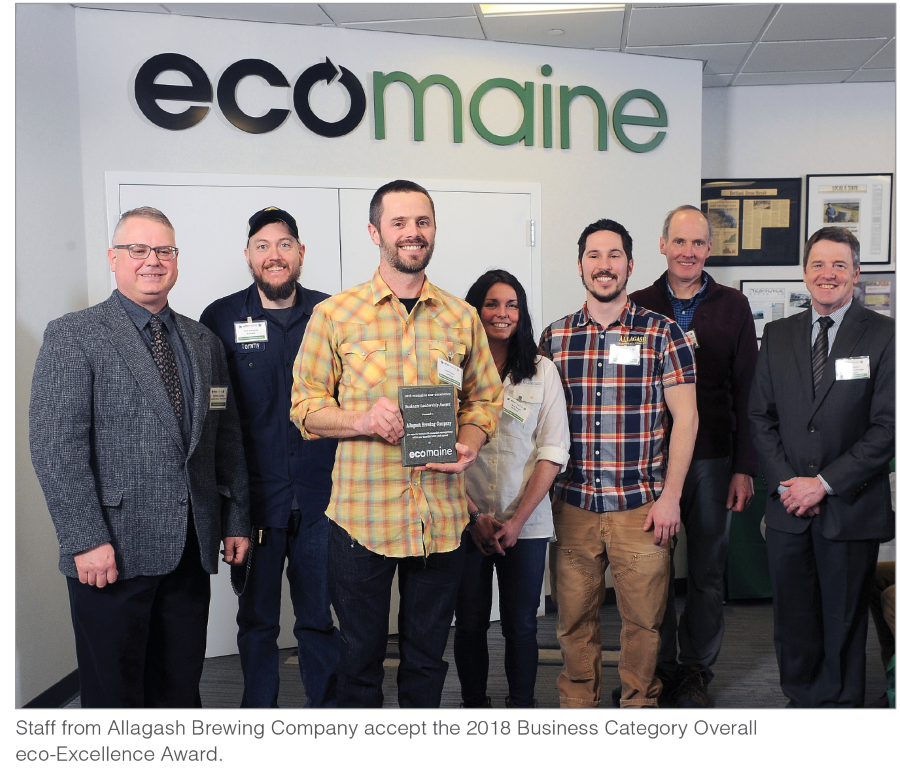 However, ecomaine's panel of judges, made up of the board of directors' Outreach and Recycling Committee, occasionally rewards exceptional efforts in other areas, such as energy efficiency or land conservation. Typically, in each category, the committee also bestows an award on the sector's overall winner, which comes with even further recognition.
"Considering the nominees each year is a task the Committee takes very seriously, of course," said Caleb Hemphill, the committee's chair and ecomaine's board secretary. "But even more than that, we are continually inspired by the amazing work being done every day in Maine by people who care enough to make a difference."
Following the deliberation by the committee, invitations for the awards luncheon are sent, plaques and prize packs are assembled, and catering is ordered, all in anticipation of welcoming dozens of ambassadors through ecomaine's doors and mingling with ecomaine's leadership and members of the board. The luncheon, therefore, functions as an important stakeholder engagement tool.
According to CEO Kevin Roche, "ecomaine's success comes in part from the hard work of our great staff, but it's carried so much farther into our communities by the great work of these champions for better solid waste and recycling practices. We talk about these strategies and our operations all day long – but to have the support from hundreds of eco-Excellence Award winners creates an exponential impact we couldn't have on our own."
An evolution of excellence
Originally, the eco-Excellence Awards were focused mainly on recycling, in the wake of ecomaine's introduction of single-sort to southern and coastal Maine. And the nominations in a given year came from the previous year's awardees.
But with the great expansion of the number of member communities, as well as increased focus on other solid waste solutions on other rungs of the solid waste hierarchy – reduction, reuse and compost, most significantly – the awards shifted gears, too. Public nominations were encouraged from all across ecomaine's service area, and for efforts up and down the waste hierarchy.
Being a waste management and recycling facility, reduction and reuse can sometimes get lost in the shuffle. But through our education, and especially the eco-Excellence Awards, we can showcase those top rungs of the hierarchy in real-life, meaningful ways. Let's take a look at some previous award winners to see how they are making a difference.
Diverting waste and saving lives
Healthcare and medicine can be one of the trickiest industries for waste diversion. By design, much of this field's materials are meant to be used once, then disposed of. But Partners for World Health (PWH) saw an opening to keep still-usable items out of landfills and to help get medical supplies into the hands of those who desperately need them. PWH collects medical supplies and equipment from healthcare facilities, manufacturers, and other organizations and individuals. Then, the staff and volunteers sort, evaluate, repackage and prepare these supplies and pieces of equipment for distribution to individuals, communities and healthcare facilities in need, both locally and internationally.
This critically important work limits the impact on the environment by diverting materials from landfills, lowers healthcare costs by lowering disposal fees and provides healthcare resources to those in need – often in developing nations. In 2021, PWH reported more than 500,000 pounds of equipment and supplies had been diverted from landfills and given a second life as part of the organization's vision to help people to lead healthy lives on a healthy planet.
Kings of composting
Students at Portland's King Middle School started a program called "Pathway to the Plate…and Beyond" to map the life cycle of food from the beginning to the very end. By exploring farms, gardening, grocery stores; conducting audits of their waste stream (and subsequently, the food scrap stream specifically); and converversing with ecomaine and local compost company Garbage to Garden, King middle schoolers created a school-wide awareness and understanding of the food cycle – and ways to generate less landfilled waste. The school now has "food waste warriors" who monitor the cafeteria's waste streams to help ensure maximum organic waste diversion.
Brewing up a specialty recycling program
Allagash Brewing Company is well known to fans of craft beer nationwide for its Belgian-inspired line of beers. However, its reputation is growing for a commitment to waste reduction and diversion as well. Leading the charge among a cohort of sustainability-minded craft brewers, Allagash puts their profits toward its "Green Team," which leads the company's efforts to keep more than 99% of its waste from entering landfills. By challenging itself to think of waste as a resource, Allagash now sends spent grain to become cow feed and composts the rest of its organics.
The company also collects and consolidates harder-to-recycle items such as corks, cages, grain bags and Pak-techs from their own operations to ensure that they're recycled. And now, Allagash is leading the Recycling Co-Op, a collaborative effort that encourages local breweries to drop off their own such items at Allagash, where they're stored, then combined with Allagash's waste before sending bales to be recycled.
Coming full circle
In March of 2020, the eco-Excellence Awards were held two days before the first documented case of COVID-19 in the state of Maine. We spent the ceremony bumping elbows and wondering what was yet to come. It was the last event many of us attended for a very long time.
In 2021 and 2022, given so much uncertainty, we opted to celebrate the awardees with delivered prize packs and short videos that highlighted their excellent work. And while those videos were fun and terrific content for social media, it wasn't the same as having a room full of energetic champions of sustainability feeding off each other's enthusiasm. We're happy to welcome the 2023 eco-Excellence Award winners back for ecomaine's usual lunch and ceremony – there's just nothing like having our "ecomaine-iacs" come in and see the organization up close.
Matt Grondin is director of communications and public affairs at ecomaine, where he promotes public understanding of the organization's goals and programs. He can be reached at [email protected].
This article appeared in the April 2023 issue of Resource Recycling. Subscribe today for access to all print content.