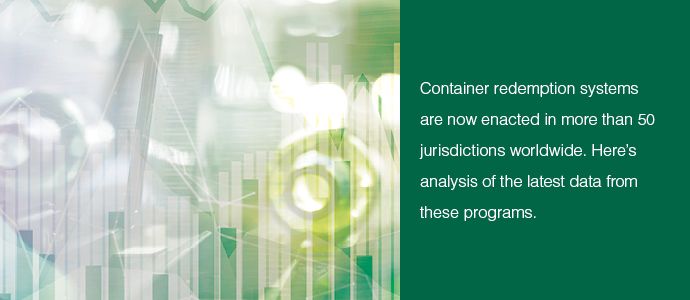 This article appeared in the February 2023 issue of Resource Recycling. Subscribe today for access to all print content.
As nations struggle to cut greenhouse gas (GHG) emissions and get climate change under control, diplomats from nearly 200 countries gathered in Egypt this past November for two weeks of climate talks.
The 27th U.N. Climate Conference (COP 27) opened with stark messages after several reports released in the run-up to the summit, including UNEP's "2022 Emissions Gap Report," showed that despite decades of negotiations, countries have failed to reduce global heat-trapping emissions, and their pledges to do so in the future are not sufficient to avoid catastrophic climate impacts.
Coupled with the climate emergency, an exponential waste crisis is unfolding. In March of last year, Reloop published "Reimagining the Bottle Bill," which revealed that the U.S. loses $5.1 billion a year in beverage containers to litter, incinerators and landfills. In the Northeast region alone, 403 beverage containers per person are wasted every year.
Whether measured by weight or volume, beverage containers are the number one item found littered in coastal areas in the U.S. and around the world.
A proven solution
As these twin crises continue to unfold, there is an urgent need for policymakers to identify and implement circular economy solutions to mitigate and avoid adverse environmental outcomes. Deposit return systems (DRSs) for beverage containers are a proven solution that can help governments meet their objectives of climate mitigation, resource conservation and waste prevention.
A DRS (known as a bottle bill in the U.S. or a container refund scheme in other parts of the world) encourages reuse and recycling by placing a small deposit on the sale of beverage containers, which is refunded when consumers return the empty containers to an authorized collection point.
Reloop's "Reimagining the Bottle Bill" report found that across the Northeast (Connecticut, Maine, Massachusetts, New York and Vermont), a modernized deposit system would reduce regional GHG emissions by about 550,000 metric tons and would see an additional 5.9 billion, 1.9 billion and 1.4 billion units of plastic, aluminum and glass beverage containers being recycled, respectively.
Massive surge in growth
While such policies aren't new, DRSs have experienced a massive surge in growth over the past decade. As of the end of 2022, more than 50 jurisdictions worldwide have a DRS in place for the recycling of single-use beverage containers, and many others have committed to modernizing existing systems or implementing new ones.
According to our knowledge of existing systems, as well as those that have been committed to but that are not yet operational, it's reasonable to predict that another 20 jurisdictions could establish DRSs by the end of 2026. This would bring the number of people with access to deposit systems for single-use beverage containers up to 751.7 million – more than double the number of people covered by the end of last year (352.9 million).
In 2022 alone, three European countries – Slovakia (January), Latvia (February), and Malta (November) – launched new deposit systems, and several others updated their programs to include additional beverages and/or material types.
The Netherlands, for example, added cans to its system as of Dec. 31, and juice and syrup products will be added to Sweden's system effective January 2023. In Germany, as of January 2022, the Packaging Act was amended to include alcohol and reduced-alcohol beverages in polyethylene terephthalate (PET) bottles and cans, as well as juices or nectars in these containers. The expansion also includes milk and mixed-milk beverages (having a milk content of at least 50%) but only if packaged in cans. Milk beverages in PET bottles will be subject to the deposit starting in January 2024.
Elsewhere in Europe, new systems are expected to roll out in Austria (2025), Greece (2023), Hungary (2023/24), the Republic of Ireland (2023), Portugal (2023/24), Romania (2023), Scotland (2023) and Turkey (2023). Plans for DRSs are also in place in Cyprus, France, Poland, Slovenia, Spain, and England, Wales and Northern Ireland.
But it isn't just Europe that's experienced a surge in DRS activity. Last December, the Republic of Korea launched the world's first DRS for single-use cups in the two regions of Sejong and Jeju, and in November of 2022, Uruguay's environment minister announced plans for a deposit on plastic beverage bottles and metal cans by 2025 – this would make Uruguay the first country in South America to introduce a DRS.
Over in Australia, the states of Tasmania and Victoria are expected to launch new systems by the end of 2023, and states with existing schemes such as Queensland and New South Wales are planning expansions.
Up in Canada, the province of Quebec recently passed new regulations (set to come into force in November of 2023) that will expand the deposit system beyond beer and soft drinks to include all beverages in metal, glass and plastic containers (from 100 milliliters to 2 liters in size), including water bottles, milk, wine and non-carbonated drinks. And in November 2025, the system will expand again to include multi-layered containers.
Momentum is also growing in the U.S., where draft legislation that would establish a nationwide DRS is being developed, and may be introduced in 2023. If passed, the bill, known as the Return Every Deposit for Effective Environmental Management (REDEEM) Act, would likely give existing DRS states the option to either continue with their programs or join the national system. There are also plans to redraft the Break Free From Plastic Pollution Act, which includes provisions calling for a national DRS with a 10-cent deposit.
At the state level, 2022 also saw lawmakers in several states working to modernize existing bottle bills in order to make their systems more effective. The California legislature, for example, approved a measure that will add wine and distilled spirits to the state's DRS as of July 1, 2024, and Oregon passed SB 1520, which expanded the bottle bill to include canned wine as of July 1, 2025. Under California's updated bottle bill, "difficult to recycle" wine packaging, including boxes, bladders, pouches and similar plastic containers, will be subject to a higher deposit of 25 cents
What's driving this momentum
In the EU, where the majority of new DRS activity is taking place, a key driver behind the surge in new legislation has been the Single-Use Plastics Directive (SUPD), which requires member states to separately collect and recycle 90% of plastic beverage containers by 2029. In an October 2022 letter to the European Commission, a broad coalition representing European beverage producers, material and technology suppliers, recyclers, NGOs and public entities called on the EU to adopt well-designed DRSs in member states that fail to meet the interim milestones needed to attain the 90% target, stating that it "support[s] DRS because in most Member States there is no other means to achieve 90%+ separate collection for recycling in a short timeframe with sustained performance."
More recently, on Nov. 30, the commission published its proposal for a Regulation on Packaging and Packaging Waste. Among other requirements, the proposal introduces mandatory DRSs for single-use plastic bottles and cans by Jan. 1, 2029, unless a member state can prove it has reached a 90% collection rate by other means in 2026 and 2027. Since the only way to achieve this is through DRS, the proposal effectively serves as a de facto law for deposit return across the EU.
The rise of minimum recycled content laws is another factor driving the momentum behind the surge in DRS activity. In the U.S. alone, 2022 saw three states pass legislation to reduce dependence on virgin plastics and boost secondary materials markets. California's plastic minimum content standards law (AB 793) went into effect in January of 2021, requiring plastic bottles covered by the state's DRS to contain at least 15% post-consumer recycled content by 2022 (increasing to 25% by 2025 and 50% by 2030). Beginning in 2023, Washington's new plastics law will require plastic bottles to include at least 15% post-consumer resin (gradually increasing to 50%), and New Jersey is scheduled to follow suit in 2024, with requirements for plastic beverage containers, among other items.
As demand for recycled materials grows, a paradox is created in which there is not enough high-quality material being collected and recycled to meet that demand. Deposit systems offer a solution by generating a clean stream of materials fit for closed-loop recycling, by collecting and managing materials in a way that minimizes contamination and ensures high-quality outputs.
This is why more and more beverage companies and trade associations have begun to throw their support behind such schemes. After years of opposition, they have begun to realize that a DRS is the only solution that will enable them to collect enough high-quality material to incorporate higher levels of recycled material into their bottles and cans.
In an open letter to the European Commission, the European Federation of Bottled Waters together with the Union of European Soft Drinks Associations (UNESDA) called for the widespread adoption of DRSs in European countries to meet the collection and recycled content targets set in the EU's SUPD, considering them necessary to safeguard "the quality of recycled PET that our industries need."
But it isn't just governments and industry calling for DRSs; it's the public, too. Eighty-one percent of Americans surveyed in a 2022 Aluminum Association poll said they support recycling refund programs, and residents of states with existing DRSs displayed the highest level of support, at 90%. These findings align with those of Reloop, which has analyzed the results of nearly 100 public opinion polls carried out over the last 20 years. Reloop found that on average, 82% of respondents were in support of introducing deposit legislation.
The positive impact of container deposits on litter rates is another reason why DRSs are growing in popularity. According to a study by Keep America Beautiful, there was substantially less deposit-material litter in states with a DRS than in states without one (4.1 littered items per capita versus 8.5 littered items per capita). In addition to less deposit-covered material being littered, the study also found that there was less non-deposit litter in states with a DRS (111.2 littered items per capita) than in states without a DRS (157.8 littered items per capita).
New data on performance
As more governments look to legislate DRS, it's critical that they understand how these systems work, including the specific design elements and features that lead to the highest levels of participation and container return. This is where Reloop's latest report, "Global Deposit Book 2022: An Overview of Deposit Return Systems for Single-Use Beverage Containers" can serve as a valuable reference guide. Now in its fourth edition, the report offers updated data on return rates as well as new details on producer fees and upcoming systems.
When it comes to performance, the report shows that modern deposit systems are capable of achieving return rates of 90% or higher, and that most of the highest-performing systems are in Europe, with Germany (98%), Finland (96%), Denmark (93%) and Norway (92%) leading the way in 2021.
Although the average return rate across Canadian jurisdictions with DRSs was only 75% (much lower than the EU average of 90%), Canada also has a few high performers. Despite being the last province to implement a DRS (in 2008), Prince Edward Island managed to recover 85% of single-use beverage containers, while Alberta, Nova Scotia and Saskatchewan showed return rates of 84%, 82% and 82%, respectively.
As in previous years, our report shows that return rates in U.S. deposit systems are much lower, with a national average of 65%. Of all 10 states with a DRS, Oregon is the only one to recover over 80% of eligible containers. With a national average return rate of 68%, Australia's deposit systems exhibit similar levels of poor performance, although part of this can be explained by the fact that three of the six schemes are relatively immature, with one of them (Western Australia) having been implemented just two years ago.
Factors affecting returns
Numerous factors influence the effectiveness of a DRS – and one of those is the level of the deposit. In general, the more consumers pay in terms of the deposit, the more likely they are to return empty containers for recycling in order to obtain the refund; this, of course, translates into higher returns.
Based on the latest available data, Reloop found that the median return rate in jurisdictions with a minimum deposit of less than 7 cents was just 70% (see Figure 1). This increases to 76% in systems where the minimum deposit is between 7 cents and 9 cents, and to 89% in places where the minimum deposit is between 10 cents and 14 cents. The highest median return rate, 93%, is seen in DRSs with a minimum deposit of at least 15 cents. The only markets that have deposit levels this high are in Europe (Denmark, Germany, the Netherlands and Norway – three of which were the top-performing DRS countries in 2021).
As further evidence that deposit size matters, we can look to jurisdictions that have increased deposit levels over time. Alberta, Canada offers one example. Within just three years of the provincial government increasing the deposit on all beverage containers to 10 cents Canadian (up from 5 cents) for containers of 1 liter and under, and 25 cents (up from 20 cents) for those larger than 1 liter, the overall return rate increased by approximately 12 percentage points (see Figure 2).
Oregon offers another example of how deposit levels can influence returns. In 2016, when data showed Oregon's return rate had dipped below 80% for the previous two consecutive years, the Oregon Liquor Control Commission increased the deposit from 5 cents to 10 cents in April 2017. This higher refund value, along with enhanced return options such as drop-and-go bags, resulted in a significant increase in the return rate, from 64% in 2016 to 73% in 2017 and 86% in 2019 (see Figure 3). Oregon is only one of two states (Michigan being the other) with a 10-cent minimum deposit value. As of the end of 2019, these two states showed the highest return rates in the country.
Convenience is key
In today's world, convenience is everything. Experience from existing deposit markets shows that the most convenient systems are those that allow consumers to take their empty containers back to a retailer when they are doing their regular shopping, avoiding additional trips out of the home. It's no surprise, then, that jurisdictions that employ return-to-retail (R2R) models exhibit the highest return rates.
According to Reloop's latest analysis, the median return rate in jurisdictions that employ an R2R redemption system is 89%, compared to just 71% in those that utilize redemption centers for container returns, or a hybrid model, where redemption centers operate alongside retail stores (see Figure 4).
Norway, which had one of top-performing deposit systems in 2021, offers a great example of a system that is highly convenient. By law, all retailers selling deposit-bearing beverages in Norway are required to take back empty containers. Consumers can return their containers to more than 15,000 redemption points across the country, which translates to a ratio of one return point for every 360 people.
Norway's R2R model ensures that consumers don't have to travel far or undertake a special journey to redeem their deposit; it also prevents consumers from having to sort their containers by brand and return to a number of different shops. To make redemption even more convenient, Norway has also made provisions for consumers to return their empty containers via a home delivery service provided by retailers.
At the other end of the spectrum, California offers the perfect example of how an inconvenient returns network can negatively impact recycling performance. Under California's existing bottle bill, as long as a certified recycling center exists within a convenience zone – defined as the area within a half-mile or 3-mile radius in urban and rural areas, respectively – a supermarket is not obligated to take back empty containers.
If a certified recycling center does not exist in the zone, then beverage retailers have two options: They can either agree to redeem containers or they can opt out by paying a $100 daily fee to CalRecycle, the system operator. As a result of the lack of a retail take-back obligation, there are currently less than 3,700 redemption points across California (about one for every 10,800 people), making the process of container returns highly inconvenient. As more redemption centers have closed, California's return rate has exhibited a steady decline, from 74% in 2013 to just 61% in 2021.
It is hoped that the recent passage of Senate Bill 1013, which makes changes to retailer take-back obligations, will help to reverse this trend. The bill, effective Jan. 1, 2024, would allow beverage retailers to either accept containers in the store or form a dealer cooperative to arrange for the collection of beverage containers for recycling. This effectively removes the $100 per day fee option and should lead to more convenient redemption opportunities for consumers. Furthermore, SB 1013 would decrease the percentage of retailers eligible for a state exemption. Under the current law, up to 35% of retailers can be granted an exemption, meaning that they neither have to accept containers nor pay the $100 per day. SB 1013 would lower that threshold to 15.
Global
The scale of the twin crises of climate and waste demands that we take real action now. We can no longer afford, economically or ecologically, to ignore solutions that are proven to work, and that help us meet our objectives of climate change mitigation, resource conservation and waste prevention.
Deposit return systems for beverage containers represent a proven solution that are good for the climate and reduce waste. By conserving natural resources, they also contribute to enhanced resource efficiency, a real necessity in our current geopolitical context.
Samantha Millette is an independent environmental consultant commissioned by the Reloop Platform, an international nonprofit organization that works on circular economy initiatives. She can be contacted at [email protected].
This article appeared in the February 2023 issue of Resource Recycling. Subscribe today for access to all print content.