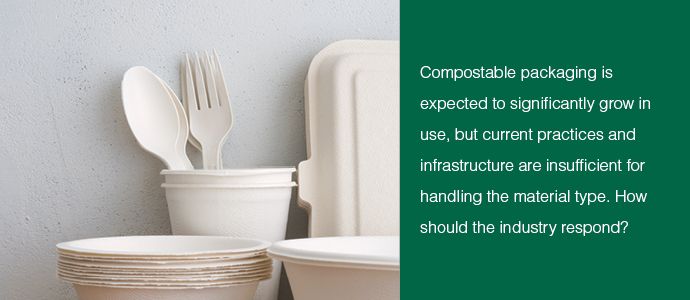 This article appeared in the January 2023 issue of Resource Recycling. Subscribe today for access to all print content.
It's time for a discussion about the development of infrastructure and legislation for recovering compostable packaging. And if we're going to get ahead of the curve, it needs to start now.
During our frequent conversations with packaging recovery stakeholders, our colleagues in the recycling and composting sector convey the challenges of keeping pace with rapid innovations in packaging materials and design while responsively designing better collection and sortation systems, which can take a decade to move from concept to reality.
With this in mind, AMERIPEN (American Institute for Packaging and the Environment) recently collaborated with the Association for Packaging and Processing Technologies (PMMI) to learn more about the trajectory of packaging design over the next 10 years and the factors that will drive cutting-edge innovation.
Through a survey and a series of focus groups and workshops, we heard from more than 400 consumer packaged goods (CPG) brands, converters, raw material suppliers and equipment manufacturers. Their feedback was illuminating, and helped to identify which materials and packaging formats are on the rise or in decline.
(Note: AMERIPEN and PMMI's study on packaging trends will be released in January and made available on both of their websites. The study explores the projected growth rates and implications for recovery of other materials as well as compostable packaging.)
This stakeholder input also helped isolate when and where packaging substitutions might occur and provided insight into the dynamics fueling such decisions.
Working with peers and stakeholders, we then explored the potential implications of these packaging shifts on public policy and our recovery systems.
One of the most profound trends uncovered by our study relates to the projected rapid growth of compostable packaging options. When we queried survey participants on their plans for packaging material usage for the next three, five and 10 years, they most frequently identified compostable packaging as a preferred material, with a significant jump in planned use within the next five years.
Although this metric should be considered directional and may change given other circumstances (and the total volume of compostable packaging remains relatively small compared to other packaging materials), we believe it's time to start talking about how to set the recovery system up for success to ensure the value of compostable packaging is realized at its end of life.
Growth factors
For our survey, compostable plastic and paper were defined in the following way: discarded materials that are collected, processed and converted into usable compost in a safe and timely manner. Additionally, these materials/products meet applicable compostability standards.
Moreover, the decomposed material must not leave any harmful residue behind. This is an important criterion because all compostable items are biodegradable, but not all biodegradable products are compostable.
The significant rise in the use of compostables uncovered by our research is congruent with other industry studies predicting a compound annual growth rate of about 15.0% to 16.5%. This is significantly higher than the growth projections for plastics (3.7%) or paper (3.8%).
Commercial composting has been around for more than 30 years, so why the strong interest in compostable packaging now? Increasing interest in the circular economy makes compostables an attractive material. The shift also is being fueled by the Ellen MacArthur Foundation's (EMF) Global Commitment, which encourages signatories to convert their plastic packaging portfolios to 100% recyclable, reusable or compostable materials by 2025. More than 500 consumer goods companies have signed on to the pledge.
A growing number of cities and states are also passing ordinances and laws mandating that all packaging be reusable, recyclable or compostable, helping to drive growth in compostables for applications where recycling has been a challenge.
Investment implications
As the United States promotes a national recycling strategy and investment in reducing climate impacts, we believe a forward-looking strategy that addresses which materials will grow in usage and which may decrease will help us design for our future. When we examine the state of composting in this country, we believe opportunities exist to help leverage this tool for increased end-of-life recovery and reduced climate impacts.
The U.S. Environmental Protection Agency (EPA) estimates that in 2018, the United States composted 4%, or 2.6 million tons, of its waste. Meanwhile, more than one-fifth (22%) of the waste piling up in municipal landfills in the United States is food waste, making it one of the largest landfill waste streams and the single largest source of climate-warming greenhouse gas emissions in the country, according to the EPA. Reducing the amount of food waste sent to American landfills would go a long way toward helping our cities meet their increasingly ambitious climate objectives.
Studies show that compostable packaging helps direct food waste to composting. In closed venues, such as sports arenas and convention halls, higher recovery rates are achieved when the composting program allows for both food waste and packaging, rather than requiring consumers to sort food waste from its packaging first. But such compostable packaging strategies will do little without increased access to composting infrastructure.
Currently, only 11% of American households can direct compostable packaging away from the landfill to composting facilities. The Sustainable Packaging Coalition (SPC) estimates that only 15% of existing composting facilities accept compostable packaging, while only 45% of existing compost facilities accept food waste from residential and commercial sources. At the same time, the only states that require the collection of organic waste are California and Washington.
A handful of northeastern states – Connecticut, Massachusetts, New Jersey, New York, Rhode Island and Vermont – mandate corporate collection of food waste but offer limited access to the residential public. In its study of the 1,000 largest U.S. cities, SPC found that only 309 cities are in these "corporate collection" states, showing the somewhat limited potential of these requirements in the near future.
We can do better. But the circular promise of compostable packaging can only be realized with additional public-private partnerships that include municipal and institutional buy-in in the form of collection programs that can handle both food waste and compostable packaging.
This will require significant investment in curbside carts and collection routes in communities that agree to offer households a separate bin to collect compostable materials. It also necessitates additional composting facilities and infrastructure that can help meet growing demand by accepting both compostable food waste and packaging.
Legislative approach
In 2021, the COMPOST Act was introduced in the U.S. Senate. This legislation called for competitive U.S. Department of Agriculture (USDA) grants and loan programs over the next decade for food scrap composting infrastructure projects, including large-scale composting facilities as well as farm, home or community-based projects to help expand composting access across the nation.
The bill also aimed to establish the value of composting as an important conservation practice. Unfortunately, despite strong industry support, the bill was referred to committee and never received a vote. With a new Congress convening in January, there is an opportunity to try again, but composting advocates will need to redouble their efforts to educate key members about the growing role of compostable packaging in a circular economy.
We believe enacting laws and ordinances providing universal access to recovery, including for composting, should be a key focus of legislative efforts and should be promoted as an effective way to expand Americans' access to end-of-life collection services that ensure our waste is directed toward the best uses, rather than left in the landfill.
Consider the city of Evanston, Ill., which passed such measures in 2019 to improve commercial waste rates, which accounted for more than half of the city's waste. New ordinances now require source separation, ban recyclable and compostable materials from landfills and allocate staff to work with businesses to reduce their waste.
At the state level, we believe that extended producer responsibility programs for packaging that include compostable packaging must take into account how to best direct compostable packaging fees to composting infrastructure. Funds collected for packaging recovery should be directed appropriately to the end-of-life solution best associated with that material.
Although compostable packaging by volume may not exceed that of other materials right now, current trends and evidence point toward it growing in the future. Significant public and private interests are mounting, driven by interest in the circular economy and the climate benefits of diverting food from landfills, as evidenced by projected growth rates for compostable packaging. It is now clear that the time is ripe for a national discussion about how best to invest in and support increased composting for both food and packaging.
Dan Felton is executive director of AMERIPEN (American Institute for Packaging and the Environment), which represents the U.S. packaging value chain by providing policymakers with fact-based, material-neutral, scientific information. He can be contacted at [email protected].
Rhodes Yepsen is the executive director of the BPI, North America's leading voice on compostable packaging. He can be contacted at [email protected].
Rebecca Marquez is the director of custom research at PMMI, the association for packaging and processing technologies. PMMI membership represents more than 950 North American manufacturers and suppliers of equipment, components and materials as well as providers of related equipment and services to the packaging and processing industry.
This article appeared in the January 2023 issue of Resource Recycling. Subscribe today for access to all print content.