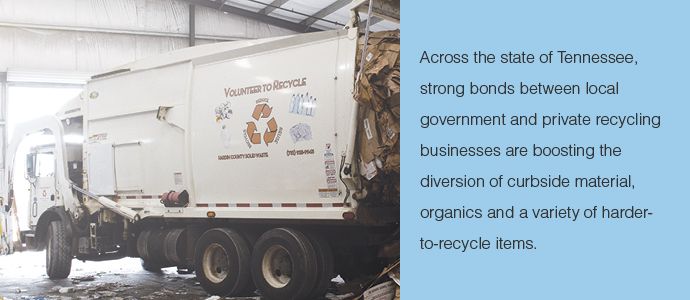 This article appeared in the December 2022 issue of Resource Recycling. Subscribe today for access to all print content.
Recycling bolsters a wealth of sustainable practices for the environment and our economy. But it can't reach its full potential without partnerships.
In Tennessee, the practice of materials recovery connects the state's businesses, schools, organizations and communities in various ways. Sustainability goals are difficult to achieve without everyone working together to maximize progress, and cohesion among these groups and stakeholders is key to Tennessee's recycling industry success.
This article will outline three different examples of partnerships involving a mix of private-sector recyclers, public agencies and industry organizations. These case studies illustrate the ways ideas and energy can proliferate when partnerships align.
Championing sustainable materials management
Rockwood Sustainable Solutions (RSS) is a growing recycling company located in the city of Lebanon, Tenn., which is in the center of the state, just east of Nashville. The company began operations in 2014, specializing in the recovery of materials that can be difficult to divert from the waste stream.
RSS recycles shingles, wood, tires, plastic, cardboard, and construction and demolition debris. Lincoln Young, president of RSS, developed both collection and recycling infrastructure across the region. Young implemented key end-market research to develop a well-tuned system for the sale of materials that traditionally had trouble finding their way to markets.
In 2014, Ground-Up Recycling, the predecessor of RSS, collected and ground up shingles for use in hot mix asphalt. Building on this success in 2017, the company developed a wood recycling program, creating feedstock for a local gasification project that provided energy to the Lebanon waste-water treatment facility.
Ground-Up Recycling morphed into its current form, RSS, in 2019 and expanded to an all-encompassing approach to sustainable materials management, a strategy to think holistically about materials throughout their life cycles in order to minimize their environmental impacts.
Partnerships have always been critical to RSS' success. The company first approached the counties of Putnam and Rutherford, which agreed to divert shingles to RSS collection facilities, saving money for both governments as well as roofers in the area.
In its home base of Lebanon, RSS used its existing collection infrastructure and processing equipment to provide the city with a reliable feedstock of materials and create clean electricity.
Learning from this work, RSS continued to grow its local partnerships. In the counties of Wilson, Smith and Trousdale, for example, RSS uses backhauls to lessen the cost of tire recycling. The company has also worked with other Tennessee partners to continue to grow sustainability across the state.
Through these partnerships, RSS has helped Tennessee businesses and residents manage materials more efficiently.
"We teach our customers about the benefits of sustainable material management and offer a service to our customers to aid in their sustainability objectives," Young said. "The practices of material management, growth of recycling and the protection of our environment is something that should be beneficial to all."
In July, RSS received the Governor's Environmental Stewardship award for Materials Management. "The hard work getting to this place has to go to those people, partners and organizations that believed in what we were doing," Young said.
Volunteer to recycle
Looking west, the West Tennessee Regional Recycling Hub, located in the town of Henderson, stands as materials recovery leader in a more rural section of the state.
The Hub, started by way of $6.5 million in grant funding from the Tennessee Department of Environment and Conservation, is a county-owned materials recovery facility (MRF) that processes single-stream recycling materials from across western Tennessee.
Its goal is to increase the collection of post-consumer packaging materials for recycling and landfill diversion. Municipal governments, businesses and other organizations work together to help make this vision a reality.
That money helped the facility grow to serve more than 250,000 residents and partner with 13 cities and counties, 25 schools and colleges, and over 300 businesses in recovering recyclable feedstocks. Those entities can be thought of as the Hub's spokes.
For example, the Chester County Solid Waste Department and Keep Chester County Beautiful (KCCB) partner with the Hub to increase recycling through the education of residents, businesses and schools. Topics surrounding recycling, composting, landfills and litter prevention are covered in a cohesive way throughout Chester County and across the network of spoke partners.
In 2018, the Hub launched its "Volunteer to Recycle" campaign. Playing off Tennessee's nickname (the Volunteer State), the outreach effort uses simple messaging to increase recycling and decrease contamination in rural counties and cities, extending across both the residential and commercial spheres.
Partnerships are important to the goal of working together to help communities and businesses recycle and teach future generations about the importance of doing so.
The Hub's efforts around partnership aim to increase recycling by expanding environmental education and outreach. There is a specific focus on teaching future generations about the importance of proper waste diversion.
In July, the West Tennessee Regional Recycling Hub also received the Governor's Environmental Stewardship Award for its education and outreach program. This recognition adds to the long list of other awards and honors the Hub has earned since 2012.
Preserving a beautiful area
Looking to East Tennessee, Sevier County Solid Waste, Inc. (SSWI) finds its home in Pigeon Forge, at a site near Dollywood. This area is also a cradle of Appalachian music, and it is home to the Great Smoky Mountains National Park, the most visited national park in the country.
SSWI, which is a public solid waste authority, believes in preserving the beauty of the area. The authority supports Sevier County, its municipalities, and other cities and counties nearby. Other partnerships built by SSWI include supporting the national park, Dollywood theme park and nearby states. SSWI diverts more than 79% of the entire waste stream through composting and recycling.
Organics management is a particular focus for SSWI, which operates a large co-composting facility that takes in mixed solid waste and biosolids from local wastewater treatment plants. The technology converts any organic material in the mix into a pre-cured compost. After three days of processing, a filter of large sifters removes and separates any inorganic trash. In the future, some of these inorganics, such as aluminum and PET, will be recycled.
The compost benefits the community alongside a soil amendment for farmers and erosion control for the rapid development in Sevier County. In fact, after the Gatlinburg wildfires destroyed over 16,000 acres of land and claimed 14 lives, the compost was used to help rebuild the "Mountain Tough" community.
"After the Gatlinburg fire," noted operations manager Laura Howard, "the compost re-established vegetation lost in the fire and prevented potentially harmful erosion on the mountainsides."
The collection of recyclable material further aids SSWI's sustainability efforts.
Tennessee Recycling Coalition connections
One thing leaders of all three projects mentioned above have in common is active members within the Tennessee Recycling Coalition (TRC).
This venue allows them to share knowledge and ideas that lead to cooperation in educating Tennesseans about recycling and better materials management. Each organization maintains their own valuable partnerships that work toward the common goal of increasing recycling, environmental education, sustainable materials management and waste diversion.
Young of RSS is the current president of the TRC. "This organization truly seeks to help each other and improve recycling across the state," he said.
The group has 12 board members, representing a wide range of expertise and regions across the state of Tennessee. This helps the group share knowledge, ideas and a general passion for the industry.
And that passion piece is important. It takes great people to motivate others to stretch and reach beyond their own organizations and themselves.
As the case studies in this article show, each region of Tennessee has outstanding leaders dedicated to success with the vision of creating successful networks and long-term belief in helping their neighbors succeed.
Amber Greene is the Chester County solid waste director and executive director of Keep Chester County Beautiful. She can be contacted at [email protected].
This article appeared in the December 2022 issue of Resource Recycling. Subscribe today for access to all print content.