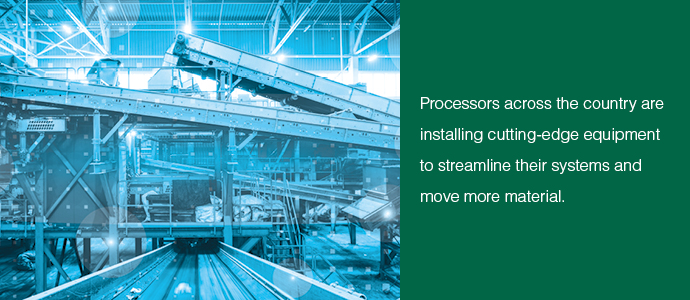 This article appeared in the February 2023 issue of Resource Recycling. Subscribe today for access to all print content.
Last year continued the growing trend of technological advancements bolstering existing recycling systems and boosting their efficiency.
From the largest MRF in New York City installing robots that maximize recovery to a Midwest reclaimer purchasing state-of-the-art machinery to an Oregon beverage cooperative improving collection with AI sorters, facilities from coast to coast are making great strides in the speed and optimization of their processing capabilities.
Robotic recovery
Sims Municipal Recycling installed four EverestLabs robots in its New York City MRF and plans to add up to four more in 2023, bringing the facility into the AI age.
JD Ambati, founder and CEO of EverestLabs, told Plastics Recycling Update having a three-shift materials recovery facility (MRF) using EverestLabs' robotic cells and RecycleOS AI software shows the tested durability and efficiency of the product.
"Having Sims as a partner validates our thesis from the get-go, that what needs to happen for MRFs is you need to tie in easy-to-use, easy-to-deploy robotic solutions with the highest success rate of picking and a very high pick per minute," Ambati said.
Sims Municipal Recycling's (SMR) Sunset Park MRF processes more than 300,000 tons of glass, metal and plastic each year, handling 100% of the metal, glass and plastic and 50% of the paper collected by the New York City Department of Sanitation throughout the five boroughs.
The MRF is widely cited as having the highest throughput of any commingled facility in North America. In December 2021, a 50.46% stake of SMR was sold to Closed Loop Partners and other investors by parent company Sims Limited.
Ambati said EverestLabs' robots are the first in that facility. Four were installed in late spring 2022, and up to four more will be installed in the first quarter of 2023.
"I want a MRF operator to understand today's robots and AI are not some sort of a difficult, mythical, magical solution that is hard to comprehend, hard to use, hard to install and hard to maintain," Ambati said.
EverestLabs did that by looking carefully at what had worked and what had not worked in the industry previously, Ambati added, and addressing any pain points one by one. He said the company also does some pre-work with the facilities planning to install the technology, so they are prepared to use the robots in the best capacity and in such a way that everything syncs up.
"The goal of our system solution is to enable the highest recovery in the MRF without increasing cost and to quantify what is happening in the MRF so that the MRF operator can make strategic decisions by looking at data on a daily or weekly basis," Ambati added.
RecycleOS can deliver 99% uptime, greater than 95% accuracy for identification and over 90% pick success rates for robotics cells.
The Sunset Park MRF has two of the robotics cells installed on its high-speed inclined belt. Ambati said those are functioning as last-chance pickers for any valuable materials. The other two cells are doing quality control and removing contaminants on plastics lines.
Those roles are what Sims chose to do with the first four units, but Ambati said the cells can do whatever the company chooses in a plant.
"It's a matter of what the plant operator needs and what the plant operator is trying to accomplish," he said.
Tom Ferretti, general manager at SMR, said in a statement that the technology is helping the company weather the current labor shortage and provide valuable data for the future.
"These installations allow us and our partners to stay committed to sustainability while also saving us on costs and enable moving SMR's key personnel into higher-priority positions across the plant," Ferretti said. "It is a win for NYC recycling as we are recovering more, for our team members, and plant safety and efficiency."
SMR uses various robotics in other locations, as well, Ferretti added. Ambati said Sims and EverestLabs are having conversations about other potential locations for installs.
"Sims has been a great partner," Ambati said. "Sims has big ideas, we have big ideas, and we're collaborating with them to solve critical issues."
Plastics recycler modernizes
ACI Plastics is approaching the finish line on its film line.
The Flint, Mich.-based plastics reclaimer recently commissioned an $8 million post-consumer polyethylene film recycling line, which includes sorting, washing, extrusion and pelletizing equipment.
The line will be able to recycle up to 24 million pounds of scrap per year, including stretch wrap, bags and other post-commercial materials, said Scott Melton, president of ACI. His company has the right people, feedstock and equipment to produce high-quality clear pellets, he said.
"Those are the three legs of the stool, and if they're all working well, you make a good product," he said.
In April, the Michigan Department of Environment, Great Lakes and Energy (EGLE) awarded ACI a $300,000 Renew Michigan grant for its equipment project, which totals about $8 million and created over two dozen jobs.
ACI also paid for another $1 million in improvements to its building, including redoing the parking lot, painting the building, repairing part of the roof, installing new offices and expanding the site to allow for storage silos, he said.
The line includes an EREMA single-screw extruder and a Lindner wash line, both delivered from Europe.
ACI has already made agreements to supply all 24 million pounds per year, he said. The 100% post-consumer LDPE and LLDPE will come from suppliers in the Midwest and South, including from ACI's own processing plant in Nebraska, he said.
The focus will be on Grade A bales, defined by ACI as bales with 90% to 95% colorless film with some printing and labels. It won't include low-grade films coming from curbside recycling programs.
The wash line is needed to remove labels and glues, as well as other contaminants such as paper and strapping made of other polymers. Skipping washing and simply melt filtering the plastic may not remove enough contaminants to reach the quality needed for demanding applications, such as blown film, he noted.
The goal is to make as clear of a pellet as possible, he said. "We think that the highest profit, the highest sale price, is going to be very clear, A-Grade pellet," he said.
ACI has conducted trials with deinking technologies. While ACI hasn't yet ordered any, the company left space in its film line for the possible future installation of deinking equipment, he said.
ACI's Flint plant already recycles post-consumer HDPE, PP, TPO and PC/ABS, but this will be the first time it has tackled films at that facility. The company also has another plant in Michigan, as well as recycling facilities in Columbus, Neb. and Liberty, S.C. The Liberty plant, which recycles production scrap, is the latest to open, having been announced only last year.
ACI is planning for a fairly aggressive ramp-up of the new Flint system, which is expected to start making pellets next month, he said. The company may be able to reach a production level of 24 million pounds a year after six months or so.
ACI has already hired and trained enough employees to staff the plant 24 hours a day, five days a week. After ACI adds a weekend shift, staff will be able to run the film line 24 hours a day, seven days a week.
Speeding up sortation with AI
The busiest container redemption center in Oregon recently got an upgrade, delivering the Oregon Beverage Recycling Cooperative's neural network technology to a consumer-facing location for the first time.
The Glisan BottleDrop Redemption Center in Portland, Ore. moved into a new standalone building in early November 2022 after two years of work, leaving behind long lines at reverse vending machines (RVMs) and introducing an on-site mini-materials recovery facility model powered by artificial intelligence.
Eric Chambers, external relations director at the Oregon Beverage Recycling Cooperative (ORBC), said at the grand opening that there are "some really incredible technologies that are in this facility, and this is really the only place in the world where these technologies exist."
OBRC operates the state's bottle and can redemption program on behalf of beverage distributors.
One central technology at the Glisan site is the AI system that allows customers, with staff aid, to dump their containers onto a container belt at the front of the room and watch a live screen as the AI counts each one. After, they receive a cash voucher and can get the money paid out, all in a few minutes.
At the old location, RVMs were the only option for cash return, and each person would have needed between 20 and 30 minutes to feed their bottles into the machine. The batch counter can read the same amount in seconds.
There are still nine RVMs at the new location, but Chambers said people have started to gravitate toward the batch counter, recognizing its convenience and beginning to trust the new technology. Even when all the RVMs are in use, Chambers said, the batch counter can still keep pace.
There are also smart count AI machines in the back of the building, to count the containers turned in through the green bag drop program and automatically credit the accounts linked to the bags via QR stickers. They use the same neural network, and previously had only been present in the larger processing facilities OBRC runs.
"This is the first pure redemption center where we have that technology deployed in the back of the house," Chambers said. "And we need this technology because this facility processes about 90 million containers a year. It's the busiest facility of this type in the entire world."
Kayse Jama, state senator for Oregon's district 24, said he often used the old facility and the new one is both beautiful and efficient.
"I'm excited that this facility is in my district and supporting my community," he said, adding that he's grateful to be in a position to support legislative bills that provide healthier communities and environments.
Andrea Valderrama, state representative for district 47, said she was pleased to see such an investment made into an area that is mostly made up of immigrants and people of color.
"The savings that we are having with this, not just in terms of resources but in terms of time, is so invaluable for this community, for my neighborhood," she said. "We are working class, refugee and BIPOC communities, and it's just such a relief to know that we're seen and that we're valued and that we have this incredible technology that's bright and shiny right here in an area that has felt traditionally underserved."
Chambers noted that there's $9 million in refunds being paid out to residents and nonprofits who use the facility, and that it's the strong partnerships with legislators, grocers, community partners and individuals that makes the system work.
"When you combine convenient access with really good public policy and a public-private partnership, you get a lot out of it," he said.
This article appeared in the February 2023 issue of Resource Recycling. Subscribe today for access to all print content.