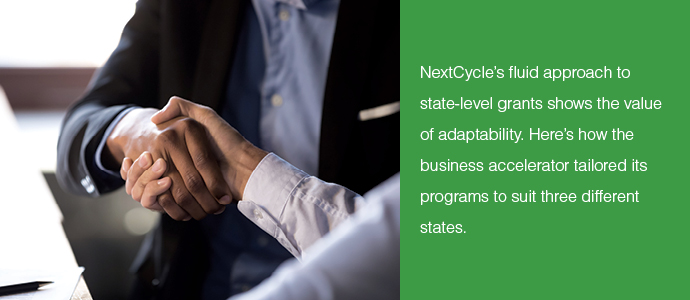 This article appeared in the February 2023 issue of Resource Recycling. Subscribe today for access to all print content.
It first came together in Colorado, in 2018, 11 years into a grant program that promotes economic development through the management of materials that would otherwise be landfilled. The Colorado Department of Public Health and Environment (CDPHE) sought to create a program that would leverage the grants to advance regional end markets.
Working with Resource Recycling Systems (RRS), a pilot program was tested to recruit teams from across North America that could bolster or expand end markets in Colorado, provide the teams with technical support and regional data, and facilitate networking opportunities for them.
At the same time, the project would vet the teams for future investment from CDPHE in the form of grants to help ensure those investments would have a higher likelihood of success. The result was NextCycle Colorado, now in its fifth year.
The model
RRS has since evolved the NextCycle model into a powerful circular economy, business accelerator program with a presence in three States: Colorado, Michigan and Washington. Each state-based program is customized to support the goals and resources of that state. At its core, NextCycle connects entrepreneurs, companies and communities to technical support, financial resources and capacity-building for projects focused on waste prevention and material recycling, recovery and reuse. 
To effectively support participating NextCycle teams and align with individual state goals, each program relies on core elements which define the NextCycle model. Data in the form of infrastructure and end-market gap analyses, waste characterization studies, and other economic, market and demographic information, reveal opportunities to make an impact. Not only does this data inform the direction and structure of each NextCycle program, but it is also curated to drive team projects through business plan and pitch development.
Depending upon the state, NextCycle begins with an open application period whereby teams made up of entrepreneurs, organizations, universities, communities or a collaboration of entities outline a project or business that is seeking support to further develop or grow. The applicant projects are vetted through various criteria based on each state's requirements, then selected to participate in a cohort or track.
Selected teams receive several months of business and technical support to further develop project plans, market approaches and investment pitches. Programming includes multi-day boot camps where teams come together with industry experts for coaching, pitch practice and business plan development. These highly interactive events encourage networking, peer-to-peer learning and engagement with advisors. NextCycle programming also highlights opportunities for grants, private funding and investment opportunities.
The tracks or cohorts culminate with a showcase event to pitch their projects to an audience of business and community leaders, association representatives, potential investors, and subject matter experts who also serve as judges. Showcases provide important exposure and recognition, and can include monetary awards and recognition.
Following his showcase, Michael Csapo, general manager of the Resource Recovery and Recycling Authority of Southwest Oakland County, said, "Feels like we won out in the hallway and the gathering area. The number of stakeholders that expressed interest in our potential success and replicating it, and the potential additional resources and funding partners we identified by hanging around outside of the pitch sessions are among the reasons I wanted this project in the NextCycle process in the first place. Mission accomplished!"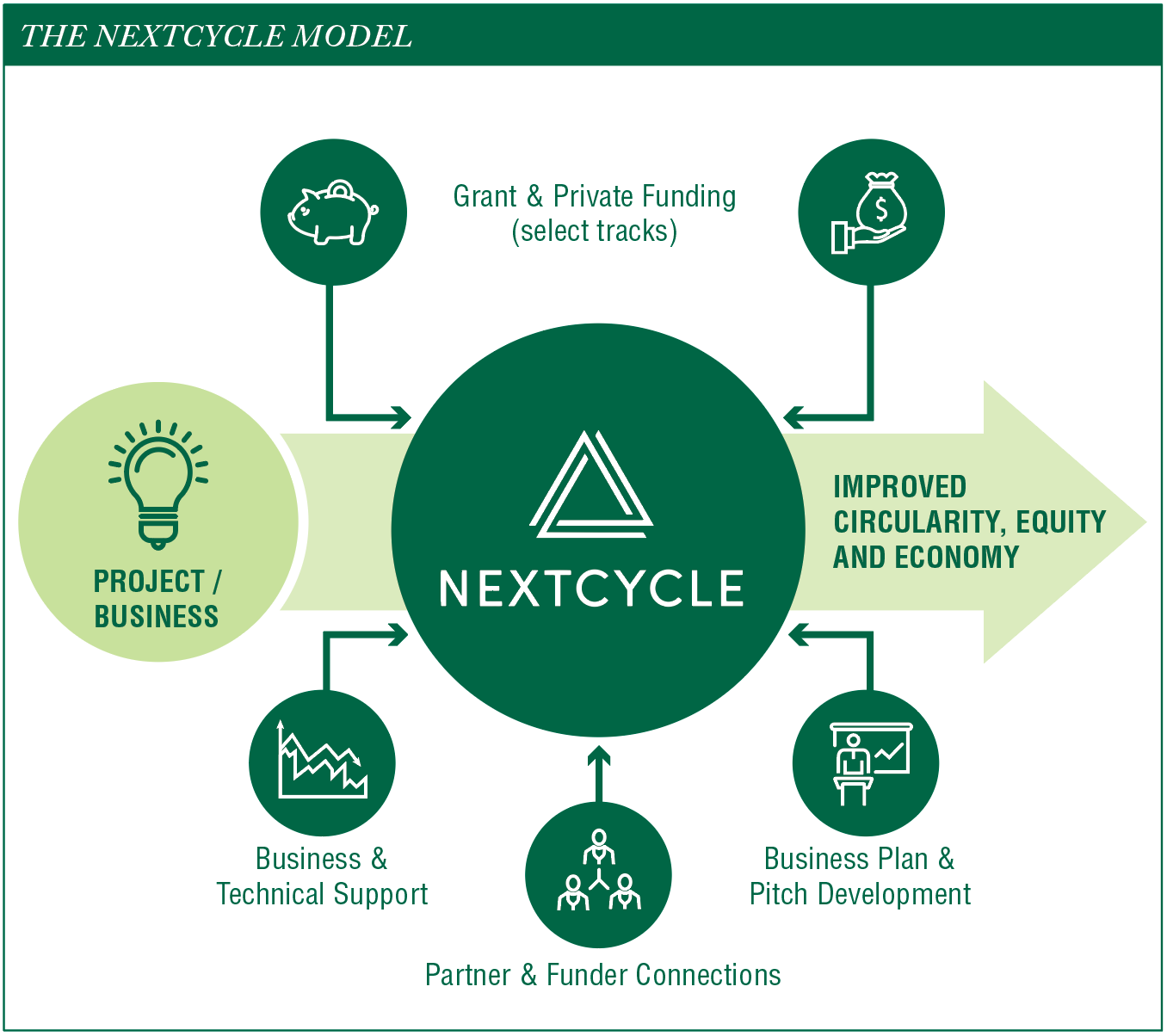 A state-specific approach
The three states' experiences with NextCycle show that the model is highly adaptable to different contexts and different goals. NextCycle has also demonstrated the ability to consistently bring high levels of energy and buzz to the work of expanding states' circular economies.
"NextCycle helps Michigan businesses and communities tell their story about how growing their local circular economies helps the climate and creates equitable systems by connecting the supply chain from the curb to end products," said Matt Flechter, recycling market development specialist with the Michigan Department of Environment, Great Lakes, and Energy (EGLE).
NextCycle participants are making progress in their targeted states and receiving national attention. The WasteExpo Pitch Slam, entering its second year in 2023, enabled NextCycle teams to highlight their innovative solutions and demonstrate the positive impact they are having both locally and at large.
More than just attention, NextCycle is attracting real investment for circular economy solutions, with Closed Loop Partners (CLP) making one of the most notable commitments to date. CLP, an investment firm that provides equity and project finance to scale products, services and infrastructure at the forefront of the development of the circular economy, announced in April 2022 that it would commit up to $5 million per project for NextCycle solutions that advance collective circularity goals.
Other NextCycle partners are investing directly in projects including the Carton Council of North America (CCNA) and the Foodservice Packaging Institute (FPI), providing match grant funding for initiatives. One of the various project investments includes $250,000 from CCNA to support Great Lakes Tissue, a Michigan-based paper mill that uses 100% recycled materials, including cartons, as feedstock for their tissue products. This investment not only supported the purchase of equipment to handle poly/aluminum residual but has created a long-term relationship between Great Lakes Tissue and CCNA.
NextCycle comes to Michigan
In the wee hours of the morning of the last day of its 2018 lame-duck session, the Michigan legislature passed an amendment to the state's income tax statute, creating the Renew Michigan Fund. The fund now provides annual support for planning and programs to expand Michigan's circular economy.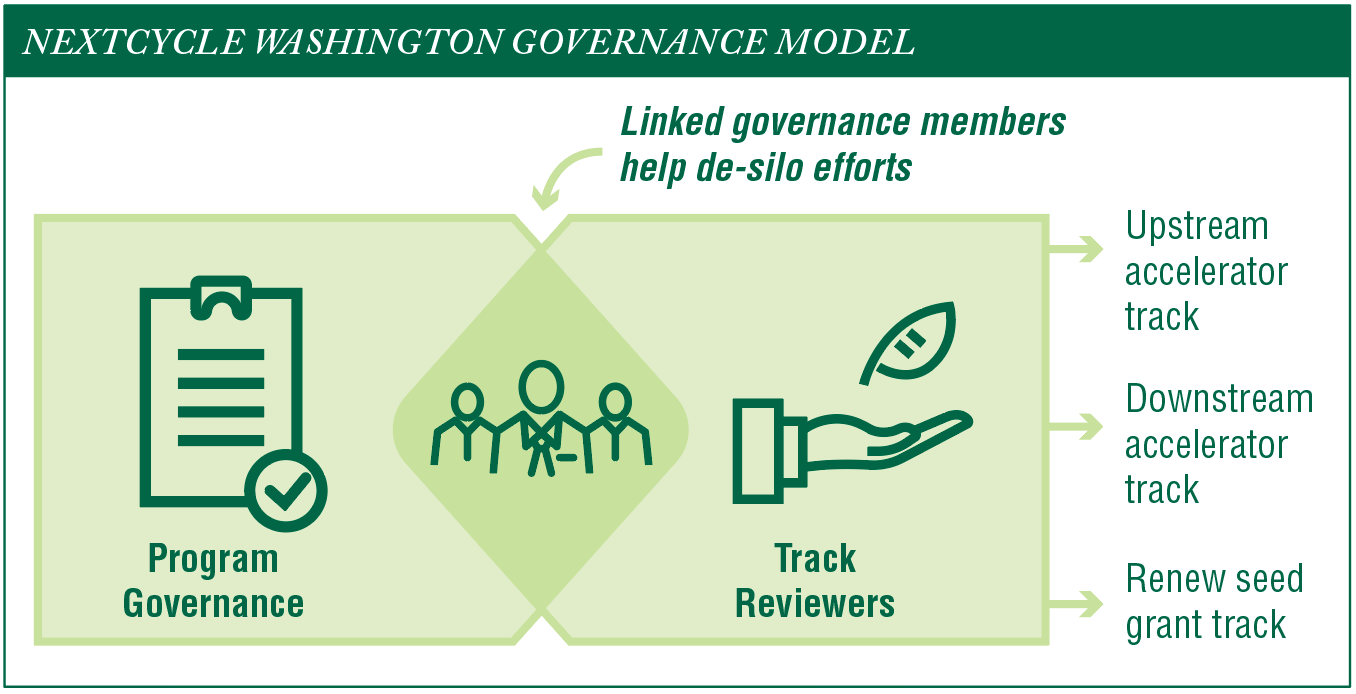 Alongside researching the state of recycling in Michigan and preparing a gap analysis, one of the first actions state recycling leaders embarked upon was to establish a partnership and innovation initiative. This resulted in EGLE bringing in RRS to design and facilitate NextCycle Michigan. RRS included the Michigan Recycling Coalition (michiganrecycles.org), and the Centrepolis Accelerator (centrepolisaccelerator.com) as collaborators in the program.
The state's recycling rate had long been stagnant at an estimated 15%. NextCycle Michigan's overarching goal is to kick-start progress toward the state's goal of 30% by 2025 and 45% in the future, with a focus on partnership and innovation. At the same time, the NextCycle leaders made diversity, equity and inclusion (DEI) as well as alignment with climate goals priorities for the program.
When Michigan Gov. Gretchen Whitmer took office in 2019, the state ramped up efforts to reduce and mitigate climate change; this became a priority of NextCycle Michigan as well. NextCycle is integrated into the Michigan Healthy Climate plan as one of the pathways to positively impact the climate in Michigan.
As identified in the initial Michigan gap analysis (formally known as the Michigan Recycling Economic Impact & Recycled Commodities Market Assessment), reaching the target state recycling rate is projected to reduce seven million metric tons of carbon dioxide-equivalent (CO2e) emissions.
NextCycle Michigan projects represent a variety of ways circular economy efforts centered around the recovery of materials can have a positive climate impact.
NexTiles, a NextCycle Michigan team located in Detroit, is capturing textile waste to be turned into building insulation. In 2021 alone, NexTiles diverted 50,000 pounds of textile waste, diverting the material from landfill. The NexTiles model not only captures an otherwise wasted material but also produces a product that can support climate resiliency through insulation of homes, reducing the energy needed to heat and cool homes.
Michigan's DEI focus is woven into the program, with technical advisory panels assembled to drive DEI and the recruitment of participants and partners striving to reach underserved communities, as well as selection of projects that develop equitable solutions. Centering of DEI in NextCycle Michigan continues to grow with an expansion of NextCycle activities designed to provide direct technical support for disadvantaged communities and businesses enabled by funding from the Economic Development Administration's Build to Scale grant program.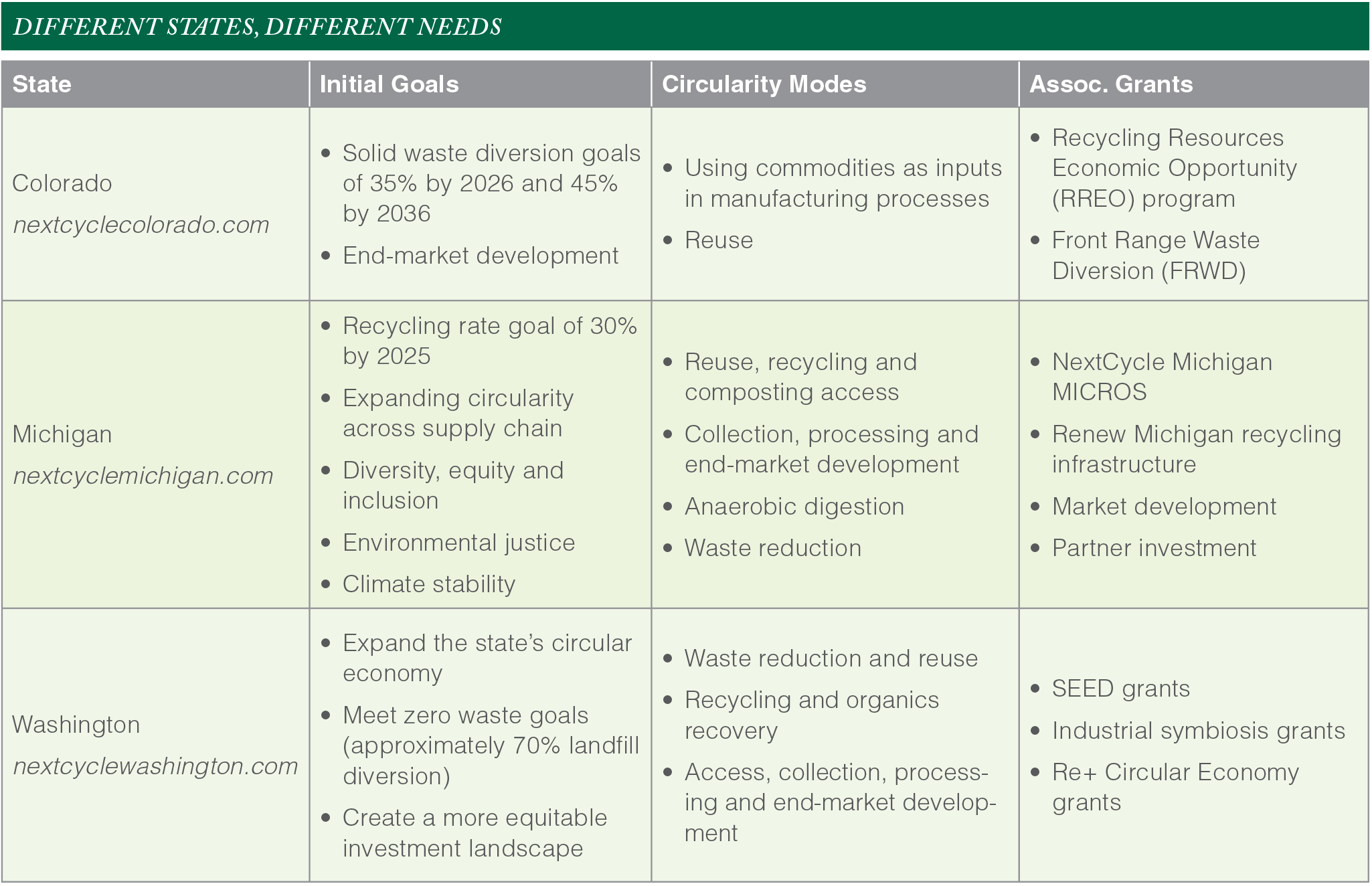 In line with the initial vision pioneered in Colorado, NextCycle has been a feeder for state grants in Michigan with 26 NextCycle Michigan teams receiving over $3.4 million in funds through the EGLE Recycling Infrastructure and Market Development grant program. This reflects a 90% success rate for NextCycle Michigan applicants who applied for these grants, demonstrating the ability of NextCycle to serve as a successful vetting and preparatory process to ready projects for investment – one of NextCycle's key goals. Additionally, out of 160 applicants, over 50 entities have been selected to receive MICROS funding, a NextCycle Michigan pathway to receive $10,000 in grants to support a variety of initiatives. Many MICROS teams later participated in the full NextCycle Michigan Innovation Challenge tracks.
Michigan also leverages private investment. NextCycle Michigan has a growing cadre of financial partners recruited from within the industry, the state and the national philanthropic community, as well as mission-aligned private sector investor circles. In fact, from 2019 to 2022, over $689 million in investment have been tracked across the state, going toward circular economy projects, $568 million of which is private funding.
Michigan's NextCycle has led the way in cultivating NextCycle partners – those in industry, trade associations, foundations and nonprofits whose missions align with growing the circular economy. Closed Loop Partners, has pledged competitively priced and flexible financing of up to $5 million per vetted project that aligns with their mission, across all NextCycle states. NextCycle Michigan will benefit from a recently secured a $1.6 million Economic Development Administration (EDA) Build to Scale grant through the Centrepolis Accelerator to extend technical assistance to underserved businesses and communities over three years, another example of NextCycle's ability to leverage investment to amplify circular economy solutions. NextCycle partners such as the Carton Council of North America and Food Packaging Institute (FPI) have provided critical match funds for grants for both businesses and communities in excess of $1 million to date.
Washington emphasizes DEI, upstream options
NextCycle Washington chose its first cohort of ventures in 2022 for a six-month accelerator running through March 2023 and is on the cusp of announcing its first group of Seed Grant recipients (there will be over 40 grants of up to $10,000). It is a joint project of the Washington Departments of Commerce and Ecology along with the King County Solid Waste Division and Seattle Public Utilities.
The Washington program is uniquely designed to center DEI. This effort is driven by both the collaborative assembly of contractors, including RRS, Cascadia, Start Consulting and Traversal Design, along with the integration of co-design and community-centered shared governance models. Co-design (communities.sunlightfoundation.com/action/codesign/) is a project development model that makes space for community voices by combining perspectives based on lived experience and professional expertise, placing them on equal footing.
The program itself was developed using this co-design model and has continued to evolve this effort through a shared governance model that integrates community voices to ensure that the teams selected and program outcomes are accountable to the vision developed at the onset. The program is governed by diverse, overlapping governance circles that bring together people with a variety of lived experiences.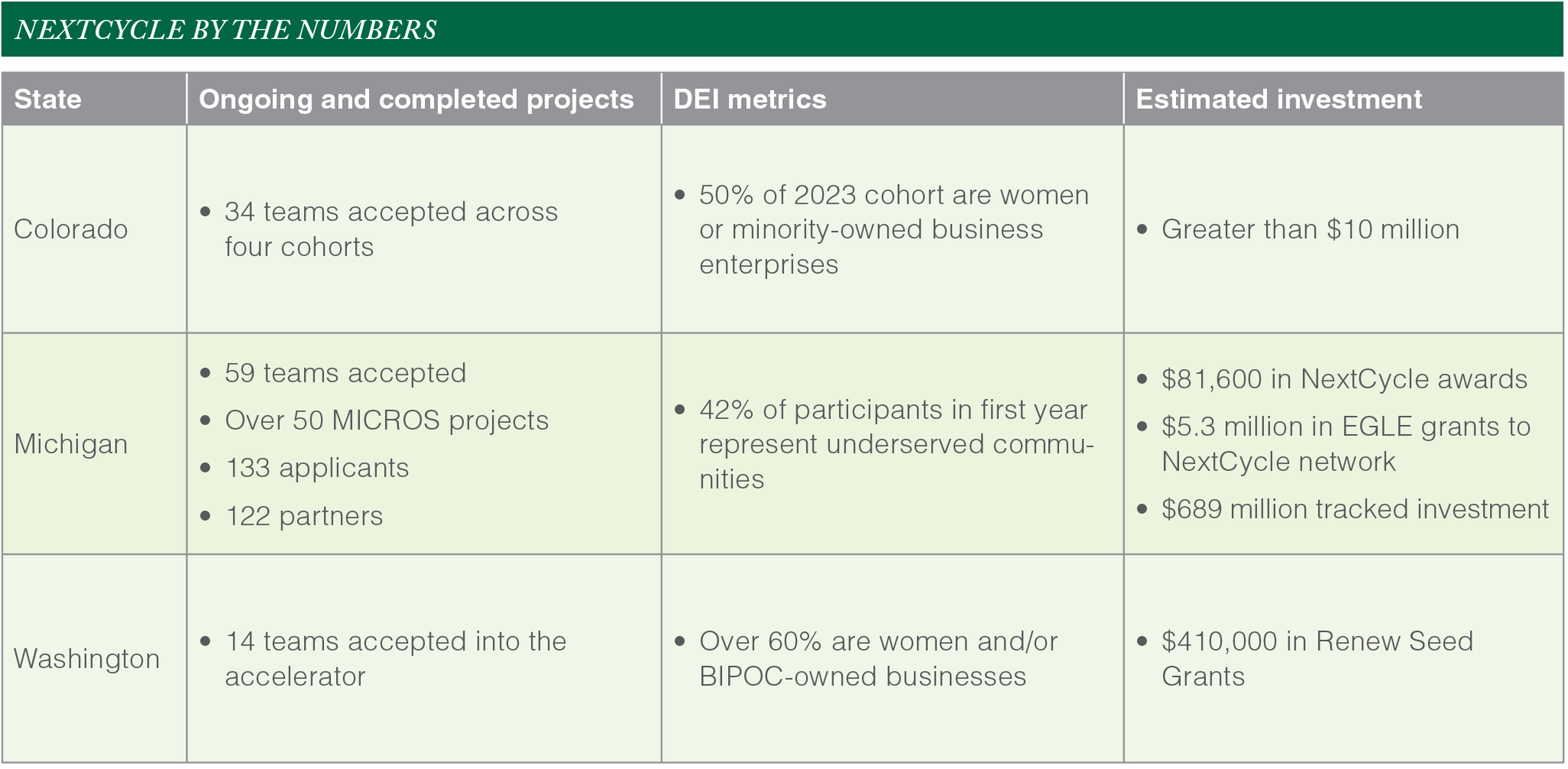 "NextCycle is breaking the mold as it reaches businesses who may often be left out of government funding opportunities," said Kirk Esmond, sustainable business development manager at the Washington State Department of Commerce. "Innovation and excitement to support recycling and reuse exists in our communities at every level and across the state. Commerce is thrilled to support this grassroots approach to reducing waste and moving us toward a circular economy."
According to Laurie Davies, program manager of the solid waste program at the Washington Department of Ecology, "Ecology is excited to partner with NextCycle Washington in supporting businesses that are innovative, small and owned by people of color to find new ways to reduce, reuse, recycle and remanufacture materials before they become trash."
NextCycle Washington also emphasizes waste prevention, reuse and repair, which make up its upstream track. Its downstream track encompasses recycling and organic recovery projects, such as composting and anaerobic digestion. Fourteen teams were accepted in the first year, with projects ranging from Geer Garage, a peer-to-peer outdoor gear rental app, to Birch Biosciences, a biotech company developing enzymes to depolymerize polyethylene terephthalate (PET) to produce virgin-quality recycled content.
Renew Seed Grants constitute a third track of NextCycle Washington, providing up to $10,000 to early-stage projects. In the program's first grant cycle, 41 projects received these grants. Planning is underway for a second cohort in 2023, which will further build on the positive impact of NextCycle Team solutions.
NextCycle spotlights a bright future
The significant array of public and private sector funding available for driving circular economy initiatives, including the U.S. EPA's $375 million in funding from the Bipartisan Infrastructure Law, has created new opportunities for states to take meaningful steps toward meeting their recovery and circular economy goals. NextCycle is proving to be a customizable plug-and-play initiative that states can readily adopt to move the needle on recycling and end-market development in their state, aligned with their needs and objectives.
Elisa Seltzer is a senior consultant at RRS, serves as the NextCycle Michigan project manager and is the former public works director for nationally acclaimed Emmet County Recycling in Michigan.
This article appeared in the February 2023 issue of Resource Recycling. Subscribe today for access to all print content.