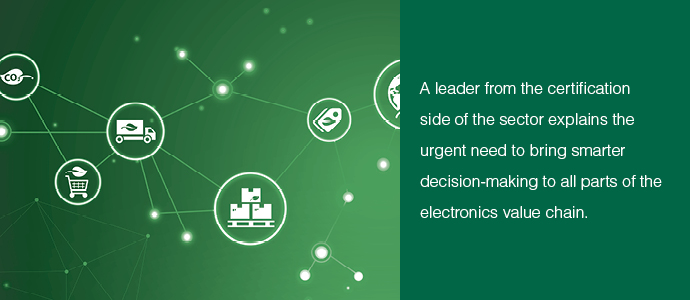 This article appeared in the October 2022 issue of Resource Recycling. Subscribe today for access to all print content.
For the longest time, the world looked at electronics, along with everything else, through the lens of a linear model – take, make, use, dispose – creating tons of e-waste annually.
In fact, much of the world still does see things this way. Since the 1990s and even earlier, the focus has been on managing e-waste in order to address the tremendous volume of electronics being disposed of, a Sisyphean challenge created by the global expansion of technology at an unrelenting pace and rapid technological advances that make electronics obsolete soon after their purchase.
The problem is that the model is completely unsustainable. On the front end, the planet is being depleted of valuable natural resources and is being damaged by CO2 emissions from the mining and manufacturing process. By many calculations, depending on the device, 80-95% of the CO2 emissions associated with electronics come from the mining, manufacturing and distribution of new electronics.
On the back end, we know how improper disposal of e-waste damages the environment and negatively impacts the health and quality of life of all people, especially those in areas where e-waste ultimately lands.
So how exactly do we move forward?
Seeking circular
As we started to become aware of the problems that a linear e-waste model creates, we started to address the proper disposal of electronics that required us to focus on hazardous components, such as lead and mercury, along with the hazardous processing techniques. As governments and businesses worked to solve the e-waste problem, recycling became a more viable option, which bent "linear" toward something closer to "circular."
Though challenging, reorienting the world to think of used electronics as valuable resources rather than waste products was definitely a significant improvement over the linear model. Urban mining (as opposed to plundering the Earth) is a big step forward, and it keeps a certain volume of material out of our waste streams. So recycling is the solution, right?
Well, not entirely. The thing is, while circular is better than linear, it still isn't a sustainable model for electronics.
In this circular-ish model, we're still creating tons of e-waste and still contributing to climate change with elevated CO2 emissions – we just have a better mechanism for dealing with material on the back end. But at the rate the world is producing and consuming new electronic devices, it would be nearly impossible to build enough capacity globally to recycle all that waste.
No, this isn't a problem that we can recycle ourselves out of. To eliminate e-waste and reduce our carbon footprint, we need to think beyond recycling.
Improvements throughout the life cycle
There's lots of buzz around the term "sustainable" these days. And at SERI, we believe it's where we need to head with our electronics. But what does the term truly mean?
Our definition of electronics sustainability is "enjoying all the benefits of electronics today without damaging or sacrificing the present or the future."
To make electronics truly sustainable, we can't simply manage e-waste on the back end. Instead, we must eliminate waste throughout the life cycle. On the front end, that means making better design choices so electronics can be more easily repaired or even upgraded. It means producing more durable devices that will last longer. And it also means making different material choices and designing with recycling at the end of life in mind.
In the middle of the life cycle, sustainability requires better reverse logistics choices so returns, warranties and broken devices can be tested, repaired and remarketed. Decisions must not be based solely on the cost-to resale valuation, but must also consider the broader environmental impacts created by manufacturing more devices instead of fixing and redeploying what we have.
At the true end of life, yes, sustainability means better recycling processes that protect the health and safety of workers, capture and contain toxins, and recover all the valuable resources left in those electronics so they can be mined and become part of new devices. It also requires educating the customer so that recycling takes place even when it's not free.
Evolution in ITAD
It isn't just processors and industry trade groups pushing electronics toward a sustainable model. It's also a development being driven by ITAD customers.
Although ITAD in corporations is still evolving, the concept is already being elevated. This movement isn't being driven by IT asset managers, but by the corporate sustainability folks and those in charge of ESG (environmental, social and governance) initiatives, as well as the C-suite leaders looking to protect brand equity. Slowly but surely, corporations are starting to realize that their actions around used electronics can have huge positive or negative impacts on their bottom lines.
And it all goes well beyond a quest for remarketing dollars. This is being driven by risk mitigation (data breaches and a fear of having a company's asset tag at the center of a news story about e-waste failures). Another key factor is the wider corporate quest for carbon offsets and progress on publicly stated goals.
The call from ITAD clients is shifting from "help us get our old stuff out of here" or "get us more money for our old stuff." Now, corporate decision-makers are thinking about where these old IT assets really go and what happens next. The importance of data security will only continue to grow, and especially with the recent Morgan Stanley data breach, customers now know that their responsibility doesn't end when they hand devices off to their ITAD vendor.
Customers are also starting to understand that every device they keep in service through reuse has a positive carbon impact to be claimed and that there are sustainability and inclusion stories to tell when old electronics make their way into the hands of those who cannot afford new devices.
But data security and reuse go hand in hand. If companies cannot trust that all residual data is safely destroyed, they will be forced to recycle reusable devices. Customers are starting to ask their potential vendors tougher questions, and they are starting to understand the wide range of benefits of making better choices with their ITAD partners.
If you haven't already, you'll likely start hearing questions about carbon savings and sustainability from current customers or in RFPs, a trend that is only going to grow over the next few years. Even if you are only involved in the recycling end, it's likely your upstream partners will soon be asking the same for Scope 3 emissions reporting.
Addressing the future
With far more diversity of size and scope, today's global reuse and recycling industry looks extremely different than it did even five years ago. Recognizing this shift along with changing customer demands, in 2020 the third version of the R2 standard, R2v3, was released. Many of the changes in this version stem from the R2 Technical Advisory Committee (TAC), which is charged with maintaining and updating the R2 standard, continuing to keep an eye on the changing dynamics of our industry.
Rather than take a one-size-fits-all approach to the standard, R2v3 is divided into "core" requirements, which all certified facilities must adhere to, and appendices, which are additional components that allow facilities to match their certification to their business structure.
Currently, the TAC is working to expand R2 to include solar panels. And as we see the internet of things (IOT) continue to grow and products like electric vehicles leverage electronics in new ways, the TAC will continue to consider adding other types of devices to the R2 standard.
At the same time, SERI is working to expand the global infrastructure for R2 certification. To that end, SERI recently signed an agreement with NABCB, an accreditation body focused on India, other parts of Asia and the Middle East. Expanding this infrastructure will create a local network of certification bodies and auditors, which will help reduce costs and allow more facilities to become R2 certified.
SERI also recognizes that achieving electronics sustainability will require involvement from a wide range of stakeholders. In cooperation with the U.S. EPA and the Taiwan EPA, SERI assumed the role of Secretariat for the International E-Waste Management Network (IEMN). In this role, SERI is helping to build a community of regulators around the world to harmonize approaches and create opportunities for the responsible reuse and recycling of electronics everywhere.
As SERI continues its work to make electronics sustainability a reality throughout the world, we want to thank the customers who utilize R2 certification in choosing their partners and the R2 certified facilities that are doing their part along this journey with us. The commitment from enterprises and facilities is driving system change toward a more sustainable future.
We see the work that you have done, and it inspires us to keep doing what we do. Working within and beyond R2, we invite those not yet engaged in this sustainability journey to join us as we try to make our world a better place.
Corey Dehmey is the executive director of SERI and can be contacted at [email protected].
This article appeared in the October 2022 issue of Resource Recycling. Subscribe today for access to all print content.