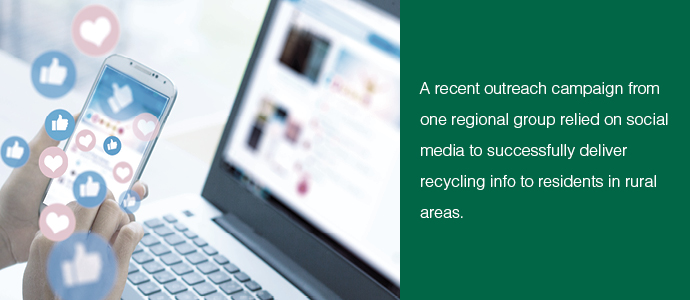 This article appeared in the October 2022 issue of Resource Recycling. Subscribe today for access to all print content.
How do we get folks to stop tossing trash and contaminating our recycling loads? How can we get more of our residents to recycle?
These two questions have been answered over the years by large outreach campaigns designed for cities and towns that use zero-sort or single-stream recycling. Unfortunately, it's been rare to see such a campaign created for communities that use source-separated recycling – in these systems, residents are asked to separate their recyclables into two or more streams.
In August 2021, the nonprofit Northeast Resource Recovery Association (NRRA) was awarded a grant by the United States Department of Agriculture (USDA) Rural Utilities Service to launch a "Recycle Right" campaign aimed at helping small, rural New Hampshire towns that have source-separated recycling. The goal was to teach residents how to recycle more and recycle better, in order to reduce their solid waste stream.
This is the story of how the effort was developed with social media at its core, as well as lessons learned along the way.
A four-month campaign
In 1981, four New Hampshire municipalities founded NRRA, then called the New Hampshire Resource Recovery Association, to provide a clearinghouse for current, up-to-date information and a source of technical and marketing assistance in the general areas of waste reduction and recycling. Since then, membership in NRRA has grown to include over 450 municipalities, schools, individuals and businesses throughout New England.
Most of NRRA's municipal members are smaller, rural communities that rely on the group for assistance in managing their recycling programs and to help them reduce waste. Thus, it made sense to design a free educational resource with the unique aspects – and challenges – of source-separated recycling in mind. For instance, not all source-separated towns recycle the same things; one town may not recycle mixed paper, while a neighboring community does. This inconsistency can cause a lot of confusion and frustration among residents across regions, leading to lower recycling participation overall.
Though outreach campaigns can range in duration, lasting anywhere from a week to a few months, we decided to go big: the four-month (sixteen-week) campaign officially kicked off Earth Week 2022.
The NRRA Recycle Right campaign was designed primarily as a digital campaign with social media posts, videos and three live "Ask Me Anything (AMA): Recycling" events.
Social media posts were designed to be helpful for those who only looked at the image posted, but they also contained a much fuller educational component within the text of the post. All videos included closed-captioning and subtitles for individuals who are hard of hearing or non-English speakers. Each AMA event included a live panel of experts answering participant-submitted questions as broad as "what is the future of recycling in the Northeast?" as well as very specific queries such as "can I recycle aluminum foil?"
Social posts were shared on Facebook and Instagram; videos were shared on Facebook and YouTube. To help ensure residents in small, rural towns would encounter the NRRA Recycle Right campaign posts, some posts were "boosted" by way of a small fee (ranging between $15 to $35 per post for a 10-day promotional period). All posts and videos were also shared through a regular newsletter and in a designated Recycle Right section on the NRRA website.

Structuring the content
To help streamline the huge amount of recycling information that could potentially be shared, each week of the Recycle Right campaign followed a pattern. The week began with a "Recycling Basic" post focused on starting or maintaining a specific recycling habit. While individual posts didn't perform particularly well on social media, we felt it was important to develop a complete set of habits that could work as its own standalone campaign.
Day two brought a "Recycling Education" post, focused both on the "why" behind recycling, giving residents a better understanding about the difference their action (or inaction) makes, and the "how" of recycling unique or hazardous items. These posts were often framed as questions, ranging from our most-popular post topics ("How do I recycle batteries?" and "How do I recycle paint?") to our second-most-popular post topics ("I heard Styrofoam is recyclable, why can't I put it with my plastic recycling?" and "Why can't I recycle plastic bags or film at the transfer station?"). Because recycling education posts appealed to a broader audience, they tended to be some of our most popular posts overall.
Day three saw "Recycling Mythbusters," designed to help break down barriers – real or imagined – between residents and recycling. Posts tackled common misconceptions such as how clean a container must be prior to recycling and whether or not you need to peel out the plastic window in an envelope before tossing it. Another of these messages let residents know that, yes, product size does matter when it comes to recycling (incidentally, this was one of our 10 most popular posts).
Day four shared town-specific posts, celebrating examples of rural New Hampshire communities that are doing great work in recycling. By boosting "wins," these posts were designed to encourage residents to take action (or increase their current positive actions) over time. Using Environmental Impact Reports created by NRRA and based on the U.S. EPA Waste Reduction Model (WARM), these posts shared the positive environmental impacts even small communities can make when working together to recycle.
The local program celebration posts were promoted to residents both in the celebrated town and in areas within a 10-mile radius of the town. These were among our most popular posts as residents eagerly shared them with pride. For example, the small town of Bristol, N.H. has a population of 3,124, and the post celebrating Bristol's tire recycling reached 3,543 people, making it our third-most-popular post of the campaign. In fact, four of the top 10 most popular NRRA Recycle Right campaign posts fell into this "wins" category.
Finally, day five shared a "video of the week." Though the NRRA Recycle Right campaign was primarily image-driven through social media posts, some issues required a more in-depth look.
Videos included recordings of the three "Ask Me Anything" events as well as detailed explanations of source-separated recycling, OCC recycling and appropriate battery recycling.
Videos were able to reach a broader cross-section compared to static posts, offering access to information in an audio-video format that does not require literacy. Meanwhile, subtitles and closed-captioning allowed hard-of-hearing individuals access to our video information and AMA events.
Because the NRRA Recycle Right campaign was designed for smaller, rural municipalities where source-separated is the predominant method of recycling, it was vital to share detailed information about source-separated recycling in social posts as well as video throughout the campaign. The continued nod toward source-separated recycling helps to normalize the method of recycling, boost the positive elements (such as cleaner loads) of source-separated recycling, and engrain in residents the expertise and central role their transfer station operators play in the recycling process in their community.
Residents and operators especially found the source-separated recycling video helpful, with one operator from a large New Hampshire transfer station proclaiming, "Fantastic video! LOVE IT!"
Learning as we go
Though the majority of the NRRA Recycle Right campaign was mapped out and created prior to launch, there were some elements that required adjustments on the fly.
For example, the original "How do I dispose of batteries?" post was popular, with a reach of 7,548 people. After it was posted, a transfer station operator reached out to NRRA to see if the post could be made into a poster to be hung at their transfer station, and a printable poster was created and shared in addition to the post. A few weeks later, a fire broke out at a New Hampshire transfer station due to an improperly disposed of lithium battery. The NRRA Recycle Right campaign built on this event, creating a brief educational video on proper battery disposal, resharing the post on how to dispose of batteries, as well as the new printable poster. In addition, a news post on the NRRA website offered specific information for operators as well as residents. Ultimately, over 25,000 people saw, read or watched an NRRA Recycle Right piece on battery disposal.
Additionally, while social posts were impactful when they reached their target audience on Facebook or Instagram, campaign organizers remained cognizant that there is a large segment of folks not on social media. Every few weeks, an email digest was created recapping information from recent social posts, including the images and educational text. These were popular, with no loss of audience over the entire campaign – no small feat for a newsletter!
Of course, not everything in our increasingly technological world is digital, a fact especially apparent in rural New Hampshire, where access to the internet is often a luxury rather than the standard. The documented lack of broadband access to many northern New Hampshire towns meant there was no way for the NRRA Recycle Right campaign to reach some of its intended audience. This lack of infrastructure makes it more difficult for already underserved communities to access recycling and solid waste management education for residents and speaks to the need of organizations such as NRRA that are able to provide technical assistance in-person or over the phone to bridge this gap.
Ultimately, the beauty of an outreach campaign is there is no wrong way to do it. Whether you are sharing information for a week or a month, regular, ongoing recycling education can both increase recycling participation and decrease recycling contamination. By harnessing the power of online communities such as Facebook or Instagram, positive recycling education can reach more people and allow residents to learn and change at their own pace.
The 70-plus posts and videos in the NRRA campaign underscores the fact that it is now easier than ever for communities big and small to share the tips, tricks and education needed to recycle more, recycle better and Recycle Right.
Andrea Folsom is communications coordinator for the Northeast Resource Recovery Association (NRRA) and can be contacted at [email protected].
Find complete information on the NRRA Recycle Right campaign, including videos and images, at nrrarecycles.org/recycle-right.
This article appeared in the October 2022 issue of Resource Recycling. Subscribe today for access to all print content.