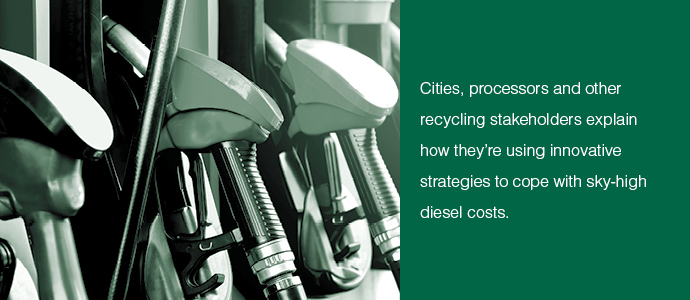 This article appeared in the September 2022 issue of Resource Recycling. Subscribe today for access to all print content.
For a small taste of the big bite that fuel costs can take out of a budget, look no further than The Big Apple, where the sanitation department averaged $2.5 million per month in fuel expenses during the 2022 fiscal year but saw those costs rise to $3.4 million in June.
And there wasn't a whole lot the department could do about it.
"The NYC Department of Sanitation has an obligation to remove the 24 million pounds of refuse and recycling that New York City residents put out every day," said Vincent Gragnani, press secretary for the New York City Sanitation Department (DSNY). "Unfortunately, there is not a way for us to do this with less fuel."
Gas prices may have fallen fast from their June highs, but they're still far above historical averages, and many recycling programs and companies continue to feel the pinch. U.S. diesel prices were averaging about $5.50 per gallon in early August, up by nearly 50% from the beginning of the year and up nearly two-thirds year over year, according to the U.S. Energy Information Administration.
Resource Recycling interviewed a range of recycling stakeholders across the country to find out how they're coping with fuel markets. Industry leaders say their operations are adjusting routes, ensuring trailers and containers are full of product, switching to alternative fuels, buying fuel in bulk and taking other strategic steps.
New urgency to efficient transportation
A number of companies said they're responding to high prices by stamping out inefficient trips.
Millennium Recycling in Sioux Falls, S.D. is a MRF operator that does not operate a fleet of collection trucks, but it does use its semi-truck to move any materials that are outside the scope of local garbage and recycling haulers. And the company pays freight for delivery of bales to paper mills and other end users, said Shannon Dwire, Millennium Recycling's president.
Dwire said the company's main strategy has been to ensure as much weight as possible per load, maximizing the value per ton. For shipping within 100 miles, the company runs one full-time semi-tractor, which can connect to over a dozen trailers. Outside the area, it hires less than truckload (LTL) or other carriers.
For local pickups of scrap materials, the company requires a minimum load count or weight be available. The same requirements are applied to freight companies shipping Millennium's bales to mills or other downstreams, she said, and the company's warehouse operators are required to load trucks to their maximum legal weight limit.
"Those small amounts over time add up incredibly," Dwire said.
Millennium Recycling sends most of its bales to companies with which it has long-term relationships in that region, regardless of freight costs. But some of the spot materials that may otherwise have been shipped to the East Coast aren't going there because of high freight costs, she noted.
Some of these sentiments were echoed by another Midwest recycling company, Schupan & Sons, which is based in Michigan and handles plastics, beverage containers, scrap metals and electronics.
The company's industrial recycling unit deals in metals (mostly aluminum) from manufacturers of vehicles, building materials and other products. Gary Curtis, president of that division, said Schupan and Sons always tries to be diligent about shipping efficiency because it's "a tough business and tight margins anyway."
But the high diesel prices have added urgency to the effort, he said, leading the company to look more closely than ever at routing efficiency.
At the same time, the industrial recycling division's account executives are communicating more often with customers to ensure containers are completely full of scrap when Schupan and Sons trucks arrive to pick them up, he said.
"Now we're asking them to let us know if it's not full for any reason," he said.
For its part, Eco-Cycle would love to implement on-demand collection. The Boulder, Colo.-based nonprofit recycling company runs a MRF and the Center for Hard-to-Recycle Materials (CHARM), as well as its own fleet of 10 trucks.
Justin Stockdale, who directs zero waste hauling operations at Eco-Cycle, said running 500 commercial accounts with on-demand pickup – with routes changing daily – is "a big lift." But the organization has developed software that allows staff to easily change routes, putting Eco-Cycle within striking distance of that goal, Stockdale said.
"It's very clear there's a lot of opportunity for right-sizing services and getting closer to on-demand service that reduces fuel consumption, reduces cost to the customer, is a more efficient approach to it," he said.
In the meantime, little changes matter. Eco-Cycle's drivers are flagging stops with consistently low volumes of material set out, allowing Eco-Cycle to suggest to those customers that they switch to less frequent collection.
Enjoying the benefits of alternative fuels
Recycling programs and companies that have abandoned diesel are happy. The city of Tacoma, Wash. is one of them.
The city's solid waste utility switched to compressed natural gas (CNG) three or four years ago and now operates over 20 trucks for hauling garbage, single-stream recyclables and organics from homes and businesses, said Preston Peck, who heads the Recycle Reset project at the city's Environmental Services department. Those trucks get their fuel at a city-owned CNG refueling station that opened about a year ago.
Peck said CNG costs to the city have remained "super steady," in the realm of $20,000 to $26,000 per month, unlike the fluctuating prices for diesel. The department's fleet manager ran some numbers and determined that if the city still ran diesel trucks with prices in the $5 to $6 range – they're currently about $5.50, according to federal data – then the city would be spending about $100,000 per month on diesel for its trucks.
"That's a big cost savings for us and environmentally better," Peck said.
"It just worked out that we made that transition before this all started happening," he added.
Garbage and recycling fleets around the country have been moving to CNG for many, many years, so that's not particularly new – even if diesel fleets right now wish they were buying CNG instead.
For example, in its latest sustainability report, Waste Management, the largest curbside garbage and recycling company in North America, reported it has spent $2.5 billion on CNG vehicles and $550 million on fueling infrastructure. As of the end of 2020, over half its fleet used CNG.
Rumpke Waste & Recycling, a privately owned waste and recycling company based in Columbus, Ohio., has been working for over a decade to convert its fleet. It now has about 500 trucks running on CNG, out of 2,500 total, said Gayane Makaryan, corporation communications manager for Rumpke.
What is newer is the push for electric collection trucks.
Tacoma officials have talked about EVs, but the city's geography – northeast Tacoma lies across a bay from much of the rest of the city and is about 20 minutes away from the transfer facility – has made electric collection trucks unrealistic in the past, Peck explained. The EV technology may be advancing to the point where it makes sense for the city, but then there's the high vehicle costs and the fact the city has already invested in CNG.
"I would say based on a lot of the conversations we've had that electrification is the pie in the sky for haulers right now," he said. "They understand the value and agree that's the direction we want to go, we just have to make sure it makes sense for collection and costs, so we're not all of a sudden jacking up our rates for all our customers because we're looking to electrify."
Other fleet managers are also looking at EVs, but even if they like what they see, a switchover takes time. Gragnani said DSNY is piloting the use of all-electric collection trucks and street sweepers, with plans to gradually expand the fleet.
"While the initial experience with these vehicles has been positive, the transition will take years, as we need to also equip our facilities with the infrastructure necessary to charge these vehicles," he said.
Others have already ordered EVs, but deliveries are delayed amid widespread supply chain challenges.
Earlier this year, Eco-Cycle purchased a Mack LR Electric truck to collect organic materials, and Stockdale said the vehicle was scheduled to roll off the production line in March but hasn't arrived yet. Emterra Group has also ordered a Mack electric collection truck for service in Ontario. DSNY also chose Mack trucks.
For Eco-Cycle, when the truck does arrive, the organization expects to enjoy several benefits. In terms of money, electricity prices are likely to remain much more stable than diesel. That will bring budgeting predictability.
The city of Ocala, Fla. recently purchased two electric refuse vehicles, with a city official estimating each costs about $30 to charge, compared with about $145 in diesel per truck per day.
The story is a little different for companies that use trucks to haul bales long distances, although all-electric semi-trucks are beginning to come onto the market.
Scott Saunders, general manager of Troy, Ala.-based KW Plastics, which is the largest polypropylene recycling company in North America, said the delayed availability of EV equipment means companies are essentially locked into the modes of transportation they've got. KW brings in scrap PP and HDPE from all over the country.
Even if electric trucks arrived tomorrow, they would require years of retraining a workforce of mechanics accustomed to working on diesel engines, he said.
"So that is another huge hurdle to jump over," he said.
Companies employ financial strategies
A number of companies reported they're passing the higher fuel costs on to customers by imposing surcharges.
Casella Waste Systems, the fifth-largest publicly traded curbside garbage and recycling company in North America as measured by total revenue, fully offset its higher fuel costs in the second quarter by charging customers fuel recovery fees, CEO John Casella said during a call with investors.
Of course, Casella also relies on other companies to move material for it.
"We clicked through a lot of thresholds in third-party transportation contracts and started to be levied pretty significant surcharges by third-party transporters in Q1 and to Q2," Casella said. In response, the company in June started levying fuel surcharges at transfer stations, allowing it to pass those surcharges through to Casella's customers.
Private haulers are also passing along high fuel costs by imposing fees. Rumpke decided to implement a fuel surcharge when fuel prices rose, Makaryan said. Pegged to Department of Energy data, the surcharge rises and falls with fuel prices.
Others have been able to spare their customers higher prices by employing other mitigation strategies.
Schupan and Sons' industrial scrap division has its own fuel tanks at its Kalamazoo, Mich. and Elkhart, Ind. facilities, Curtis said. The division's 20 drivers fill up at those pumps, as do drivers for Schupan and Sons' aluminum and plastic sales division.
Curtis said having the tanks allows him to sign fixed-price contracts for deliveries of tanker quantities of fuel. He was able to lock in 2020's low fuel prices through all of 2021, he said.
He wasn't able to extend those low prices into 2022, however. That's where his other strategy has come into play: utilizing futures contracts to hedge price risk. Curtis said the company has already used futures trading to hedge exposure to aluminum pricing, so he was able to apply the same strategy to fuels.
"That's another way I've been mitigating that risk," Curtis said. It has allowed him to protect Schupan and Sons from upside diesel pricing risk for the remainder of 2022.
"As long as we're able to mitigate our risk, then our customers get that benefit," he said.
Saunders of KW Plastics said that, with no quick fixes, his company is watching prices daily and doing its best to address the higher prices through its business plan.
"That's really all you can do. We all have got to keep our fingers crossed that we're going to get some relief in fuel prices that's not a severe recession," Saunders said. "We want a strong economy and cheap fuel, but I don't know where to get that."
Marissa Heffernan is the staff reporter for Resource Recycling and can be contacted at [email protected].
Jared Paben is the associate editor of Resource Recycling and can be contacted at [email protected].
This article appeared in the September 2022 issue of Resource Recycling. Subscribe today for access to all print content.