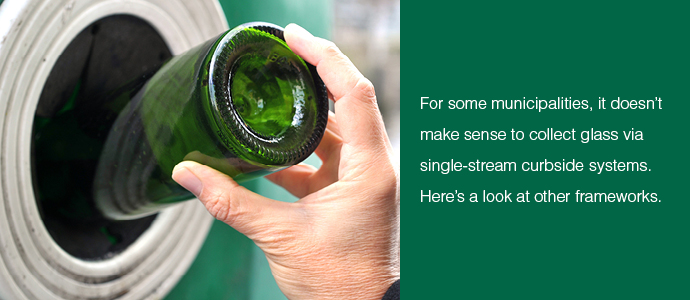 This article appeared in the September 2022 issue of Resource Recycling. Subscribe today for access to all print content.
In most cases, collecting glass with single-stream recycling is a good option. However, there are alternative solutions for situations where single-stream collection isn't the best fit. Let's explore some other collection options for glass recycling programs, along with real-world examples of each.
Curbside separated
If glass is difficult to collect in your single-stream curbside program, consider collecting glass on the side instead. In this collection method, glass bottles and jars are collected for recycling in a separate container from other recyclables at curbside and enjoy comparable collection rates to glass collected in single-stream programs.
There are several benefits to collecting glass on the side at curbside, the first of which is that the process greatly reduces contamination. The Glass Recycling Coalition (GRC) estimates that over 90% of the glass collected via this method is actually recycled after accounting for yield losses. Furthermore, since glass is still collected at the curb, this method maintains the convenience of curbside recycling for residents.
If the community is near a beneficiation facility, source-separated glass can often bypass the MRF and go straight to the facility, thereby avoiding MRF processing fees that can be $100 per ton or more.
One city that is successfully collecting glass on the side at curbside is Decatur, Ga. Decatur is a community of 24,000 residents in metro Atlanta. After recycling companies in the area announced they would only accept glass if it was collected separately from other recyclables, the city surveyed its residents on options for glass collection.
The options were to collect glass as trash or to collect glass for recycling in a separate curbside container. Both options would increase the annual solid waste fee, but the cost to continue recycling glass would be about double the cost of sending glass to the landfill.
Residents overwhelmingly voted to keep glass in a separate curbside collection. In the summer of 2016, Decatur began charging residents an additional $25 per year to collect glass in a separate curbside bin. The glass would then be hauled directly to Strategic Materials' beneficiation facility.
Start-up expenses to consider when evaluating this collection method are the costs of glass-only bins, the trucks to be utilized to collect the glass and marketing materials to notify residents of the change to the recycling program.
Separated at drop-off
Collecting glass on the side can also be a feasible solution at drop-off sites. This method involves segregating glass bottles and jars for recycling from other single-stream recyclables by using separate glass-only receptacles at recycling collection points. While typically garnering significantly lower collection volumes than curbside frameworks, glass on the side at drop-off is a great option to either complement curbside collection or when curbside collection is not feasible.
The GRC estimates that, like glass on the side at curbside collection, over 90% of the glass collected via separation at drop-off is actually recycled after accounting for yield losses. In most instances, dropped off glass can go straight to a beneficiation facility, eliminating MRF processing costs.
As with glass on the side at curbside, there are several costs to implementing and monitoring this collection method to be weighed against potential savings. At a minimum, start-up expenditures include the cost of additional roll-off containers and marketing and educational materials. Programs may want to consider additional expenditures such as increased monitoring either through additional staff (at manned drop-off sites) or electronic surveillance equipment to reduce contamination in the bins.
Orange County, N.C. started a regional glass on the side drop-off program for glass in the fall of 2019. The county still collects glass in the single-stream curbside recycling program, but this "Glass On the Side" (GOTS) program is a voluntary effort to collect higher-quality glass from residents. Alamance and Durham Counties also participate in GOTS.
GOTS launched when Orange County installed additional dumpsters at staffed waste and recycling centers to collect source-separated glass bottles and jars. The glass is hauled 75 miles away to Strategic Materials in Wilson, N.C. for processing. The county receives $20/ton for the glass, compared to paying a $60/ton landfill tipping fee.
Partnerships have been key to the success of GOTS. Using funds from North Carolina's Division of Environmental Assistance and Customer Service, Orange County repurposed an old loading pad as a glass pad to store the incoming glass. Additionally, the first roll-off bins established at the program's launch were funded by a grant from the GRC.
Alamance and Durham Counties participate by delivering their glass to Orange County, at which point Orange County hauls the glass to SMI. Orange County keeps the revenue from the sale of the glass, and in exchange does not charge a tipping fee to the participating counties.
Although GOTS is a voluntary collection effort, the program has grown over the past few years. Four more unstaffed drop-off sites were added to the program about a year after launching. Between November 2019 and March 2021, the program has collected 434 tons of glass from the three counties.

Glass recycling at bars and restaurants
Commercial establishments that generate large quantities of glass containers, such as bars and restaurants, can also benefit from glass-only recycling collection.
Bars and restaurants can greatly reduce their waste bill by collecting glass for recycling. Glass can account for as much as 70% by weight of a restaurant or bar's waste, resulting in significant savings if the material is diverted. Similarly, separate collection of glass from other recyclables such as cardboard will reduce processing fees and improve the value of both material streams. Finally, collecting glass separately reduces breakage in the garbage and is safer.
Don't Trash Glass is a glass-only recycling program for bars and restaurants. Headed by partners Glass Packaging Institute (GPI) and GlassKing, Don't Trash Glass works with local sponsors and partners in the glass recycling supply chain to move the collected glass to processors and end markets.
So far, Don't Trash Glass has launched two programs: one in Phoenix and one in Chicago. Commercial establishments that participate in these cities' programs receive a pre-program audit, indoor and outdoor glass collection bins, and educational signage. The bars and restaurants are charged based on the volume of glass collected; this collection cost varies by city, but in Chicago it comes out to approximately $200 per month.
In addition to organizations heading Don't Trash Glass, the Chicago pilot received funding from Legacy Marketing and Constellation Brands (which owns the Corona beer brand). Strategic Materials in Chicago is also a partner, serving as the processor that accepts the collected glass.
Chicago's initial four-month pilot cost a total of $75,000. The program costs included a collection truck, forklift, containers and a driver. While partnerships helped fund the upfront costs of the program, the goal is for the program to become self-sustaining through bars and restaurants subscribing to the collection service.
Both programs have proved successful in terms of the amount of glass collected for recycling. The Phoenix pilot collected 210,000 tons of glass in three months, and Chicago participants collected 80,000 tons in less than four months. After the pilot program in Chicago proved successful, the program launched as a permanent service in May 2022 with plans to grow from about 50 to 100 participating establishments.
Similar to the other glass on the side programs discussed above, this program also bypasses the MRF and goes direct to the beneficiation facility, saving on processing costs.
The takeaway
Glass on the side collection, whether at a bar, apartment building, single-family home or drop-off facility, is an option for increasing glass recycling access in your community. These collection methods can be alternatives to landfilling glass when single-stream collection is problematic or they can serve as complementary program options to currently existing systems.
Annie White is senior consultant at RRS and can be contacted at [email protected].
This article appeared in the September 2022 issue of Resource Recycling. Subscribe today for access to all print content.