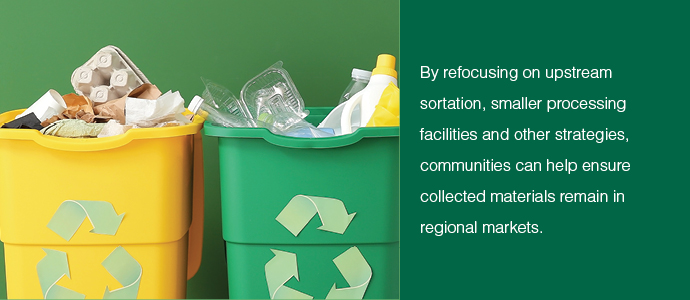 This article appeared in the August 2022 issue of Resource Recycling. Subscribe today for access to all print content.
In recycling, the closer the end use of materials is to the point of generation, the more efficient the system becomes. Transport costs are lowered, and value is added for communities in terms of small business development, jobs and an expanded tax base.
The Institute for Local Self-Reliance has advocated for shortening supply lines and decentralizing production since our inception in 1974. For the last couple of years we have followed a number of sector trends that are helping to create more of this sense of "localism" in materials management: more dual-stream collection, the development of mini MRFs and direct marketing by cities and towns.
Greater sortation before the MRF
Dual-stream collection consists of keeping materials separate during collection in order to control cross-contamination. Primarily, paper is kept separate from other materials to eliminate food and glass shard contamination.
In these frameworks, metal, plastic and glass are placed in separate compartments of a single truck. Alternatively, different materials may be collected once every other week.
The latter logistical technique has been leveraged by a number of New Jersey haulers and cities, allowing processors to spend less on processing and to sell materials at higher market prices. Gary Sondermeyer, director of operations at New Jersey-based Bayshore Recycling, points out that his company charges one-third less for processing dual-stream materials than it does for single-stream materials. A newly created New Jersey Recycling Market Development Commission has been created to evaluate dual-stream versus single-stream collection, and it will be issuing a report soon. At present, roughly 25% of jurisdictions in New Jersey use dual-stream collection.
In other areas of the Northeast, some jurisdictions have been forced to move to dual-stream after single-stream options disappeared. This happened in Kingston, N.Y. in 2019 due to a mandate from the Ulster County Solid Waste Management Authority, which was observing very high contamination rates. "It took our staff one year of Herculean efforts of education and outreach to make this change," noted Julie Noble, Kingston's recycling coordinator.
Elsewhere in New York, the Long Island communities of Brookhaven, Smithtown and Southold also switched to dual-stream when the local single-stream provider shut down its MRF. David Tonjes, a researcher at Stony Brook University, traces the history of recycling in these municipalities. He says in 2014 those communities moved to single-stream recycling to benefit from a contract that offered steady revenue of $20 per ton for materials, seemingly insulating them from market fluctuations. While recycling levels went up, so did contamination rates.
The conversion to dual-stream is typically not easy. It requires new educational outreach and public awareness, as well logistical considerations, a new MRF contract and tough decisions about which materials to collect.
When Brookhaven, Smithtown and Southold converted to dual-stream, conditions varied in each town. Brookhaven dropped glass and cartons from the program. Smithtown also dropped glass collection, but the situation was a bit different there in that the town has no curbside collection program – households self-haul to the town's transfer station or hire an independent hauler.
In Somerset County, N.J., population 330,000, recycling coordinator Melissa Harvey estimates that implementation of their conversion to dual-stream will take three to five years. Each household will be given two wheeled carts in order to keep paper segregated from mixed recyclables. The program will be modified for multi-family dwellings.
Recently retired EPA Region 4 recycling specialist Jay Bassett notes that "dual-stream should be a priority option and advanced, but it has to make sense." One critical issue is that the current MRF infrastructure is not optimized for dual-stream collection. But with time, dual-stream programs can provide payback to communities. Eventually, recycling processing technology and commercialization will become a viable source of quality primary feedstock and support for dual-stream collection systems would certainly be a compelling approach for a number of reasons.
One other approach that is related to dual-stream collection is "curb sorting," which takes us back to the early days of community recycling. Before modern consumer culture took hold in the 1950s, the relatively small amount of household discards could be collected in open-bed trucks with high sideboards. Workers could sort recyclable and reusable items. Food scraps, meanwhile, were collected separately for delivery to the surrounding countryside.
Curb sorting allows collection workers to place household recyclables in a number of material-specific compartments on a truck. Collection costs are increased because of the labor time needed to complete routes. But there are valuable advantages that offset increased collection costs. First, clean, sorted materials are delivered to a specialized facility. Second, processing costs can be as low as $45 per ton, as compared to $80-$120 per ton in a single-stream MRF. And third, the new generation of curb sort trucks can also collect source-separated organic materials from households for composting and/or digestion.
Curb sort systems of one kind or another are active in rural areas (Centre County, Pa.) as well as smaller cities (Fayetteville, Ark.).
In Centre County, the per-household cost has remained steady at $5.25 per month. In Fayetteville, the fee is $6. Eleven items are recycled in Fayetteville, including three colors of glass. The keys to success are high quality and prices for materials and the reduction in contamination.
The availability of a new design for curb sort trucks may help expand curb sort in the U.S. RomaQuip, based in Offaly, Ireland, is a major manufacturer of curb sort trucks in Europe, with 1,400 trucks on the road. These collection vehicles are electrified and feature hydraulic compression for corrugated materials to increase the payload. The vehicles also have crossover applicability in that they co-collect source-separated organic material along with traditional glass, plastic, paper and corrugated materials.
With MRFs, smaller is often better
The scale of materials recovery facilities has steadily increased over the last two decades, driven by large hauling companies looking to increase throughputs and profitability. But though these plants process 800 or 900 tons per day, they often cannot capture glass, which typically accounts for 20 to 25% of the weight in the mixed recycling stream.
In smaller communities, such as Steamboat Springs, Colo. and Cumberland County, N.J., mini MRFs are proving that properly scaled equipment can work well to prepare materials for markets.
These sites handle 50 to 150 tons per day, and they not only capture glass but also greatly shorten transportation lines between generator and end user. That's because the mini MRF allows small communities to ship high-value baled materials to markets as opposed to shipping low-value mixed materials long distances for processing.
In Cumberland County, N.J., a new mini MRF came on-line in March 2022 to serve an existing single-stream collection system. However, according to its manufacturer, Revolution Technologies, the system can also be designed for dual-stream collection. This is confirmed by Rusty Angel, eastern region sales manager at Machinex, which also builds mini MRFs to suit either collection mode.
Pat Tierney, founder of Revolution Systems, notes the company has four mini MRFs in the U.S., noting these plants require less capital and lower operating costs.
By facilitating local sortation, the mini MRF concept increases a community's ability to run viable programs. Single-stream systems can be economically feasible for shipments to markets within 50 miles. But as you get farther from markets, it is critical to ship high-value, baled materials. This eliminates the need for transfer stations, which require tipping and reloading trucks as well as the capital costs of the transfer station itself. Also, mini MRFs can efficiently process glass by screening glass pieces at the front end of the processing lines.
Direct to market
Recycling is currently structured so that mixed materials are collected, double-handled and shipped to out-of-town facilities where processing is inefficient.
RoadRunner, which enhances recycling for small and medium-sized businesses, offers inspiration for a better system. RoadRunner trains staff and provides necessary equipment to businesses to help them generate clean material aligned with established markets. Clean materials are collected in non-hydraulic trucks and delivered to end users. Revenue from sales is shared with client companies.
RoadRunner started in Pittsburgh a decade ago and quickly expanded to Baltimore and Washington, D.C. Most recently, a new round of capital financing has allowed the company to expand to metropolitan areas in the West and Southeast.
Another company, Replenyish, now brings direct marketing options to cities, towns and ad hoc civic and community organizations, including churches, scout troops, schools and teams. Their platform is a tool for organizing drop-off events and aggregating source-separated materials.
To meet its pledges and satisfy regulations to use recycled content in new packaging, Replenyish coordinates the pick-up and delivery of materials to processors that prepare them for the packaging industry. The system was rolled out in Oklahoma towns with excellent results. In less than one year, towns with no recycling program went from 0% to 14% recycling levels. The state average is 7%.
"Diversion of materials is not enough," says Mark Amen, Replenyish founder and CEO. "Our company helps mobilize constituents and gives them a readily available way to enhance their efforts. We are tapping new pockets of all recycled materials coming directly from households to factories." In their effort to reach circularity for their clients, Replenyish provides mobile balers and other materials handling equipment to participating organizations.
Meanwhile, inspiring work is taking place in Warren County, N.Y., in the heart of the Adirondack Region. Zero Waste Warren County is working with the towns of Chestertown and Johnsburg to free recycling from the crippling costs of shipping and processing recyclables, which has reached over $300 per ton for Warren County communities.
With the help of the Institute of Local Self-Reliance, Zero Waste Warren County is identifying the region's end markets for paper, plastics and corrugated materials. These end-use plants will send trucks on their regularly scheduled routes to pick up 20-ton loads of baled materials. Tracy Frisch, a leader at Zero Waste Warren County, sees these first arrangements as the beginning of a cooperative marketing system in which towns sell their materials directly to end users under one umbrella contract, giving these small towns volume based prices. "Our goal is to earn mill prices nor processing prices for our materials," Frisch stated.
Looking forward
The shock of China's import ban in 2018 has been a wake-up call for the U.S. to "put your buckets down where you are" (to borrow a phrase from Booker T. Washington).
In other words, let's help communities take strides to keep infrastructure and benefits local. That is what is happening in U.S. recycling. Municipalities across the nation have rethought their systems, often under duress of altered markets, high contamination and rising costs of processing.
Dual-stream, curb sort, mini MRFs and direct marketing – these are the keys to self-sufficient recycling that is unburdened by "Big Waste" and a reliance on single-stream systems.
Neil Seldman co-founded the Institute for Local Self-Reliance. He recently retired from the organization and now works with Zero Waste USA. He can be contacted at [email protected].
This article appeared in the August 2022 issue of Resource Recycling. Subscribe today for access to all print content.