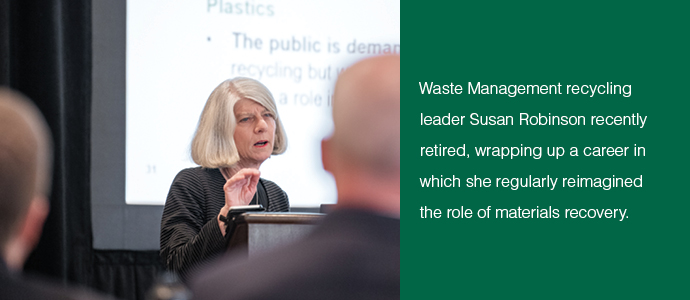 This article appeared in the May 2022 issue of Resource Recycling. Subscribe today for access to all print content.
Susan Robinson was central to shaping Waste Management's strategy around policy and sustainability for over two decades, but her industry roots were established outside the private sector.
Robinson joined Waste Management in 1999 after working for an environmental nonprofit organization and then the city of Seattle.
During her tenure at the nation's largest hauler and processor, Robinson has been a key link between the company and decision-makers at cities, state capitols and packaging brands, all amid tremendous growth and transformation in recycling.
"I never take for granted that my career has grown as the industry has grown and evolved," said Robinson, who recently finished her career as Waste Management's senior director of sustainability and policy. "I think I was lucky."
Robinson moved into retirement this spring (her last official day with Waste Management was March 31). Before she headed out, she took part in a wide-ranging interview with Resource Recycling to discuss how recycling – and her personal mind-set – has changed since the 1990s.
Resource Recycling: How exactly did you enter into the waste and recycling sector?
Susan Robinson: I happened into it a little sideways, which I think a lot of us do. When I graduated college, I thought I would do water quality. And I worked for a health department and did water sampling. Then [in 1985] I ended up at an environmental nonprofit organization, the Washington Environmental Council. That was at exactly the time the city of Seattle was going through community activism about whether to build a waste-to-energy facility or start a curbside program. The organization I worked for got involved in that, and that was my first exposure to this industry.
From there, I went to the city of Seattle and then a recycling company that got bought by a national waste company, which is kind of the evolution of how I landed at Waste Management.
That well-rounded exposure has really offered a good look on all the different sides of the industry. I think everyone ought to work for both the public and private sector to really get that different perspective.
What were the details on your role at the city of Seattle?
It was around 1988, and I went there to work on multi-family recycling. It was right after they had implemented the curbside program. It was a really exciting time at the city – a lot of energy and creativity. It was an awesome place to work.
It was also a time when the city was developing a new long-haul trucking contract. So I had exposure to the recycling program through what I was doing, but then I was also able to work at the transfer stations as they were developing new policies and procedures around the long-haul contract. It really was my first exposure to the whole integrated system – from collection, to transfer, to the disposal end of things. I have always found that big picture look to be really interesting.
Have your own career aspirations changed as you have moved through the years and taken on different roles?
I think when I first started working for a nonprofit environmental organization, I was certainly very dedicated to making an impact for the environment. As I evolved through my career in waste and recycling, what I have really grown to appreciate is the role of policy in creating change and the importance of really continuing to learn and look at the big picture so we are making decisions with integrity.
When I worked at the city of Seattle, at the time recycling was really taking off, and you'd see bumper stickers that said "Recycle or Die." It's an action that is absolutely impactful, but it felt very emotional as well. In recent years, you've heard me talk a lot about life cycle thinking and sustainable materials management and applying more of a science to how we make these decisions. That's something I have really evolved to over the years.
Let's talk specifically about Waste Management. You were with the company for over two decades. What was it that caused you to stay there?
I'll say candidly that when I took the job, I didn't think I would stay forever. But I've been lucky – it was the 1990s and 2000s, which was such a time of change. For my first 12 years with the company, I was working with cities on the West Coast, and so many innovative programs were being implemented. I was able to implement programs and learn about recycling and organics. So then when the Waste Management national policy position opened up, it was like a match made in heaven. I was able to come in with all the years worth of knowledge of programs and innovative change at a time when it was happening more across the country – and at the company as well.
What are the biggest recycling changes you've seen?
First, you can't overstate how much the industry has changed in terms of who it's made up of. When I was first starting, it was a lot of individuals, some real interesting characters who were working to pay their bills through their recycling businesses. And now it's more of a business investment. It's not just folks doing the job to pay the bills every month. It's really grown into an industry.
And then the second thing has really been the evolution of the recycling industry merging with the packaging value chain. When I started, we recycled newspapers, junk mail and beer bottles. That was what made up the vast majority of what was getting recycled. And then in the commercial sector, it was large-volume cardboard generators. But really now I think it's so interesting that recycling is squarely part of the overall packaging supply chain.
What has the larger integration between recycling and packaging stakeholders looked like in your own work?
Around 2011 to 2013, it started to become clear to me that what was in the recycling stream was no longer newspaper and mixed paper. It was packaging, and I started really embracing that, really learning about the packaging business and becoming involved with it. It was a kind of career shift, where I was able to learn about a whole new industry and really collaborate between those two industries to hopefully work toward solutions for both. That was something that helped me grow and love what I did through all these years.
Let's talk about the relationship between the hauler/processor and the community. We're always hearing about the need for strong relations and fair contracts and so forth. How can individuals on both sides of the equation help ensure that a strong relationship actually happens?
It's like any other relationship – it requires constant work and compromise on all sides. Having clear expectations on the part of the community and a clear commitment on the part of the service provider to meet those expectations is fundamental for it to work. If it works well, I guarantee you those pieces of the puzzles are in place.
These are often five- and 10-year-plus contracts. They are big contracts for local government, and very visible for elected officials. As long as folks understand that and really work to remember that, that helps you to solve problems when they arise. Whether it is a short term disruption from a snowstorm or a major commodity correction like we went through in recent years, those places that have good, strong relationships are going to be the ones that are able to work through whatever comes up.
You've talked about how much recycling has evolved and also about the importance of being really clear about how and why different decisions are made. In light of all that, what do you see as the ultimate goal of municipal recycling?
We have to be relentlessly honest with ourselves about what is the right answer, what is the right thing from both the environmental and social perspective. I am a big believer in looking beyond our four walls and making sure that we are looking at the science and looking at the data in making decisions about how we handle material. And then also being honest with ourselves to make sure we are always looking to be more equitable and to be safe and to consider diversity, equity and inclusion in our companies. We need to make sure we are working as a good community partner.
In many areas of the country, a lot is happening around policy right now. What's your take on it all? What policy actions make the most sense to improve municipal recycling?
That is a very complicated question. I can't imagine that we in the U.S. are going to ever give up the local control that we like. So we'll see a continuation of all sorts of different policies, but the specifics remain to be seen. There is so much more out there right now that you have to assume policy will continue to play a role. We are seeing an appetite in many states for more regulation around packaging in particular. It used to be we had more policy around landfill diversion; now we're seeing it around packaging and policies are really driving toward the circular idea.
What about extended producer responsibility specifically. Is that strategy of mandating funding from producers a good idea?
We supported the Oregon EPR bill, and we've been heavily engaged in the language for EPR in Washington state and New York. We are engaging because we value well-written language that really contemplates the complexity of the industry as it is and recognizes how much investment has been made and the players that have expertise. As long as we can really capture those points in the text of a bill, we can get to a place where we can really be satisfied with that legislation.
What advice do you have for the next generation of recycling leadership?
Be a lifelong student. We can't get stuck in our own perspectives on things, and the evolution of how we make decisions in this industry has taught us to always be students and to make sure we are evolving with the times. Next, work hard. It's kind of been my philosophy every day – when you work hard and are thoughtful, then you can create your own good luck. And the most important one of all: Just be nice. The value of being polite gets undervalued. If you have to ask yourself whether to say something to someone, that's probably a sign you should not say it.
What are your plans for the first stages of retirement?
I'm going to relax and enjoy having more free time to be with my three grandchildren. There will also be a little travel and then probably a little bit of consulting as well.
Dan Leif is the managing editor of Resource Recycling and can be contacted at [email protected].
This article appeared in the May 2022 issue of Resource Recycling. Subscribe today for access to all print content.