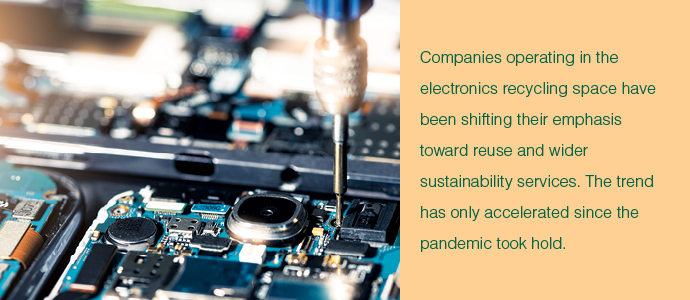 This article appeared in the April 2022 issue of Resource Recycling. Subscribe today for access to all print content.
In many ways, the business of electronics recycling was originally built on scrap values. Operators took in computers, TVs and other devices knowing their circuit boards, screens and other components had commodity value once they were separated.
But the move toward ever lighter and smaller devices, as well as wider economic factors, have upended the value proposition in e-scrap in recent years, and companies that could target higher-value items in the stream for resale and redeployment saw opportunities for growth. As the COVID-19 pandemic set in supply chain disruptions for new electronics and processors have become more savvy in their sourcing and sales, the move away from commodity-based business has evolved further.
Here's a look at three different companies that have tapped into this trend in different ways.
Not considered electronics recyclers
Two recent actions by Quantum Lifecycle Partners deepen the Canadian processor's involvement in the reuse business and expand its ITAD customer base. (ITAD, which stands for IT asset disposition, is the term used to describe the strategy of serving corporate customers that generate large volumes of higher quality, homogenous loads of used electronics.)
Quantum, a Canada-based electronics recycling and reuse company, acquired two companies located in Ontario in early 2022: REfficient, a Hamilton company that specializes in telecom equipment reuse, and TechReset, a Mississauga ITAD services provider.
"The fact that they're not recycling companies speaks to the overall evolution of our industry in general: Increasingly, we don't even consider ourselves to be electronics recyclers. We're IT services providers," Clayton Miller, Quantum's vice president of business development-recycling, said in an interview with E-Scrap News, a sister publication to Resource Recycling.
Miller said REfficient specializes in processing and reselling telecommunications companies' customer premises equipment (CPE), which can include routers, modems, switches and other equipment. The company sells used devices to customers around the world.
"In a situation where the supply chain is as constricted as it currently is, reuse has that additional benefit of supporting the supply chain, keeping older equipment in [use] for longer while manufacturing catches up," he said.
Founded in 2010, REfficient is a certified B Corporation. The company's founder and CEO, Stephanie McLarty, is becoming Quantum's head of sustainability.
TechReset, an ITAD company founded in 2001, serves customers throughout North America, with a strong presence in the reuse/remarketing space. Miller said the acquisition allows Quantum to directly serve TechReset customers that would have otherwise been served by TechReset's partners, because the customers are located far from TechReset's facility in Mississauga. Quantum was among the companies TechReset would outsource recycling services to.
"We were able to capitalize on what we've done over the last few years to really create some synergies for their customers," Miller said.
Quantum already has facilities in Toronto and Brampton, both of which are adjacent to Mississauga. Because of that proximity, to reduce costs, Quantum will close TechReset's facility in Mississauga and shift service and employees to the Brampton facility, Miller said.
The acquisitions further grow the size of Quantum, which formed from the 2019 merger of GEEP Canada and the Shift Group. Last year, Quantum acquired a former GEEP processing facility in Costa Rica. The company now has 10 locations across British Columbia, Alberta, Ontario, Quebec and Costa Rica.
Before the REfficient and TechReset acquisitions, Quantum had around 400 employees, Miller said, adding that the two additions bring in another two dozen employees or so. Financial terms of the latest acquisitions were not disclosed.
Reexamining the business
Meanwhile, in the Northeast U.S., electronics processor CyberCrunch is also expanding, aligning the company with a market that's "be bought or buy," company leaders said.
In recent months, the Pennsylvania-based company tripled its square footage at its facility in Aston, which is near Philadelphia, Joe Connors, head of business development, told E-Scrap News. That facility is now 45,000 square feet, while the company's second location, in Greensburg, Pa., near Pittsburgh, added a pulverizer, brought on more warehouse capacity and increased hard-drive wiping capacity.
"We've really set the model to grow based upon the infrastructure setup that we have," Connors said. CyberCrunch can develop its business lines and then "layer customers onto it."
Serdar Bankaci, the company's co-founder and president, said the COVID-19 pandemic gave CyberCrunch an opportunity to reexamine the business "in a good way."
"We always offered a mail-back program," Bankaci said, "but we expanded that and offered some other services companies would want with work-from-home, whether we were recycling or redeploying equipment to their homes."
Bankaci said he's also been watching "a lot of financial activity in our industry."
"It's either be bought or buy, is what it seems like," he said. "So we're looking at both sides of that coin."
Connors added that CyberCrunch is "evaluating what our strengths are and also what our capital needs are" in making a decision about buying or selling.
"That's the key element for us," he said. "The distinction is that our platform can triple in size by really just increasing nominally on the labor side, because we already have the square footage, devices are getting smaller and our technical capability can be expanded nationally and internationally."
Last year, CyberCrunch averaged a 15% reuse and redeployment rate, Connors said, far above the industry average of 3% to 5%.
"That's one of the things that really separates us from most people is our ability to reuse, which is the best form of recycling," Connors said, adding that although CyberCrunch is a relatively small firm, that rate is what allows it to "get a bigger footprint with our customers."
While the company's ability to identify what can be recycled and what can be reused is "our claim to fame," Connors said CyberCrunch also offers data destruction, technical labor, mail-back services and contactless pick-up and drop-off options.
"We're much more customer-centric than your normal scrap guy in the business," he said.
Connors said the team has "developed a nice platform that will bode well hopefully for the next three or four years," as he sees growth in data destruction and compliance services, rather than hardware recycling.
"Everybody runs on data, that's the simple answer," he said. "If you don't stay up with technology, you're out of business."
Global player with data center focus
Another clear example of the shift away from reliance on scrap market can be seen in the strategy of Sims Lifecycle Services, the electronics-oriented arm of the large publicly traded metals company Sims Limited.
Sims Lifecycle is expanding domestically, recently opening a new facility in Atlanta. The actions continue Sims' move away from residential material and more toward data center services. In this realm, the company operates a "redeployment" model, helping companies refresh IT assets and move devices back into a client's IT ecosystem or into the wider reuse market.
Chief Commercial Officer Sean Magann said in an interview with E-Scrap News that as the company moved into data center processing, demand increased and the extra space in Georgia was needed. The company also recently opened a redeployment facility in Nashville, Tenn.
The 100,000-square-foot Georgia facility is expected to handle redeployment work for several data center clients, and Magann said he didn't yet have an estimate of what processing volume will be. The facility will take in electronics, refurbish them and ship out devices for specific companies to set up new data centers.
"The demand has been there," he said, adding that the location was chosen because "we want to be where the clients are."
Magann said that as more businesses move toward carbon-neutral energy sources, he expects that hardware manufacturing, distribution and deployment will soon be given more scrutiny from a carbon perspective.
"We can reduce transportation by being close to them," he said, reducing emissions and costs.
The Atlanta facility is slated to open this spring and will initially provide about 50 jobs, Magann said.
Sims Lifecycle also recently reported earnings results for the first half of its 2022 fiscal year, notching reported sales revenue of $122.4 million. That was up 9% year over year.
Additionally, the business reported underlying earnings before interest and taxes (EBIT) were $7.3 million, up about 46% year over year. Its profit margin was about 6.0%, up from about 4.5% the year before, according to a financial report.
The company noted it repurposed 1.3 million units during the period, which was up 44.4% year over year.
"This was a good result against a backdrop of challenging market conditions driven by the limited release of cloud material due to supply chain constraints," according to a press release.
Jared Paben is the associate editor of Resource Recycling and can be contacted at [email protected]
Marissa Heffernan is the staff reporter for Resource Recycling and can be contacted at [email protected]
This article appeared in the April 2022 issue of Resource Recycling. Subscribe today for access to all print content.