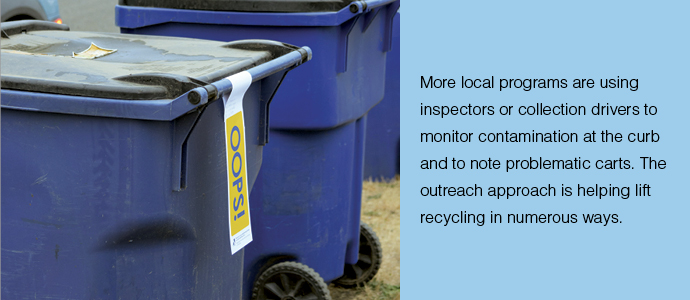 This article appeared in the October 2021 issue of Resource Recycling. Subscribe today for access to all print content.
Facing ever-increasing pressure to deliver a cleaner stream to processors, cities across North America are turning to curbside inspection of residential carts. Many are seeing positive results from the efforts.
Program coordinators – and cart inspectors themselves – say human interaction is a key component of cart tagging success. They also say the initiatives can provide valuable data that can help pinpoint outreach efforts.
"The education and outreach staff can actually … take that data and send postcards to customers, saying, 'Hey, we found these things in your cart, we need you to do better,'" said Ron Jones, a senior planner for the city of Olympia, Wash., which has been tagging carts since 2019.
A response to market demands
Cart tagging programs vary in how they're carried out, but all involve some level of inspection and communication with residents about contamination in the residential recycling stream.
The concept of using a visual marker to note subpar (or excellent) recycling behavior has been part of the industry for years. But the practice has grown in use substantially since China implemented its National Sword policy at the start of 2018 and material sellers encountered tougher quality requirements.
The trend toward tagging has been seen nationwide in recent months.
In Centerville, Ohio, for instance, a public-private partnership recently launched a campaign called Recycle Right. The city on Aug. 11 announced the effort, explaining that the project is "mobilizing specially trained staff and volunteers to conduct curbside cart observations."
Cart inspectors will flip lids in several neighborhoods and will deploy "oops" tags on contaminated carts. The tags will include "specific feedback designed to reduce contamination," the city wrote, and those carts will not be emptied for that week.
The program comes on the heels of a random sampling of Centerville carts that found a 23% contamination rate. The city hopes its program will "help create an education and outreach model that can be replicated throughout the state," according to the announcement.
It's the second time the city has employed cart tagging, following a 2019 grant from The Recycling Partnership to kick off an education and outreach pilot. That 2019 effort followed a model The Recycling Partnership has popularized around the U.S., dubbed "Feet on the Street." This year, cities including Akron, Ohio; Gahanna, Ohio; Lafayette, La; and Tucson, Ariz. have leveraged grant funding from The Recycling Partnership to tag carts.
Another new effort recently came on-line in the Southeast, with Norcross, Ga. rolling out the Feet on the Street program on Sept. 13 in collaboration with hauler Waste Management.
"If there's something in your bin that doesn't belong, they will place a tag on your bin with a note detailing exactly what those items are," the city told residents in a newsletter. "This 'oops' tag will signal Waste Management to skip your bin until those items have been removed. This will prevent contamination of the city's recyclables and eliminate hazards for workers."
Residents should read the notes on the tag and remove the contaminants before the following week's pickup, the city added. Inspectors will check each cart along the daily recycling collection route for four weeks.
Feet on the Street, which The Recycling Partnership first launched in Atlanta four years ago, was also employed in the city of Grand Rapids, Mich. That city recently received a Program of the Year award at the Resource Recycling Conference, in part for the city's contamination reduction success. The Grand Rapids initiative took place in the fall of 2020 and led to a 37% reduction in contamination.
Robert Swain, solid waste programs manager for the city of Grand Rapids, said during a Resource Recycling Conference session that communities that employ cart tagging should commit to rejecting the cart until the contamination is removed.
"We're not going to go back and empty the cart just because somebody calls in," he said. "You have to stand pretty firm on that."
Perspective from the streets
Approaching and inspecting recycling carts doesn't always sit well with residents – and can provide fodder for social media outrage. But according to cart inspectors in the Pacific Northwest, a far more common scenario is a good conversation and more meaningful education on the recycling process.
In Clark County, Wash., recycling coordinators began putting together a cart-tagging effort in 2019. There was a state-level push to reduce contamination in local programs, and workers for Waste Connections of Washington were drawn to the cart tagging concept in part because of the rapid adoption of similar initiatives around the country.
"We were going to conference after conference where we were seeing other jurisdictions implement it, and that it was actually working," said Jerin Dinkins, who holds the position of recycling advocate with Waste Connections and has inspected carts throughout Clark County.
She and Gina Evans, who is also a recycling advocate at Waste Connections, developed the program in the latter part of 2019, and in early 2020, the two began hitting the streets and inspecting carts.
The duo would arrive at the curb, lift the lid and do a quick visual inspection of the cart's contents.
"We don't do a full audit of the cart, so we can't truly see what's at the bottom, we're only looking at the stuff that's at the top," Dinkins said. If they determined there was at least 20% contamination, they would track which items were present in the cart that were contaminants, take a photograph of the cart and note whether any additional items were set at the curb (the local program offers separate glass recycling collection).
Those details would get compiled into an Excel spreadsheet, and that data was ultimately used to produce quarterly and annual progress reports outlining the most frequent contaminants and other details.
As the program kicked off, there was some online pushback over social media. But in person, the advocates found a different dynamic. Both Dinkins and Evans previously worked as park rangers.
"We know how to talk to people about a subject that they might not particularly care about or want to do," Evans said. Most of the time, when people realized they weren't in serious trouble and that the workers were not trying to take items out of the recycling cart, the interactions turned out positive.
"Gina and I always try to come in at a very educational approach, as like, we're here for you, we're not here to reprimand you, we're a resource for you," Dinkins said. That approach can defuse the situation, they said.
They also noted that during face-to-face interactions, they had the opportunity to humanize the recycling process, explaining how plastic bags damage MRF equipment, for example, and require a worker to clean the material out of screens by hand.
"It's more of a learning experience and it's much more valuable than just leaving a tag on the cart," said Dinkins.
Alternatives to dedicated cart inspection staff
Olympia, which also won a Program of the Year award at the Resource Recycling Conference, engaged in a cart tagging project that kicked off in 2019 and has scaled up over the last couple years.
Jones, the senior planner, acknowledged that dedicated cart inspectors are able to have valuable conversations directly with residents. But he noted that employing inspectors can be labor-intensive and may be difficult for some communities.
Jones offered another option for gleaning feedback on cart quality, a method Olympia has used with success.
"The drivers are there every week picking up recycling," he said. "They know customers, they get to kind of understand who is contaminating really badly versus not so bad, who is doing well." Olympia, which uses municipal crews for collection, gives drivers a tablet and directs them to note which households set out highly contaminated carts.
Drivers can identify the type of contamination through the system as well. Afterward, the city's recycling department downloads the data and uses it to tailor outreach materials.
In Regina, Saskatchewan, city officials on Aug. 9 announced a slightly different cart inspection initiative. The city announced its "CartSmart" program was returning, but had been modified from a previous effort that sent workers out into the community to tag carts.
"Starting this week through to the end of October, the city will use a new automated technology developed by Prairie Robotics to check blue carts, moving away from visual checks physically completed by staff," city officials wrote.
The technology uses a camera installed on the recycling collection truck. The camera takes an image of the cart contents as they are emptied, and a software program visually identifies contaminants. An "oops" mailer is delivered to households with high contamination levels, indicating the contaminants and providing tips for proper recycling.
"This new technology will allow the city to educate more residents – increasing the number of blue carts checked from 2,000 in 2020 to 10,000 in 2021," the city wrote.
Penalty discussions
For some households, all the "oops" tags in the world aren't enough to change behavior. Here, cart inspection programs vary in how strongly they penalize residents for contamination.
Often, cart confiscation or service suspension is employed after repeat offenses. In Tucson's Feet on the Street program, for example, carts are confiscated after four "oops" tags have been deployed to a household.
Olympia, Wash. also has a cart confiscation mechanism, but it has been used sparingly, Jones said.
"It's not really a 'three strikes you're out,' but it's kind of in that realm, where we can remove a cart," Jones said. "We've removed maybe three recycle carts in the past couple years."
In Vancouver, Wash., the Waste Connections workers will look at households' carts for up to four successive service days. If the cart is contaminated on the first day, the household receives an educational brochure. On the second instance, the household receives a personalized contamination letter with photos of both days' inspections and an explanation of why the materials don't belong in the cart.
If there is still contamination by the third inspection, the household receives a phone call from one of the advocates, explaining the resources that were provided and trying to determine why the contamination is persistent.
"If for some reason that also doesn't work and they get a fourth tag, we then send their account information to the city and they handle it from there, and they have the potential to have their service pulled at that point," Dinkins said.
Grand Rapids recently received grant funds that will, in part, help the city develop a new program that takes the cart tag concept a step further with mandatory education for continued recycling access.
"Households that repeatedly put out carts with high levels of contamination and/or [use] their recycling carts as trash carts will receive rejection tags and be offered the opportunity to participate in an educational program (in partnership with Kent County) before they could get their cart back into service," according to a March press release.
Suspending service for particularly egregious contamination is being tried in other communities as well. In Portage, Ind., city crews are inspecting carts to reduce the amount of non-recyclables in the curbside recycling program, dubbed the Green Lid program.
"As city employees audit recycling containers, in most cases, minor policy violations are found and documented, and we usually give reminders to the resident and encourage compliance with the policy," the city announced this summer. "In extreme situations regarding serious infractions of this policy, the department confiscates the Green Lid container. If the homeowner requests the confiscated green lid toter back, the owner agrees to pay the reinstatement fee." That fee is $50.
The city's recycling coordinator, Randy Reeder, told the Portage City Council that the city has confiscated 250 carts since June. Of those households, only about a dozen have contacted the city wanting their carts back and agreeing to follow the recycling rules.
The city is sending out a mailer to its 16,000 households laying out the most recent recycling rules, he said.
In Portage, the impetus for stringent enforcement came when the rising contamination rate led Republic Services, which accepts recyclables from the curbside program, to suspend service to the city.
As of mid-summer, the city was landfilling those recyclables while trying to educate residents about how to properly recycle, but Reeder remained confident the message would get through.
"I want to encourage everyone to keep recycling, keep using the green-lid toter and put the proper material in there, because we will get past this and we will get back in compliance, so that is my goal," he said.
Colin Staub is the senior reporter for Resource Recycling and can be contacted at [email protected].
This article appeared in the October 2021 issue of Resource Recycling. Subscribe today for access to all print content.