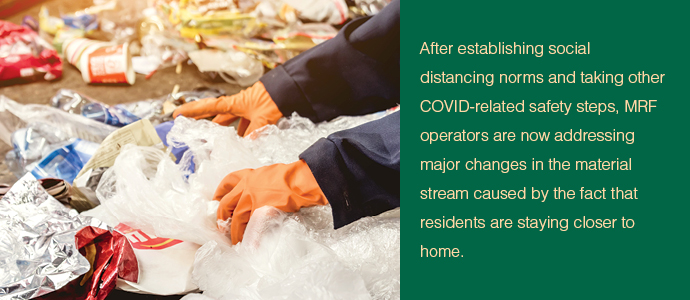 This article appeared in the December 2020 issue of Resource Recycling. Subscribe today for access to all print content.
This fall, Bill Keegan was forced to store recyclables in a warehouse for the first time in the six-year history of his Twin Cities-area MRF.
The problem for Shakopee, Minn.-based Dem-Con Companies was tied to both the supply and demand sides of the business. COVID-19 has brought a substantial increase in the PET containers flowing into the MRF at the same time a fire temporarily interrupted shipments to Dem-Con's PET bale buyer.
"It's very challenging to move," Keegan, president of Dem-Con Companies, said of PET during an interview in October. "And we're actually not moving all of it right now."
Since March of this year, when Americans began spending much more time at home (and generating more waste and recyclables there), processors like Dem-Con have had to adjust to multiple trends affecting the residential stream.
Resource Recycling recently spoke with four MRF operators about current conditions. These processors say they are seeing higher volumes of PET, OCC and aluminum, and they are reaping the benefits of positive pricing trends for some material grades.
But at the same time, MRFs are encountering increased contamination rates and new challenges tied to markets and more. As a whole, changes in the recycling stream composition represent yet another unexpected business reality in 2020, a year that has been full of surprises.
Staying on top of a key plastic type
Dem-Con's MRF in Shakopee, Minn. has experienced a roughly 150% increase in PET during the pandemic, Keegan said.
That boost came alongside a fire at Evergreen Plastics in Clyde, Ohio on Aug. 9. Evergreen's 225,000-square-foot operation processes post-consumer PET for use in various applications, including food and beverage packaging.
Keegan noted prices nationally for recovered PET bales have been down lately. According to RecyclingMarkets.net data, during the first 10 months of this year, PET bales averaged over 8 cents a pound nationally. During the same period in 2019, the prices averaged just over 14 cents a pound.
Keegan said PET buyers are being very picky right now. For the first time, Dem-Con has started getting pushback from buyers wanting less green PET, lower percentages of thermoforms and lower contamination overall.
To stay on top of increased PET landing on the tip floor, Dem-Con this summer upgraded its optical sorter targeting the plastic. That upgrade included installing a wider belt and enhanced sensor technologies, Keegan said.
In upstate New York, the facility operated by the Delaware County Department of Public Works has also seen an increase in PET, said Tyson Robb, solid waste coordinator for the county. For the first nine months of the year, the county's small MRF sold 56 tons of recovered PET, up 44% over the same period in 2019. The MRF has had no trouble moving the plastic to downstream processors, he said.
Overall, Delaware County has seen more of pretty much everything, Robb said. Driving the increase is a population influx into the region, with people leaving New York City amid COVID-19, he noted.
Benefits from UBC upticks and HDPE pricing
Processors are also seeing higher levels of aluminum in the stream.
Keegan noted that aluminum has gone from 1.6% of Dem-Con's total MRF mix to 1.7%, which isn't a huge percentage change from a weight perspective but is a substantial increase for a high-value material type, he said.
In the Pacific Northwest, Recology's MRF in south Seattle also saw an increase in aluminum this summer that rose above the normal summertime bump, said Anthony Brocato, MRF operations manager for Recology King County. The MRF serves half of Seattle and nine other King County communities.
Generally, aluminum makes up 0.5% by weight of saleable recyclables at the MRF, he said. It jumped to 2% this summer.
"That was a bigger jump than we'd normally see during the summer months," he said.
According to an Oct. 19 release from the Can Manufacturers Institute (CMI), aluminum beverage can shipments in the U.S. and Canada have increased throughout 2020. Through the first nine months of the year, shipments to stores were up 5.8% compared with the same period in 2019.
Dem-Con's facility has also seen a notable uptick in plastic streams beyond PET. For example, bulky rigids, which include items such as crates and pales, are up about 50% year over year, Keegan said. Additionally, the tip floor is seeing about 30% more PP.
To handle increased volumes of PP, Dem-Con is looking to install another optical sorter during the first quarter of 2021, Keegan said. That would be the facility's fifth optical machine.
In terms of container line pricing, Keegan noted natural HDPE is now the most valuable product in the bin, overtaking UBCs. "For that to be the case is crazy," he said. According to RecyclingMarkets.net, in November, natural HDPE averaged 62.97 cents a pound nationally, compared with 45.81 cents per pound for UBCs.
Recology's Seattle MRF has also been getting paid more for HDPE natural than aluminum, Brocato said.
"It has really helped out from a planned-forecast-for-revenue standpoint," he said. "If we can get an extra load of natural out, that makes a big difference."
Fiber factors at play
When it comes to paper, MRFs are experiencing shifts tied to the fact that so many more people are now working from home.
Since COVID-19 hit, homes are producing more office paper, but it's nowhere near compensating for the decrease in high-quality paper scrap produced by the commercial sector, said Keegan in Minnesota.
"I think when people are at work they generate a lot more fiber. They have all these commercial printers," he said.
Meanwhile, Dem-Con's Shakopee MRF has seen a doubling of carton loads, although cartons make up such a small percentage of the stream by weight that a big increase in that material doesn't translate to a large overall impact. The MRFs carton-sorting robot, dubbed "Hot Dawg," has been busy, but the cartons it targets have experienced decreased pricing lately, Keegan said.
In terms of OCC, Dem-Con has seen more in the residential stream, but Keegan attributes it to the ongoing "Amazon shift" rather than coronavirus-specific factors.
In Texas, FCC Environmental Services, which operates large facilities in Houston and Dallas, is seeing a notable increase in OCC this year, noted Andrea Rodriguez, the company's technical and development director. FCC's Houston MRF has an optical sorter focused on recovering small OCC, she noted.
Recology's south Seattle MRF saw a shifting of paper and OCC fractions over the summer. Typically, about 40% of inbound weight is OCC and another roughly 40% is paper, with 10% glass and 10% containers, Brocato explained. During the summer, the fiber percentages changed to about 50% OCC and 30% paper, he said. Since then, the ratio has roughly balanced to 1:1 again.
MRFs encounter unique challenges
In Delaware County, N.Y., data supplied by Robb shows the county actually marketed less dual- and single-stream material during the first nine months of 2020 compared with the same period in 2019: 1,501 tons this year versus 1,580 tons last year.
But those numbers don't explain why. Starting in March and continuing until the third quarter, because of the risk of virus spread, the department sent all its manual sorters home to ensure their safety. That left the facility with reduced capacity.
Robb said there were times he'd activate the equipment and work the plastics picking line by himself, occasionally tapping maintenance staff or others for help. Even now, the MRF remains at half staff and reduced capacity.
"These numbers do not do justice to what we have experienced dealing with less staff and more materials," Robb said.
In Seattle, Recology is experiencing a troubling uptick in contaminants, particularly needles and film, Brocato said. Over the past few months, MRF staff members have had to spend more time overnight removing film tangled in sorting equipment, he said.
He suspects residential customers are filling up their garbage cans faster, and they are using their recycling receptacles as trash overflow.
Recology is also seeing more medical waste, including gloves and masks, which tend to end up in paper bales and can result in an instant rejection of a load, he said. Luckily, no loads have been rejected by buyers yet, he said.
Lithium-ion batteries continue to present another challenge, although COVID-19 hasn't necessarily exacerbated the persistent problem, Brocato said. The Seattle MRF, which has had a couple of pretty significant fires caused by batteries, installed a system in the metering bin that allows an operator to buy firefighting time by automatically dousing a fire in the equipment with water, he said.
Eight months into the pandemic, some MRFs are reporting they're starting to see a return of commercial volumes.
In Dallas and Houston, incoming commercial tons started to pick up a little bit over the autumn months, said Rodriguez of FCC. Meanwhile, residential tons have remained high.
Keegan said people are returning to work and businesses are restarting, increasing commercial generation. But he also foresees long-term societal changes, with more people working from home in the future. That means some of the stream changes seen in recent months could be permanent for processors.
Jared Paben is the associate editor of Resource Recycling and can be contacted at [email protected].