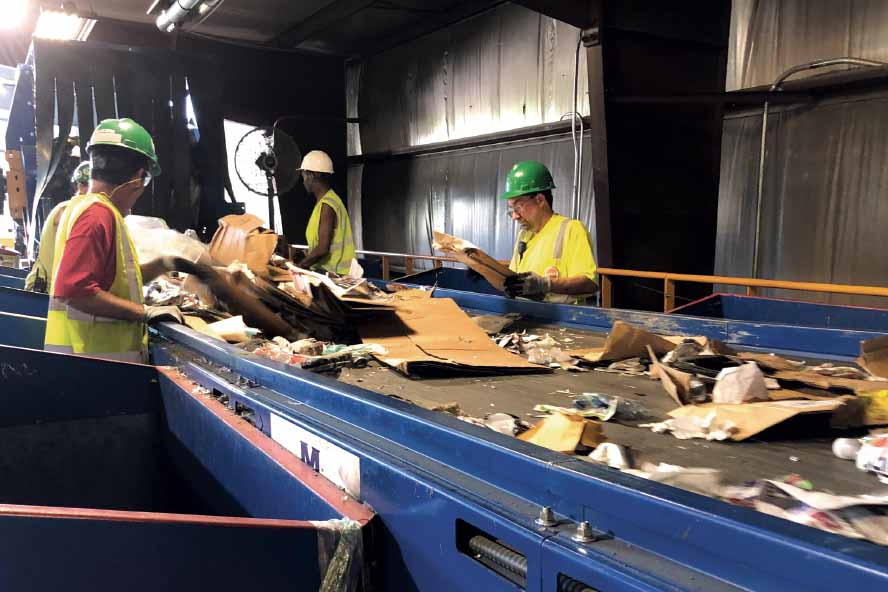 With material buyers today paying less for recyclables but demanding higher quality, some recycling companies have cut back or closed.
Peoria Disposal Company (PDC), however, has rolled with the punches – and hit back with a multi-million-dollar upgrade to its Pekin, Ill. materials recovery facility.
"We made this sizeable investment because we know the recycling industry will survive this downturn," said Matt Coulter, vice president of Peoria Disposal Company (PDC). "Adapting to changing markets and creating a better end product is our vision realized."
Area Recycling (a PDC-owned company) and its affiliates have over 60 municipal contracts. Under those deals, 50,000 households have their recyclables taken to the single-stream MRF in Pekin, which is located in central Illinois about 170 miles southwest of Chicago.
The 50,000-square-foot facility was originally acquired by Area Recycling when it purchased the local assets of Midland Davis Corporation in 2015.
Facing challenging markets, Area Recycling invested $3.5 million into retooling the MRF with equipment from Quebec-based recycling equipment supplier Machinex. After a two-month construction and installation period, the MRF had a grand re-opening in June 2019. The new single-stream system is capable of processing 12 tons per hour, but it can easily be upgraded to handle 18 tons per hour, according to Machinex.
At the time of acquisition in 2015, the MRF could sort about 500 tons per month, but today the MRF is processing over 2,000 tons per month. Additionally, the upgrade reduced the weight of residue heading to landfill by about 80%.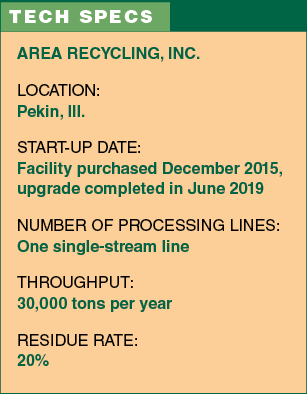 As part of the project, Machinex installed a MACH Triple Deck OCC screen and a MACH Ballistic Separator, which separates 2D from 3D materials but with lower maintenance requirements than a traditional disc screen, according to Machinex. That's because the ballistic unit has no exposed shafts for materials to get wrapped around, and it doesn't use rubber discs, eliminating the need to replace worn discs.
The upgrade also improved metals recovery by way of a new overbelt magnet and Machinex eddy current separator.
As part of the project, Area Recycling also expanded the facility's tipping floor by 8,000 square feet.
"The recycling industry is at a critical point in its history and the value of recycling material is at a historic low," PDC's Coulter noted. "This new sort system produces a purer recycled commodity and it does it four times as fast as the old equipment. Adding value to our end product is one way to reinvigorate recycling."
About 70% of the material coming out of the system is fiber. Containers, meanwhile, make up 10% of the stream. And the remaining 20% is residue.
Even before the major upgrade last year, the MRF included a unique piece of equipment meant to reduce the risk of catastrophic fires: a Fire Rover system. Installed in 2018, the system uses sensors to detect hot spots, which can indicate a smoldering fire. A remote-controlled hose douses the spot with water, putting out any fire before it's able to grow into a MRF-consuming conflagration.
Like all MRFs, the facility still has its challenges, Coulter noted, including sorting-line impacts from single-use plastic bags, glass, rigid plastics and tanglers such as wire, garden hoses and extension cords.
Area Recycling employs 25 full-time and temporary employees who work a 10-hour shift, Tuesday through Friday.
This article appeared in the March 2020 issue of Resource Recycling. Subscribe today for access to all print content.