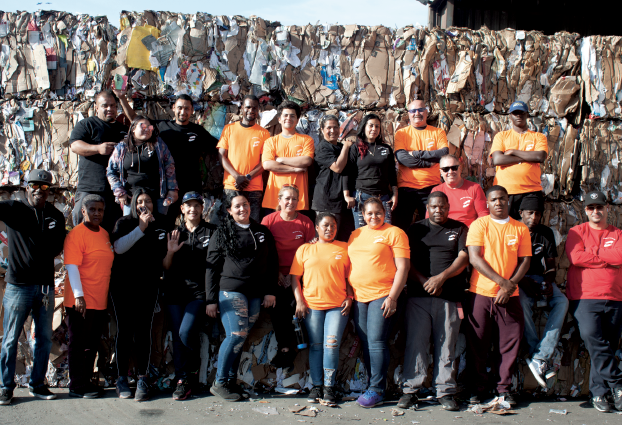 It may have low-tech lines and buildings going back four decades, but the dual-stream MRF in Berkeley, Calif. produces clean material that meets the demands of buyers today.
The quality allows Community Conservation Centers (CCC), which runs the MRF, to access overseas recycling markets others may struggle to sell into.
"CCC maintains excellent material quality standards and is meeting the international inspection standards of less than 1% [contamination]," explained Jeffrey Belchamber, general manager of Berkeley Recycling (Berkeley Recycling is the business name for CCC, a nonprofit group). "In CCC's 30 years of exporting materials, CCC has never had an export load rejected."
The MRF sits on approximately 5.5 acres in the western part of Berkeley, near Interstate 80 and San Francisco Bay. The city owns the MRF and an adjacent transfer station, as well as the land they sit both on. CCC has run recycling operations there since the 1980s, and the local nonprofit group considers itself "the heart of Berkeley's recycling program," Belchamber said.
The current dual-stream MRF was built in 2000 after a fire burned the prior fiber sorter and baler. This year, the facility expects to see a throughput of 16,000 tons (roughly two-thirds fiber and one-third containers), the same weight as 2018. The sorting lines run about 45 tons per day of fiber and 14 tons per day of containers.
The fiber sorting line, which was provided by Machinex and installed in 2000, consists of three conveyors and three bays. The container sorting line, which includes magnets and perforators, goes back further: It was designed in the early '90s with CP Manufacturing equipment, although Titus upgraded it throughout the 2000s, Belchamber said. The baler is a rebuilt 1976 Lindemann Bigro 20 single-ram baler with a seven-second cycle time. First installed in 2000, it was rebuilt in September 2019. It has made close to half a million bales at Berkeley Recycling, Belchamber said.
The MRF relies largely on manual sorting, largely because it brings in clean loads. The MRF sorts recyclables collected from about 35,000 single-family homes and over 400 businesses in Berkeley, as well as material from the University of California, Berkeley, and the El Cerrito Recycling Center.
In Berkeley, residential material is collected in split carts by a nonprofit group called the Ecology Center, with fiber going in one side of the carts and containers in the other. City crews collect commercial material, also in split carts, and deliver it to the MRF.
In addition, the MRF site has a recyclables "buyback" program and a drop-off recycling depot, both sources of clean material that help CCC generate high-quality bales. Last year, CCC paid over $1.2 million for materials. The buyback program returns California Redemption Value (CRV) bottle deposits to customers and purchases scrap aluminum/aluminum foil, OCC and mixed paper.
Belchamber attributes the MRF's sub-5% residual rate both to the clean material coming in the door and the manual sorting approach. When changes are seen in the material stream, CCC can quickly retrain workers rather than re-equip the MRF.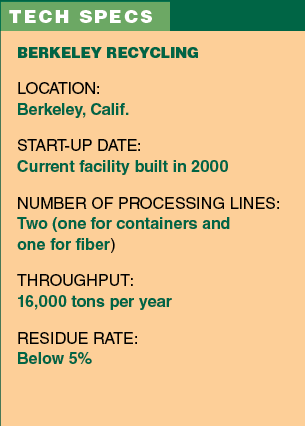 Belchamber described a collaborative partnership with the city of Berkeley. He noted that CCC has designed and managed the city's recycling program with costs of under 10% while also reinvesting millions of dollars from its financial reserve in MRF maintenance and improvements.
"CCC believes in the importance of maintaining this local MRF and transfer station to ensure carbon emissions and delivery time are low and Berkeley's materials comply with Berkeley's 'highest and best use' policy and are not down-cycled," he said.
As is the case with much of the industry, the MRF has its challenges with resident wishcycling and limited end markets for certain materials. Because of new packaging and higher market standards, the MRF's residue volume is trending upward, Belchamber noted.
"A major issue is the flood of low-grade single-use plastics and multi-material packaging with limited end markets," he said. "This, in conjunction with the increase in quality standards and the downturn in scrap prices, is our recent challenge."
Community Conservation Centers has 29 union employees and six managers and supervisors, and its staff consists of a roughly equal number of males and females
The MRF operates on one shift seven days a week.
This article originally appeared in the November 2019 issue of Resource Recycling. Subscribe today for access to all print content.