Overseas appetite for scrap plastic dwindled in the third quarter. On the domestic side, operators report stable movement for common curbside materials, although fiber pricing remains a challenge.
Overseas fiber markets
U.S. exporters shipped 4.5 million short tons of recovered fiber from July through September. That's the lowest third-quarter volume since 2006.
The largest importers of U.S. recovered fiber in the third quarter were China (1.4 million short tons), India (709,000), Mexico (299,000), Taiwan (258,000), Vietnam (244,000), South Korea (218,000), Canada (196,000), Indonesia (148,000) Thailand (100,000) and Malaysia (62,000).
India is, by far, the largest buyer of U.S. mixed paper. In the third quarter, the country brought in 315,000 short tons of the material, which accounted for 47% of all U.S. mixed paper exports. The next largest U.S. mixed paper importer was Canada, which brought in less than a quarter of the volume India imported.
China still dominates the market for U.S. OCC exports, bringing in 43% of all U.S. exported OCC during the third quarter. The country's OCC imports from the U.S. are down year over year (dropping from 1.5 million short tons in the third quarter of 2018 to 1.1 million during that period this year).
Indonesia saw a major drop in recovered fiber imports, concurrent with the country's move to further regulate scrap fiber shipments. 
The country saw some of its lowest recovered fiber import volumes of 2019, mostly due to fewer imports of mixed paper. Indonesia imported 154,000 short tons of mixed paper during the first quarter, on par with last year's weight. But by the third quarter, Indonesia imported just 6,000 short tons of mixed paper.
Indonesia's OCC imports, on the other hand, have fluctuated throughout the year. They fell as low as 21,000 short tons in July but jumped to 86,000 short tons in September, suggesting U.S. exporters are able to work with Indonesia's new import regulations.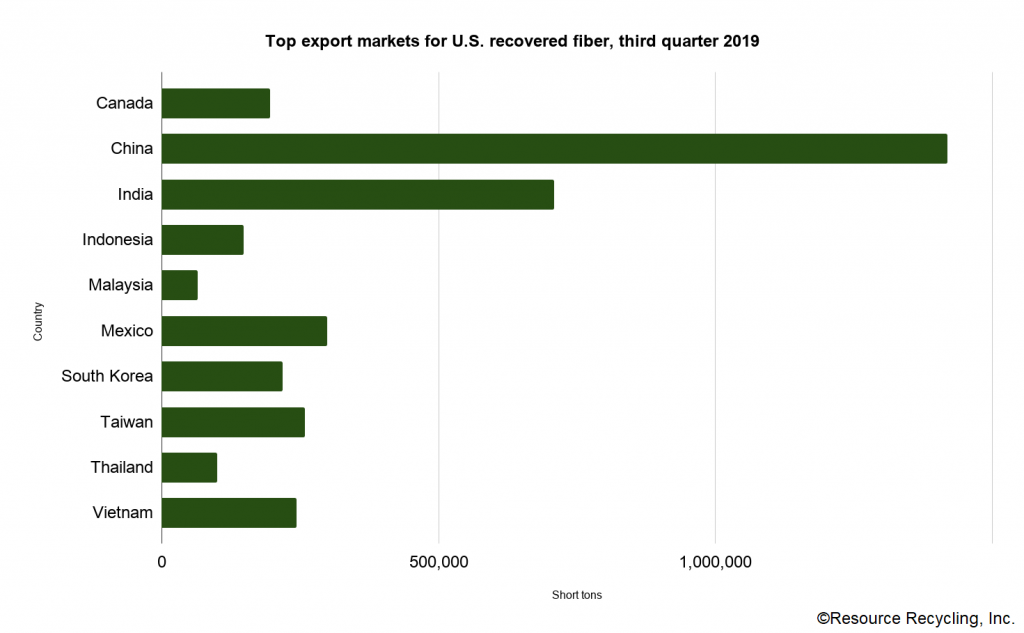 Plastics exports slow
U.S. scrap plastic exports dropped to their lowest third-quarter volume on record, driven largely by major Asian buyers continuing to constrict import volumes.
Third quarter exports were also lower than the first two quarters of this year.
The largest importers of U.S. scrap plastics in the third quarter were Canada (88 million pounds), Hong Kong (42 million pounds), Malaysia (26 million pounds), Taiwan (24 million pounds), India (23 million pounds), Thailand (19 million pounds), Mexico (18 million pounds), Turkey (18 million pounds), South Korea (13 million pounds), Vietnam (13 million pounds) and Indonesia (8 million pounds).
Compared with the third quarter in 2018, major decreases were seen in plastic shipped to India (down 68%), Malaysia (down 63%) and Hong Kong (down 37%).
The third quarter was particularly notable for exports to India, because that country implemented stringent scrap plastic import restrictions at the end of August. The monthly shipment figures reflect this policy: The country imported 15 million pounds in July, 5 million pounds in August and 4 million pounds in September.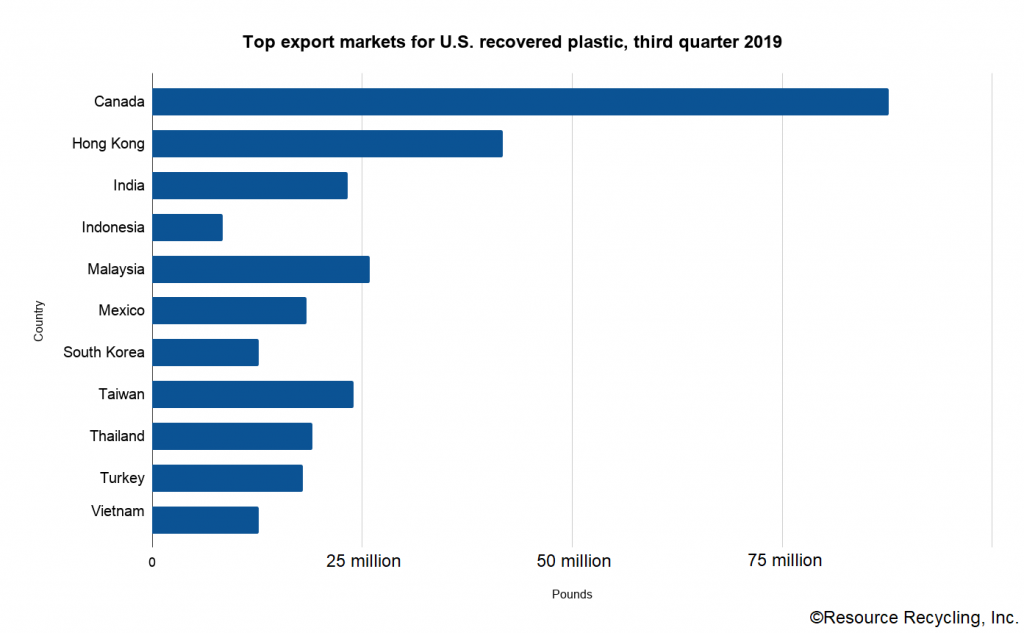 Recycling 'out of sync' with wider economy trends
On the fiber side, recycling firms are being forced to reckon with a massive drop in OCC prices over the past year and longer. According to RecyclingMarkets.net, the national average OCC price has dropped from $70 per ton a year ago to $25 per ton currently.
"That's hard to plan for and to swallow," said Suzanne Jones, executive director of Colorado-based Eco-Cycle. "This spring in particular, with the market saturation, there was a time when it was hard to move."
Mills were "filled to the gills" and didn't want to buy any more OCC, Jones noted. She added the OCC supply and demand issues appear to be settling out since then, but that the price clearly remains depressed. And that has had impacts on the wider economics of the curbside stream.
"Our overall blended value has fluctuated wildly from what we would like and what it was a year ago," Jones said.
OCC and old newspaper (ONP) are the largest portions of Eco-Cycle's fiber stream. The organization tries to avoid making mixed paper as much as possible, preferring to create a higher-value product. But given the additional sorting required, that can be a challenge. With record low unemployment in Colorado and across the country, hiring additional manual sorters can be difficult.
Jones noted it's a strange juxtaposition between the wider economy and what's happening in the recycling industry.
"This is one of those things where the economy is booming, the Colorado economy is booming, wages are going up, but we're getting really deflated prices with this industry," she said. "The industry is out of sync with that's happening in the larger economy."
As for the mixed paper Eco-Cycle generates, Jones said the grade is "worth next to nothing, and occasionally we even have to eat the transportation costs."
Transportation is a similar hurdle for Des Moines, Iowa-based Mid America Recycling.
Des Moines, is "about as far away as you can get and maybe be in the transportation circles" for several mills that use recovered fiber, said Mick Barry, president of the MRF operator.
The company has seen its share of disruption over the past couple years as mill demand for OCC has fluctuated. Currently, Barry said, Mid America ships all of its recovered fiber to North American mills, in the Midwest and down to Mexico by rail.
Plastics stay domestic, too
As export volumes continue a slog downward, domestic markets for curbside plastics are taking material, but pricing has varied substantially.
"Markets have been all over the place," Jones said. Eco-Cycle operates the Boulder County Recycling Center and produces between 235 to 275 tons of plastic per month. "We've seen some pretty big swings over the last four months, down one month, up the next."
Mid America makes bales of natural HDPE, color HDPE, PET and mixed plastics Nos. 3-7. Like its fiber, virtually all the company's plastics remain in North America. Mid America moved away from export markets in recent years based on the interest of its large retail suppliers, who don't want to see their recyclables being poorly processed in a country without the proper infrastructure, Barry explained.
"They do not want their material going to a marginally acceptable market," he said.
The cost effectiveness of exporting is also tenuous for Mid America.
"Out of Des Moines, Iowa, it doesn't make a whole lot of sense financially," Barry said. When plastic prices are higher, the MRF can still generate a profit after shipping material to ports for export. But when prices drop below about 20 cents per pound, Barry noted, export becomes unrealistic. "In the dimes, the freight doesn't work out," he said.
Although natural HDPE has skyrocketed in price in recent weeks, the same can't be said for other grades such as PET. According to RecyclingMarkets.net, post-consumer PET bales are trading for 35% less than they were a year ago.
Jones referenced numerous recent pledges from brand owners who say they will use more recycled plastic in containers, but she said those commitments have not yet translated into increased demand in the marketplace.
"They aren't putting their money where their mouth is," Jones said.
Relative stability for plastics movement
Over the past year, Eco-Cycle has had to temporarily store material, but it hasn't been forced to dispose of recyclables. 
"We have never landfilled recyclables and we hope to never have to do that in our history," Jones said. "There's a very strong ethic about finding the markets."
Eco-Cycle's Center for Hard to Recycle Materials (CHaRM) is similarly moving the variety of low-grade plastics, including expanded polystyrene (EPS), film and mixed rigids.
Similar to the MRF, the center's mixed rigids are also being sold domestically for plastic railroad tie production. On the film side, the center has seen prices drop significantly, but movement continues. CHaRM has handled about 90,000 pounds of EPS this year and is receiving about 18 cents per pound for it, said Dan Matsch, director of CHaRM.
Like Eco-Cycle, Mid America is in the position of having a nearby domestic processor for mixed plastic bales.
"They re-sort it and try to upgrade the No. 5s," Barry said, referring to the resin identification code for polypropylene. "We just don't have enough optical scanning or manpower to grab 5s out." (Mixed plastic bales are more valuable to a company if that company has the resources to extract the valuable PP.)
Barry's downstream plastics processor purchases mixed bales from Mid America for 1 or 2 cents per pound, and the company then sells recycled resin to large plastic manufacturers.
More stories about Markets