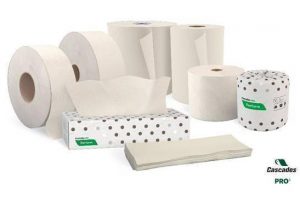 In response to fiber market conditions, a manufacturer has started mixing OCC and white recovered papers together to create a cheaper line of tissue products.
Quebec-headquartered tissue and packaging manufacturer Cascades announced its Latte Collection, which includes paper towels, toilet paper and facial tissue.
According to a press release, the company's R&D and innovation teams developed the mixed-fiber tissue products as a strategy to hold down product costs. High virgin pulp prices and shortages of high-grade recovered papers have resulted in record high price increases for customers wanting white paper products, according to Cascades.
"The distinctive Latte color is created by combining white recycled fibers and cardboard, delivering an end result that is equivalent to white products in terms of quality," Jean-David Tardif, Cascades Tissue Group president and chief operating officer, stated in a press release. "This new product line is not only a green solution but also provides our customers a cost-effective offering that will meet their paper towels and tissue needs."
Cascades is a publicly traded company with 90 facilities in North American and Europe.
Photo courtesy of Cascades.
More stories about fiber