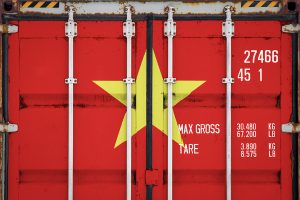 The Vietnamese government has reiterated its plan to phase out scrap plastic imports altogether, noting all scrap plastic will be barred beginning in 2025.
VNExpress reported last week that the government of Vietnam announced the country "will not import plastic scrap from 2025" and will work through the backlog of scrap plastic containers that remain stuck at the country's ports.
There were nearly 21,600 containers of recyclables sitting at ports as of late February, according to the article, and nearly half had been sitting for longer than three months.
In an effort to get that material moving, "the government instructed the environment ministry to issue environmental safety certificates to eligible containers so that their importers could use them to manufacture products," VNExpress wrote.
Vietnam imported 165 million pounds of scrap plastic from the U.S. in 2018, making it the sixth-largest importer of U.S. plastic throughout the year. The country brought in 7 percent of the scrap plastic exported from the U.S.
Photo credit: Everyonephoto Studio/Shutterstock

More stories about exports