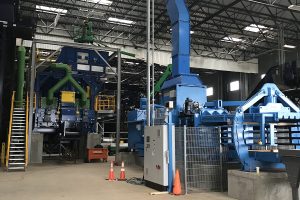 After investing $12 million in additional equipment and modifications, RePower South has restarted a long-shuttered mixed-waste processing facility in Alabama.

With full production starting at the former Infinitus Renewable Energy Park (IREP) facility in Montgomery, Ala., RePower now has its first operating plant. Residents' garbage and recyclables, which have been going straight to landfill, will start heading to the facility for processing.
A $35 million mixed-waste facility, the former IREP-Montgomery facility closed its doors in 2015. The facility had opened just a year earlier.
In 2016, the IREP-Montgomery venture filed for bankruptcy. Filings and an interview with a company leader shed light on the facility's financial struggles. In late-December 2017, the city of Montgomery acquired the facility through a deal approved in bankruptcy court. The city began looking for operators in January, and officials signed a contract with RePower in late May 2018.
Scott Montgomery, president of Charleston, S.C.-headquartered RePower South, recently spoke with Resource Recycling about the upgraded facility and the markets it plans to sell into.
Paper-plastic fuel system
The facility opened in 2014 with sorting equipment provided by Eugene, Ore.-based Bulk Handling Systems (BHS). Organics challenged the company. It separated organics for composting but couldn't find a buyer for the material. It also planned to install a digester unit to convert organics into a gas, but the plan never came to fruition.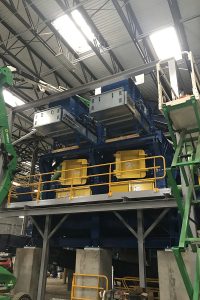 RePower's Montgomery said the company made some modifications and improvements to the existing equipment and added a fuel manufacturing system, which produces a purified mix of paper and plastic fluff that can be burned in industrial boilers. The fuel product offsets the use of coal.
The MRF sorting system uses several screen decks, optical sorters, magnets, eddy current separators and Nihot air separation technology to recover recyclable OCC, papers, PET, HDPE color, HDPE natural, PP, steel and aluminum. Fines, including organics and glass, are removed for disposal, as are contaminants.
The remainder goes to a new line cleaning up the fuel product. That line includes two NRT optical sorters for removing PVC, which is made largely of chlorine, and mercury. Both substances need to be kept out of boilers, Montgomery said. The new system also has two magnets and two eddy current separators to recover ferrous and non-ferrous metals missed by the MRF system.
What's left is a roughly 50-50 mix of paper and plastic that is sent into a combined size reducing/drying system, called a rocket mill, provided by Loesche Energy Systems, Montgomery said. Then, the material is baled and wrapped in plastic with a cross-wrapper.
The fuel has a BTU value of around 10,500. RePower South plans to initially sell the fuel at a discount compared with coal to generate interest, Montgomery said. The price could fluctuate with the price of coal and/or demand. Early indications are the company could sell it for $60 to $70 per ton, compared with about $100 a ton for coal. The fuel manufacturing technology is being licensed from Accordant Energy, which provides a description of the technology on its website.
RePower South is currently building a large mixed-waste processing facility in Moncks Corner, S.C., less than an hour's drive north of Charleston. Accordant Energy is licensing the fuel technology, called ReEngineered Feedstock (ReEF), for use in South Carolina, as well.
Montgomery estimated about one-third of incoming material will end up as fuel product. The mixed-waste plant is designed to handle up to 45 tons per hour. The fuel product cleanup system is capable of processing 15 tons per hour.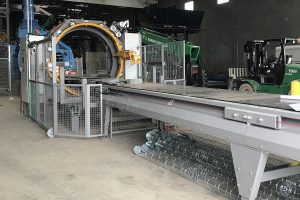 Accessing markets
Potential fuel product customers include cement mill and paper mills, which burn coal for boilers. The U.S. EPA has decided buyers of the fuel don't need to change their air permits.
Montgomery said no contracts have been signed yet for fuel produced at the Alabama facility, but officials are talking with potential buyers, who will want to test truckload quantities of it first. He couldn't reveal the potential buyers, citing non-disclosure agreements. Covering the ribbon-cutting ceremony in late January, the Montgomery Advertiser newspaper reported facilities in the Alabama cities of Prattville and Birmingham are set to buy the fuel.
In South Carolina, a business partner in RePower South has separately taken on marketing of the fuel, but that's not expected to be the arrangement in Alabama. Montgomery also noted that a contract has already been signed for fuel to be produced in South Carolina.
Montgomery said he expects roughly one-third of the facility's revenue to come from fuel product sales, one-third from recyclable commodities and one-third from tip fees (the city continues to own the facility and does not pay a tip fee). RePower will retain revenue sufficient to cover its invested capital, he said; after that, the city will keep 10 percent of profits, up to a maximum of $200,000 a year.
When asked about the quality of fiber from the mixed-waste system, Montgomery said the OCC is saleable but mixed paper isn't yet meeting contamination standards for domestic mills. Mixed-paper buyers want a maximum of 3 percent contamination, and after only a little over a week of operations the percentage was at 8-10 percent, he said. He suggested opening screens to allow more contaminants to fall out; meanwhile, quality control staff will get better.
"The improvements that we've made over the last week, I feel confident that we'll get there," he said. "If there's no market for it, we can always put it into fuel and make more fuel."
The company doesn't plan to ship any material overseas, Montgomery said.
Photos courtesy of RePower South.
More stories about MRFs