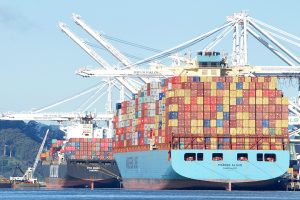 U.S. trade figures for November 2018 were released last week, showing that more recovered fiber and significantly less plastic was shipped out of the country.
Trade data for November was slated to be released at the beginning of January, but the U.S. federal government shutdown delayed it a month. Year-end figures for 2018 are now scheduled for release next month.
Exporters shipped 1.9 million short tons of recovered paper in November, representing the second highest volume exported in 2018. It was lower only than the October high of 2.0 million short tons. The 2018 figure is 16 percent more than was exported in November 2017.
Fiber exports from January through November 2018 (19.3 million short tons) were up compared with the same period in 2017 (18.3 million), down compared with 2016 (19.9 million) and 2015 (19.8 million), and almost even with 2014 (19.2 million).
OCC made up the bulk of fiber exports for the month of November, at 66 percent of the total figure. Mixed paper made up 11 percent.
As usual, China brought in the largest volume of U.S. recovered paper. The country imported 824,000 short tons of recovered fiber, its highest volume of the year up to that point. Although Chinese fiber imports were up significantly (19 percent) compared with November 2017, they are well below the volumes in prior years – fall 2017 was a particularly turbulent time for paper imports into China. For example, in November 2018, China imported 33 percent less U.S. fiber than during that month in 2016, and 28 percent less than in 2015.
But in a divergent trend, overall U.S. recovered fiber exports in November 2018 are up significantly. In fact, that month brought the highest November fiber exports since at least November 2002, according to historical Census Bureau data.
After China, the largest fiber importers were India (284,000 short tons), Mexico (179,000 short tons), South Korea (98,000 short tons), Indonesia (96,000 short tons), Canada (93,000 short tons), Vietnam (71,000 short tons), Thailand (68,000 short tons) and Taiwan (51,000 short tons).
Plastic exports still down
Scrap plastic shipments from the U.S. totaled 144 million pounds, their lowest November volume since 2003. It's a particularly steep drop from November 2017, when exporters shipped 251 million pounds.
Canada was the largest importer of U.S. scrap plastic at 22.7 million pounds, followed by India (21.9 million), Hong Kong (21.9 million), China (12.0 million), Malaysia (10.1 million), Indonesia (8.6 million), South Korea (8.5 million) and Mexico (7.6 million).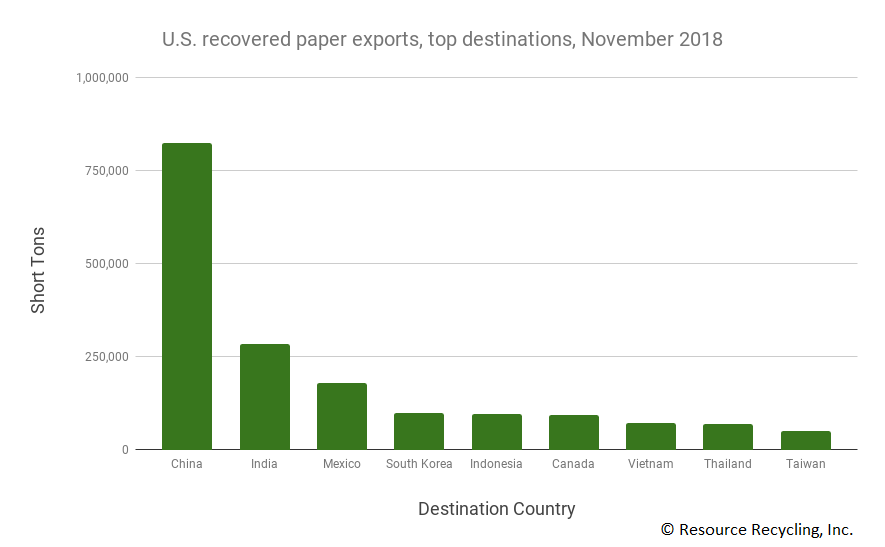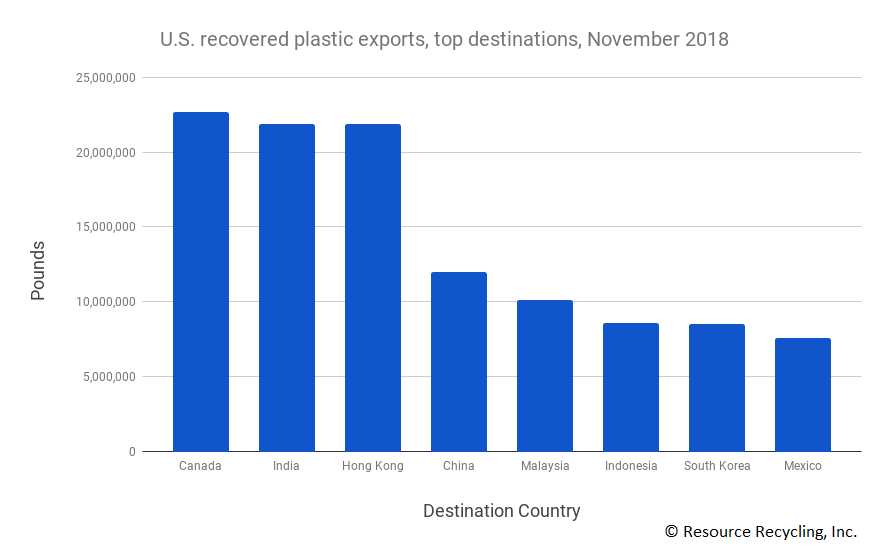 Photo credit: Sheila Fitzgerald/Shutterstock
More stories about exports