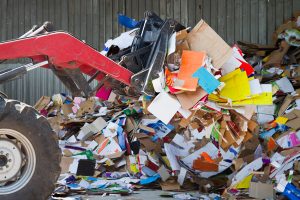 OCC shipments reached their highest volume in two years in October, while mixed paper exports were down by 18 percent year-over-year, according to the latest U.S. trade figures.
The information was released Thursday by the U.S. Census Bureau. Some of the key takeaways are as follows:
October brings high export volumes: The U.S. exported more recycled paper of all grades in October than it did a year ago and even two years ago. For the year so far, recycled paper exports are down just 4.3 percent compared to 2016, and they're up 4.1 percent from 2017.
Mixed paper is moving: Mixed-paper exports are down, but a lot of the material is still moving to overseas markets. In October, U.S. exporters shipped 255,000 short tons of mixed paper. That's about 18 percent less than the 311,000 short tons that were exported in October 2017, and it's 21 percent less than the October 2016 volume of 322,000 short tons.
India was, by far, the largest importer of U.S. mixed paper in October, bringing in 104,000 short tons. The next highest importers were Indonesia (49,000 short tons) and Canada (27,000 short tons).
Year-to-date, mixed-paper exports are down 24 percent compared with 2017 and 26 percent compared with 2016. Still, 2.46 million short tons of the material have been exported this year.
OCC buying spike: OCC is largely responsible for the increase in overall fiber shipments. In October, China brought in its highest per-month volume of U.S. OCC since October 2016. U.S. exporters shipped 641,000 short tons of the material, nearly 60,000 tons more than they shipped in September, which was previously the highest volume of 2018.
The OCC export increase received attention in recent earnings calls, and company representatives noted the spike could be attributed to traders trying to get the last volumes available under their Chinese import permits.
A report in fiber market research publication RISI (subscription required) suggests that is the case. The report says Chinese OCC imports fell off in late November because importers reached their license limits for the year. Indeed, the last few rounds of permits issued by Chinese authorities have approved very little tonnage for import. Permits issued Nov. 28 approved 14,000 metric tons of recovered paper for import, and the Dec. 7 round of permits approved just 5,000 metric tons for one company.
RISI described the U.S. OCC market as being in oversupply due to the lack of movement. The publication quoted one U.S. supplier who described the current market as a "bloodbath."
Recycled pulp shipments negligible: Exporting recycled paper pulp has been a hot topic during earnings calls and industry events. However, relatively little of the material is being shipped out of the U.S. From January through October, the U.S. exported 35,000 short tons of recycled paper pulp. Exports to China made up 10,000 of those tons.
Experts say companies are experimenting with recycled pulp shipments, particularly to China, as a way to get around scrap paper import restrictions. Chinese company Nine Dragons purchased multiple U.S. mills and converted them to produce recycled pulp, the bulk of which will be shipped to China to feed the company's mills. This suggests the export figures will grow in the years to come.
Photo credit: mstfcn/Shutterstock

More stories about markets