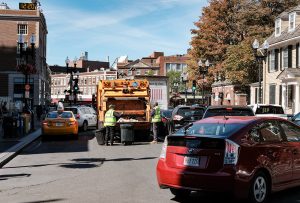 There were 18 deaths connected with the solid waste and recycling industry during the first few weeks of 2019. Most fatalities were members of the public killed in incidents involving collection vehicles.
The Solid Waste Association of North America (SWANA) issued a release on the deaths Jan. 22, noting that there was no common denominator among 17 fatalities in the U.S. and Canada. In an email to Resource Recycling, SWANA broke down the deaths by incident type and also noted there was an additional fatality since the Jan. 22 announcement, bringing the current January figure to 18 deaths.
"That matches last January's record high, so we are hoping for a very quiet end to the month," said Jesse Maxwell, advocacy and safety manager for SWANA.
Thirteen deaths were of members of the public who were killed in accidents involving collection vehicles. Four of those fatalities were pedestrians and the others were in vehicles. Five industry employees died as well, three in vehicle incidents and two at landfills in equipment accidents.
David Biderman, executive director of SWANA, said the "surge in fatal incidents involving solid waste personnel and vehicles in January is unprecedented in my 20-plus years in the industry and is unacceptable."
In SWANA's release, a representative from the association's New York State chapter noted that there were two industry deaths in New York alone during the first three weeks of January.
In December, the Bureau of Labor Statistics reported 30 deaths of U.S. waste and recycling collectors in 2017. The bureau did not report on members of the public who died in incidents involving hauling.
Industry deaths have been relatively flat in recent years, according to multiple reporting agencies and associations. However, when the 2017 BLS figures came out, SWANA announced its own findings suggesting deaths were on the rise in 2018.
Photo credit: By Nick Beer/Shutterstock
More stories about industry groups