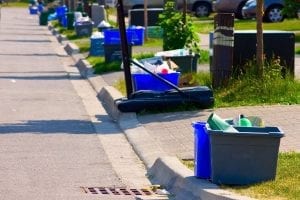 Oregon and Colorado have very different recycling landscapes but are seeing a similar trend: stagnating recycling numbers.
Recently released progress reports explain some of the factors holding diversion back in those regions and others, and they offer tips on where the states can focus energy to boost their recycling rates.
The reports, drafted as part of a push from the U.S. Public Interest Research Group (PIRG),  were released in conjunction with America Recycles Day last month.
'Headed in the wrong direction'
The second edition of the State of Recycling in Colorado report offered a mix of critique on recycling efforts around the Centennial State and praise for certain programs that are making strides.
A collaboration between recycling company Eco-Cycle and the Colorado Public Interest Research Group (CoPIRG), the report is also endorsed by state recycling organization Recycle Colorado (formerly called the Colorado Association for Recycling, or CAFR). The first report was released a year ago.
Colorado first set a statewide recycling goal in 2016, aiming to hit 28 percent diversion by 2021, from a baseline of 12 percent. The state's diversion stayed at 12 percent over the past year as the disposal tonnage rose to a record 9.3 million tons, according to the report. The analysis noted "Colorado is headed in the wrong direction" on diversion.
"Unfortunately, right now, Colorado doesn't look like a good investment for (recycling) businesses because of our low landfill prices, too few communities with comprehensive recycling programs, and limited statewide assistance to attract businesses and develop local markets for recyclables," the report stated.
The report offers some actions local programs can take to bolster their recycling results. For example, most Colorado recycling programs require customers to request the service, rather than providing it automatically, as is done in many leading programs in the country. Data collection is identified as another area for improvement.
As for statewide actions, appointing a recycling coordinator in the governor's office would signal to stakeholders that the state's leadership is "serious about turning around its dismal recycling rate and creating a circular economy," the report stated.
According to the report, the administration should also launch a recycling market development initiative offering tax breaks and other financial assistance, create a task force to research more funding tools for waste diversion initiatives, and more. At least one of those ideas is already taking shape: The Colorado Department of Public Health and Environment recently began accepting applications for a program called Colorado NextCycle, which will provide grants, coaching and data to help improve end market business proposals for recycled materials.
Not all the news in Colorado recycling is negative. The city of Loveland has the highest diversion rate in the state, at 61 percent. Resource Recycling previously profiled the city in a Community Spotlight feature, noting that officials cite the pay-as-you-throw (PAYT) service and billing model as a critical component of the program's success.
Longmont, Colo. also received special mention for its year-over-year improvement. The city's 2018 rate was 40 percent, up 5 percentage points from a year earlier. The increase was driven in part by adding optional curbside collection for food scraps and yard debris composting.
Investment needed to reverse trend
In Oregon, a separate recycling report highlighted similar issues despite a very different recycling climate.
Although Oregon's statewide diversion rate is three times that of Colorado, the Beaver State has experienced a decline from 41 percent to 37 percent over the past four years, according to the report from the U.S. PIRG and Environment Oregon, an advocacy group.
The report found that every major county saw its recycling rate slip downward from 2012 through 2016. The tri-county area that encompasses Portland, Ore., the state's largest city, had its recycling rate drop from 56 percent in 2012 to 48 percent in 2016. Two counties elsewhere in the state saw their recycling rates slip by 14 percentage points over the four-year period.
"This downward trend will likely continue without serious investment and programmatic change," according to the report. It also highlights China's scrap import ban and increased restrictions, noting that the loss of China as a destination for many recovered materials caused both landfilling and a pileup at recycling facilities around the state.
Still, like the Colorado evaluation, the Oregon report points to existing successful recycling initiatives creating a strong foundation to build upon. Oregon maintains a strong container deposit program; most recycling programs in the state are set up on a PAYT system; and legislation requires curbside recycling be provided to commercial and multi-family properties, in addition to single-family residences, in cities of more than 4,000 residents.
With these initiatives already in place, the state can focus on several key next steps, according to the report. Those include reducing single-use plastics such as bags and expanded polystyrene containers, increasing landfill tipping fees to disincentivize landfilling, offering greater state financial support for programs and recycling facilities, continuing outreach, building stronger collaboration between municipal programs, and increasing residential organics collection.
Quantifying recycling rates
Other U.S. PIRG reports covered Arizona, California, Illinois, Minnesota, New Mexico, Texas and Wisconsin. Similar themes, such as promoting PAYT, expanding organics collection access and improving multi-family and commercial recycling, reverberated through most of the reports.
Some reports also included a recycling rate for that state, with the exceptions of Arizona, Illinois and Wisconsin, which omitted that figure "due to a lack of reporting in certain jurisdictions." However, those reports inferred that, "based on low recycling rates in major municipalities and similar trends elsewhere," their statewide rates are lower than the national average of about 34 percent.
The states that calculated a rate are as follows:
California: 44 percent
Colorado: 12 percent
Minnesota: 43.6 percent
New Mexico: 19 percent
Oregon: 37 percent
Texas: 23 percent
Photo credit: Sorin Alb/Shutterstock
More stories about data