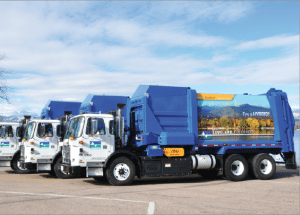 A mid-sized Colorado municipality has achieved enviable diversion results as its program has progressed for the past 25 years. One key to its success? Early adoption of a pay-as-you-throw initiative, according to local officials.
Loveland, Colo. rolled out curbside recycling and compost collection in 1993, at the same time the city began varying charges for garbage collection based on can size.
This system, known as pay-as-you-throw (PAYT), "drives the city's recycling programs," said Tyler Bandemer, solid waste superintendent for the city of Loveland.
The evidence is clear: Loveland was the first city in Colorado to adopt the measure, and more than two decades later, the city boasts roughly 61 percent diversion, the highest diversion rate in the state.
"The residential diversion rate has exceeded 50 percent annually since '93," Bandemer said, noting very few other cities have notched a figure like that. He attributes the move to PAYT. "When this program went into place, it had effects right away.'
Self-supporting program
Loveland is a community of about 75,000 people, and it's growing. Bandemer estimated it has doubled in size in the past decade or so. The city's solid waste department services roughly 24,300 single-family, duplex and triplex dwellings.
Recycling in Loveland is a mixture of public and private service. Although city crews collect the vast majority of residential recyclables, some residents are served by private haulers. The city provides recycling dumpsters for some multi-family buildings, but private haulers handle the majority of commercial recycling from businesses.
The city's solid waste department operates as an enterprise fund, meaning it's a self-supporting component of the city budget, funded entirely by a solid waste fee levied on residents.
Currently, the base fee for solid waste management is $9.75 per month. Every household pays it, no matter whether that customer uses the city department for collection or a private company. That fee pays for every-other-weekly curbside recycling collection.
The fund is also supported by the PAYT fees. Today, the PAYT program offers Loveland residents four garbage cart sizes, from 17 gallons to 96 gallons. Each size up comes with an additional monthly charge to the household, ranging from $3.25 to $19.50.
The city offers subscription-based yard debris collection for an additional collection fee of $8 per month, but dropping material off at a local drop-off center is included in the solid waste management fee.
Visible impact
Bandemer linked a handful of successful recycling results to the city's PAYT initiative, notably the diversion rate. Diversion has exceeded 60 percent each year since 2009, hitting a high of nearly 64 percent a couple years ago.
With 25 years of PAYT under its belt, the city has gleaned some tips on how best to implement the concept. Bandemer advised programs to avoid using complicated rate structures, which can leave residents confused about how they're being charged.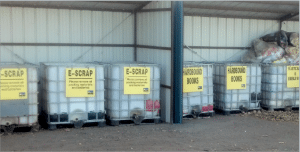 "Defining pay-as-you-throw – and the structuring of rates – is critical," Bandemer said.
As trash can volumes increase by 100 percent, rates should increase by no less than 80 percent, Bandemer said, noting that "anything else is definitely not as effective."
He also noted that PAYT will produce results, but not necessarily by itself. Dedicated resident education is also vital. Bandemer advised "getting out there, getting into the schools, getting to residents."
As a component of education and outreach, Loveland compiles some relatively uncommon data about its diversion program. Recycling often faces skepticism or outright criticism over whether it pencils out financially, compared with disposal. Loveland has made a significant effort to provide information that shows the value of diversion in black and white.
"We do kind of a full-cost accounting every year, where we take everything into account: the cost of our labor, our equipment, our facilities, and then the disposal," Bandemer explained. "Year after year, we generally see our overall disposal costs are about $160 a ton and our diversion is about $83 a ton."
He added that the city's economic balance for diversion has historically been positive when markets are favorable, but he noted that with the current market downturn, the costs of diversion are at an all-time high.
The yard debris program is also integral to achieving the city's diversion figures: In 2016, the city collected 7,884 tons of commodity recyclables, 26,275 tons of yard debris and 21,634 tons of trash.
Glass challenge becomes an opportunity
The city doesn't compete on the commercial recycling side, which is handled entirely by private haulers.
But one substantial portion of the commercial stream has received special attention from the city.
Loveland crews noticed a lot of glass going into the dumpsters at bars and restaurants, and they saw that as an opportunity.
The recycling program made some calls to private haulers, asking how they'd feel about the city tackling glass among commercial generators. "Basically, we were going to pick up the glass, if they didn't mind," Bandemer said. "None of our private haulers had any issues with that."
For more than three years, the city has sent a collection truck once a week to the central commercial sector of the city, bringing a handful of empty carts, designated for either clear or colored glass, to different businesses. The collection crew swaps the carts out for filled carts.
"We have continued to do this program free to the bars and restaurants," Bandemer said. "It's done a really, really amazing job of getting that material out of the landfill, and turning it back into a beer bottle."
This article originally appeared in the June 2018 issue of Resource Recycling. Subscribe today for access to all print content.
Think your local program should be featured in this space? Send a note to [email protected].